Hard Reset Redux ist ein FPS, der dich in eine dystopische Welt voller Roboter und eine Menge Action eintauchen lässt, dann solltest du unbedingt Hard Reset Redux ausprobieren. In diesem Spiel schlüpfst du in die Rolle von Fletcher, einem Agenten, der gegen eine Armee von außer Kontrolle geratenen Robotern kämpft, die in die Stadt einfallen. Die Redux-Edition überarbeitet das Originalspiel und bringt es zum ersten Mal auf die Konsole, was es noch besser macht als zuvor.
Inhaltsverzeichnis
Ein generischer Plot und stilvolle Zwischensequenzen in Hard Reset Redux
Die Handlung von Hard Reset Redux ist insgesamt ziemlich generisch, was einige Leute abschrecken könnte. Die Zwischensequenzen, die den Schießereien vorausgehen, sind in einem ähnlichen Comic-Stil wie die alten Max Payne-Spiele gehalten, was gut zum Setting passt. Die Handlung dient im Grunde nur dazu, dir einen Vorwand zu liefern, um auf Dinge zu schießen.
Phänomenale visuelle Aufwertung
Das Spiel ist wunderschön anzusehen, nachdem es mit der Redux-Edition aufpoliert wurde. Der visuelle Stil des Originals von 2011 wurde beibehalten, aber die Grafiken wurden verbessert und verfeinert, so dass es aussieht, als wäre es im Jahr 2016 entstanden. Das Einfangen des dystopischen Gefühls von Filmen wie Blade Runner macht es einfach, in das Cyberpunk-Setting hineingesogen zu werden.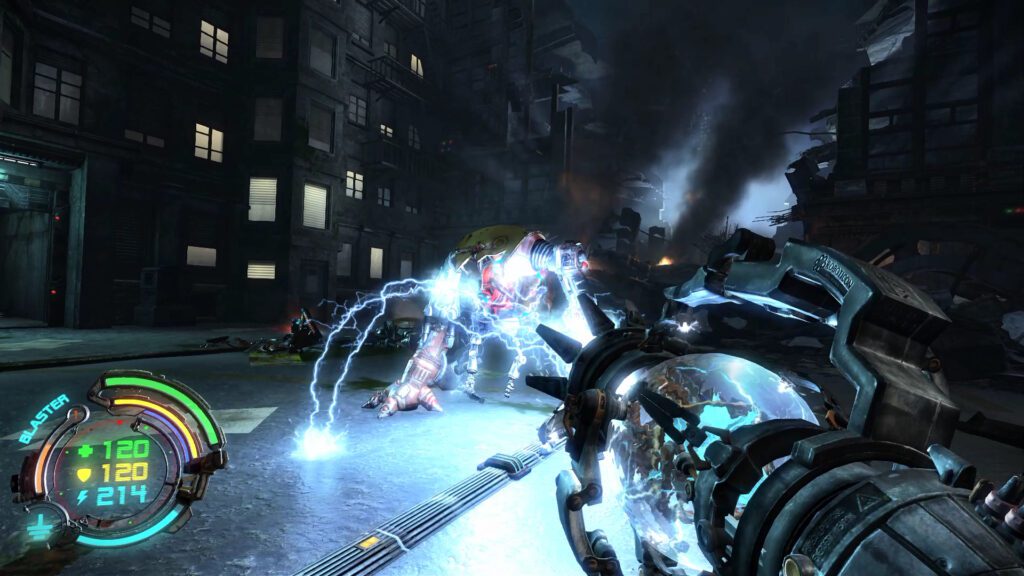 Fantastisches Fortschritts- und Waffensystem
Hard Reset Redux hat nur zwei Hauptwaffen, ein Plasmagewehr und ein Maschinengewehr. Doch das Spiel bietet so viele Optionen, um Schmerzen zuzufügen, dass es ein Old-School-Gefühl vermittelt, wenn du herumrennst und eingehenden Angriffen ausweichst, dass das Gameplay so schnell ist wie bei Doom, Painkiller und Serious Sam. Sammle Erfahrungspunkte durch das Aufsammeln von Gegenständen und das Töten von Gegnern und verbessere deine Waffen mit verschiedenen Feuermodi, alternativen Feuerarten und passiven Verstärkungen.
Ein paar Schwächen, aber trotzdem empfehlenswert
Das Spiel ist etwas kurz geraten und die Geschichte ist nicht sehr einprägsam. Das Cyber-Katana, das du erhöltst, ist zwar nur eine Standard-Nahkampfwaffe, aber es kann Cyber-Zombies gut erledigen, auch wenn es gegen Roboter nur bedingt einsetzbar ist. Hard Reset Redux ist auch nicht gerade einfach, trotz seiner immer noch recht kurzen Spielzeit. Doch es gibt genug Gesundheits- und Munitionsvorräte, um dich durch das Spiel zu bringen.
Die Gegner
Die Feinde sind alle Roboter und haben unterschiedliche Schwachstellen, die nicht immer offensichtlich sind. Es gibt einige neue Variationen von Feinden wie die Cyborg-Zombies, um das Spiel für diejenigen, die es schon einmal gespielt haben, zu verjüngen. Die größeren Feinde scheinen etwas leichter auszuschalten zu sein, aber ihre KI ist zu vielfältigen Taktiken fähig. Du musst dich darauf einstellen, dass sich die Gesundheit nicht regeneriert und dass du dich während des Spiels Boosts schnappen musst, um zu überleben.
Der Überlebensmodus
Der Überlebensmodus kehrt ebenfalls zurück, komplett mit Online-Ranglisten, was das Spiel noch spannender macht. Dieser Modus bietet eine endlose Herausforderung, bei der du gegen Wellen von Gegnern kämpfst, um so lange wie möglich zu überleben.
Fazit
Insgesamt ist Hard Reset Redux ein großartiger Old-School-Shooter, der durch seine visuelle Aufwertung, das fantastische Fortschritts- und Waffensystem und die schnelle Action besticht. Trotz einiger Schwächen ist das Spiel auf jeden Fall den Eintrittspreis wert. Wenn du ein Fan von FPS bist und auf der Suche nach einem Spiel bist, das dich in eine dystopische Welt voller Roboter und Action entführt, dann solltest du Hard Reset Redux auf jeden Fall ausprobieren. Es wird dich nicht enttäuschen!
Weiter geht es zur Website über das Game
Andere Games auf Games und Lyrik
Shellshock – Nam '67 – Erlebe den schockierenden Realismus des Vietnamkriegs
Horizon Zero Dawn – Auf Maschinenjagd
Andere
Hogwarts Legacy – Stunden voller Magie: Erlebe das 1. fesselnde Open-World-Abenteuer
Die Pendulo Studios – Das 1. spanische Entwicklerstudio – Unterhaltsam und inspiriert
Blacksad – Under the Skin – Die 1. neuen aufregenden Wege nach Runaway
Igor – Objective Uikokahonia – Das packende 1. Adventure der Pendulo Studios
Der Fall John Yesterday – 1. Teil des Adventures – Fesselnd und gefährlich
Runaway – A Road Adventure: Das unvergessliche Point-and-Click-Abenteuer! – Erlebe 100% Spannung!
Runaway 2 – The Dream of the Turtle – Urlaub mit Hindernissen
Runaway 3 – A Twist of Fate – Spannungsgeladene Enthüllungen
Hidden Runaway – Kein 4. Teil für das tolle Adventure Runaway
Hollywood Monsters 1 – Erlebe monströse Abenteuer
The Next Big Thing – Lustig und ein wenig merkwürdig – Der 2. Teil der Hollywood Monsters
Vertigo – 1. Hitchcock-Umsetzung – Packend und Bedrückend
Yesterday Origins – John Yesterdays 2. Fall – Herausfordernd und satanistisch
Piranha Bytes: Die kreativen Köpfe hinter fesselnden Rollenspiel-Abenteuern
Gothic 2 – Schlacht um Khorinis: Entfessle deine Dunkle Macht!
Gothic 2 – Die Nacht des Raben – Finsteres Erbe erwacht: Erlebe die Macht der Dunkelheit
Gothic 3 – Erlebe epische Abenteuer in der Welt von Myrtana
Gothic 3 – Götterdämmerung: Bekämpfe die Dunkelheit mit epischen Herausforderungen!
Risen 1 – Erlebe eine epische Abenteuerreise
Risen 2: Dark Waters – Entfessele die Macht der Meere mit diesem epischen Piratenabenteuer!
Risen 3 – Titan Lords – Entfessle dein wahres Potenzial gegen die Titan Lords
Elex 1 – Das ultimative Action-Rollenspiel voller Magie und Technologie! – Erlebe die unbesiegbare Macht!
Elex 2 – Im Kampf gegen die Skyands – Erkunde grenzenlose Welten voller Abenteuer und Eroberungen!
Vampire Survivors – Unbesiegbar nach 30 Minuten Action pur!
Tchia – Erkunde eine exotische Welt und erlebe ein unvergessliches Abenteuer!
Exoprimal – Die ultimative Dino-Jagd mit 10 anpassbaren Exosuits