"Runaway 3 – A Twist of Fate" ist der dritte Teil der Runaway-Serie. Die Pendulo Studios schließen damit die Runaway-Trilogie ab. Leider beginnt der letzte Teil mit dem Tod Brian Bascos oder genauer gesagt, mit seiner Beerdigung.
Wir stehen heute hier …
Runaway: A Twist of Fate startet mit Brians Beerdigung. Die arme Gina trauert um ihn an seinem Grab. Das wegrennen vor Mafiosi, Militär und Justiz hat damit ein Ende. So wie wir Brian Basco kennen, ist das natürlich nur eine Farce. Sein vorgetäuschter Tod war eine Möglichkeit aus der Happy Dale Irrenanstalt zu fliehen. Gina unterstützt ihn tatkräftig bei seiner Flucht aus dem angeblichen Grab. Der dritte Teil schließt damit nahtlos an den zweiten Teil Runaway – The Dream of the Turtle an, denn Brian wird wegen der Ereignisse des zweiten Teils, unter Mordverdacht stehend in Happy Dale festgehalten.
Was geschah …
Für diejenigen unter euch, die Runaway – A Road Adventure und Runaway – The Dream of the Turtle nicht gespielt haben, besteht die Möglichkeit, in Form von Rückblenden und Dialogen ins Bild der Ereignisse gesetzt zu werden. Zur Spielunterstützung gibt es Hotspotanzeigen, die beim Rätseln unterstützen. Wie in den anderen beiden Teilen werden Brian und Gina im dritten Teil der Runaway-Trilogie von üblen Verbrechern davon rennen.
Beweise Brians Unschuld
Das ist das Hauptziel in Runaway 3, dass als großes Rätsel über allem steht. Denn du musst mit Hilfe von Szenenwechseln zwischen Gina und Brian seine Unschuld beweisen bzw. Brian helfen aus der Irrenanstalt zu entkommen. Zur Unterstützung hast du einige Insassen, sowie andere neue Charaktere, mit denen du in Dialogen interagieren kannst.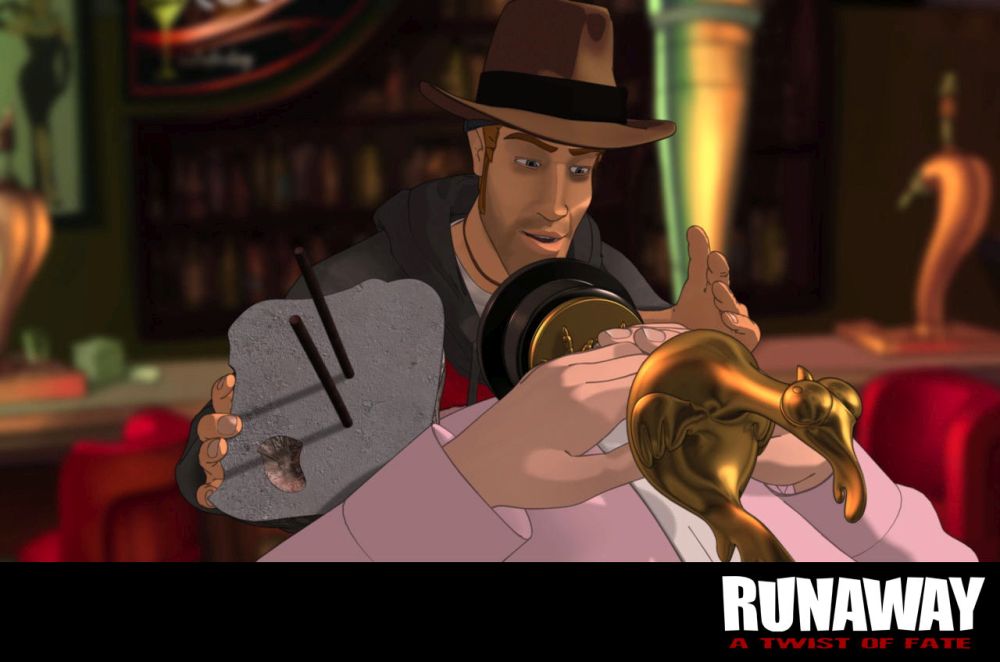 Psychiater und andere Rätsel
Jede Menge neue Charaktere und alte Bekannte tauchen im dritten Runawayspiel auf. Die Rätsel sind mitunter richtige Kopfnüsse, die den ein oder anderen Logikfehler an manchen Stellen auftauchen. Werden die Rätsel zu knifflig kannst du auf eine Hilfefunktion zurückgreifen, die den ein oder anderen lustigen Kommentar abgibt.
Schon gelesen? Der Fall John Yesterday
Toll, besser, Runaway 3 – Die Grafik
Der dritte Teil von Runaway schafft es, die anderen beiden Teile zu toppen. Mit sehr guten Animationen im Spiel und in den Zwischensequenzen begeistern die Pendulo-Studios den Spieler. Hervorragende Animationen stechen hervor und handgezeichnete Hintergründe, mit viel Liebe zum Detail, verstecken eine Menge Rätsel in ihrem Innern.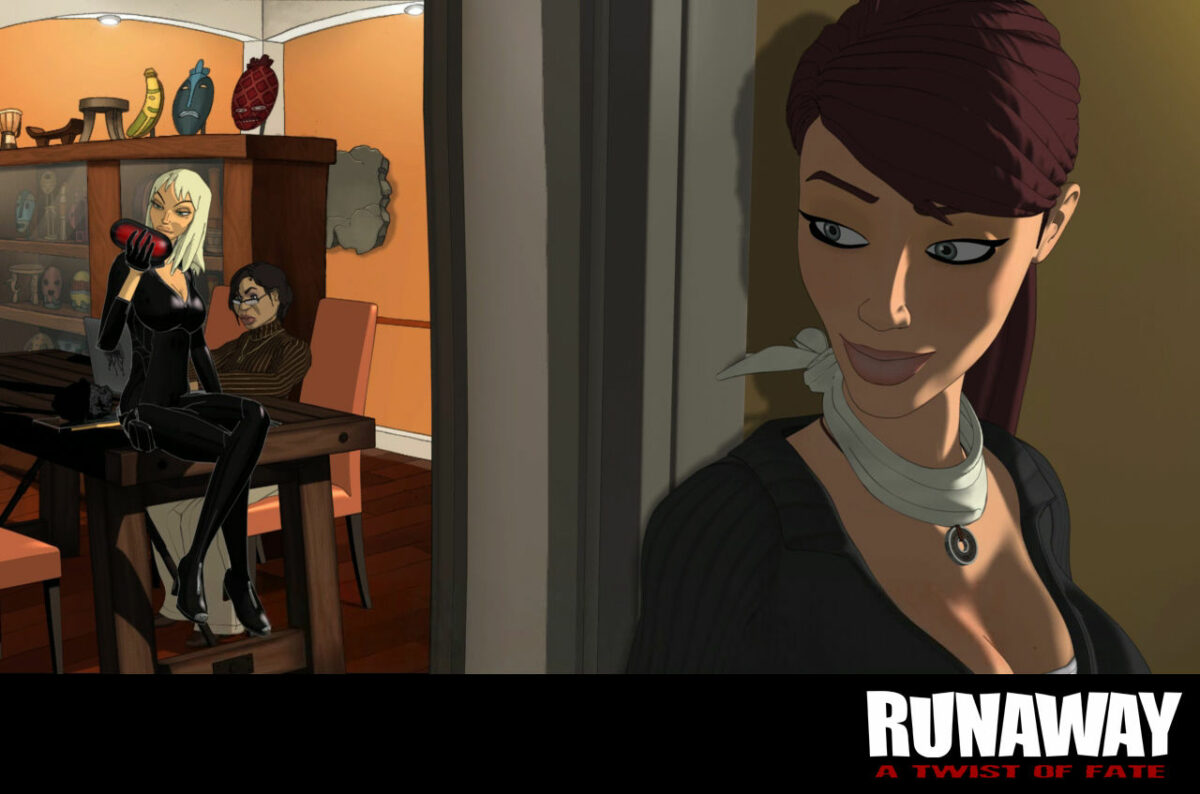 Fazit zu Runaway: A Twist of Fate
Der dritte Runaway-Teil ist sehr unterhaltsam. Mit verbesserter Grafik und Sound kann das Spiel punkten. Die Rätsel geben einige Kopfnüsse zum Knacken. Unterstützung gibt die Hilfefunktion mit der Hot-Spot-Anzeige. Die Runaway-Trilogie ist allen in allem ein Genuss für Point & Click-Gamer. Viel Spaß, skurrile Figuren, toller Sound und Grafik erwarten in allen drei Teilen. Die Pendulo-Studios steigern sich es von Teil zu Teil und präsentieren damit ein großes, sich lohnendes Abenteuer.
Weiter geht es zum Artikel über die Pendulo Studios
Hier gibt es eine das Runaway Twist of Fate Walkthrough
Bei GOG findest du Runaway 3 A Twist of Fate
Mehr zu den Pendulo-Studios
Weitere Spiele der Pendulo Studios:
Runaway: The Dream of the Turtle
Hollywood Monsters 2: The Next Big Thing
Hier kommst du zum Fall von John Yesterday
Weitere Adventure-Artikel:
Aus dem Retrobereich: