Battlefleet Gothic und vier Fraktionen
Das Warhammer 40K-Setting ist der beste Teil von Battlefleet, mit vier Fraktionen. Dazu gehören das menschliche Imperium, die bösen Chaosflotten, die rücksichtslosen Orks und die elfischen Eldar. Alle lassen sich unterschiedlich spielen und sehen unterschiedlich aus. Die Schiffe der Orks rammen zum Beispiel gerne, während die Eldars auf Sonnensegeln herumfliegen und von einem Aussichtspunkt zum nächsten sausen.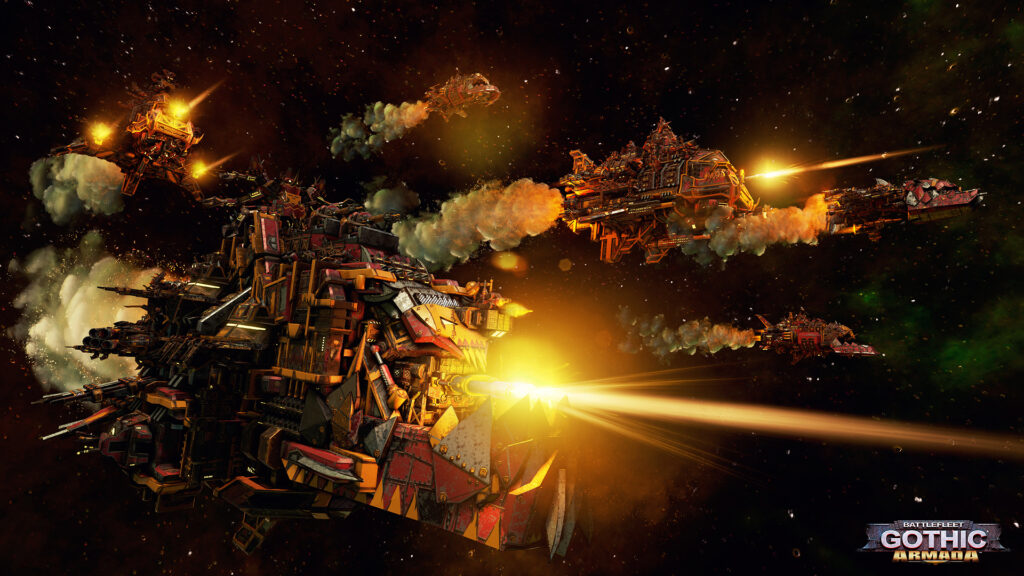 Echtzeit-Kämpfe
Die zweidimensionalen Echtzeit-Kämpfe sind relativ langsam, besonders neben so etwas wie einem RTS im StarCraft-Stil, aber sie sind immer optisch ansprechend. Der Hintergrund jeder Schlacht umfasst farbenfrohe Planeten und Nebel, während die Jäger, Torpedos und Projektile von jedem Schiff den Kampf geschäftig und aufregend machen. Auch unter der Motorhaube ist viel los, da jedes Schiff unterschiedliche Systeme hat, die individuell angesteuert werden können, Spezialbewegungen für Kapitäne, Boarding-Partys zum Starten und Bomben zum Platzieren.
Die Kampagnenmodi
Es gibt zwei Kampagnenmodi in Battlefleet. Die erste ist eine traditionelle Geschichte, in der du als Imperium gegen eine Chaosinvasion kämpfst, Artefakte birgst, Levels erreichst und Schiffe anpasst, während du in 10 bis 20 Stunden durch die möglicherweise Dutzenden von Missionen voranschreitest. Es ist einfach, aber ziemlich effektiv und auch mit der erwarteten überernsten Stimmung von Warhammer 40k gefüllt, etwas, das durch die bombastische Musik und die übertriebene Sprachausgabe verstärkt wird. Die Flottenanpassung ist etwas enttäuschend. Es scheint theoretisch eine gute Idee zu sein, aber einige der Entscheidungen sind viel zu klein, um sinnvoll zu sein. Es ist schwierig, sich dafür zu begeistern, eine Fertigkeit zu verbessern, um 0,3 Reparaturen mehr pro Sekunde durchzuführen, wenn sie beispielsweise nur ein- oder zweimal pro Mission aktiv ist.
Die anderen Rassen
Während die anderen Rassen keine vollständig handlungsgesteuerten Kampagnen haben, kannst du wie jede von ihnen eine Kampagne im Gefechtsmodus durchführen, in der du Flotten in einer Folge von Zufallsschlachten aufbaust und verbesserst. Es ist eine schnelle und vielseitige Art zu spielen. So ungefähr funktioniert auch der Mehrspielermodus, obwohl du dort auswählen kannst, an welchen Kampftypen du teilnehmen möchtest. Die Action kannst du auch mit 2v2-Kämpfen skalieren.
Die Kampfmodi
Gefechte dauern in der Regel drei bis zehn Minuten, je nach Einsatzart. Es gibt mehrere verschiedene Kampfmodi, was gut für die Abwechslung ist, außer dass nicht alle interessant sind. Battlefleet ist am besten, wenn es relativ unkomplizierte Kämpfe präsentiert, daher sind Modi wie der einfache Schlagabtausch von Cruiser Clash oder Planetary Assault und das Bewegen von Schiffen zu zufälligen Punkten auf einer Karte und das Ausweichen von Raumstationen, durchweg am unterhaltsamsten. Am anderen Ende dieser Skala bedeutet das Eskortieren von Transportmitteln und der Versuch, Blockaden zu durchbrechen, beides, zu einem Endpunkt zu rennen, was zweifelhaft sein kann. Aber die schlimmsten Missionstypen sind Attentats- oder Datenwiederherstellungskarten, bei denen du versuchen musst, über die Karte zu sprinten, um ein feindliches Schiff zu besiegen, bevor es sich verzieht. Mit ungefähr drei Minuten Länge sind diese Missionen einfach viel zu schnell. Du verbringst zwei Minuten damit, zu reisen, eine Minute zu kämpfen, und dann endet der Kampf genau dann, wenn es anfängt, interessant zu werden.
Battlefleet als Strategiegame
So sehr es seine Warhammer 40k-Einstellung ausnutzt, kämpft Battlefleet als Strategiespiel leicht, was teilweise auf die Art und Weise zurückzuführen ist, wie die Brettspielmechanik, die es inspiriert hat, auf Echtzeitkämpfe übertragen wurde. Die Kernspannung in Battlefleet ist folgende: Es ist hin- und hergerissen zwischen einem Spiel mit großen Flottenkämpfen und einem Spiel mit Mikromanagement von Schiff-zu-Schiff-Kämpfen. Zum Beispiel kannst du deine Schiffe in jedem Gefecht so einrichten, dass sie automatisch bestimmte Reichweiten einhalten, Schiffe selbst anvisieren oder bestimmte Feinde priorisieren, was alles darauf hindeutet, dass die Entscheidung jedes einzelnen Schiffs von Moment zu Moment relativ unkompliziert angegangen wird.  Obwohl sich Battlefleet nicht wirklich daran erinnert, dass du möchtest, dass dieser bestimmte Kreuzer in möglichst geringer Entfernung angreift und ständig Enterkommandos startet, so dass es eine ständige Frustration gibt, diese in jeder neuen Mission neu auswählen zu müssen.
Analysen
Schlachten sind jedoch in kleinem Maßstab, da du selten 10 Schiffe und normalerweise vier oder fünf steuerst. Die Tutorials ermutigen dich auch ausdrücklich zum Mikromanagement von Schiffen und betonen die Fähigkeit, die Zeit zu verlangsamen, damit einzelne Schiffe Minen und Raketen ausweichen können. Es hilft auch nicht, dass viele der Informationen, die du erhältst, schwer zu analysieren sind. Beispielsweise ist eine der Optionen, die du im allgemeinen Verhalten eines Schiffes einrichten musst, es zu ermutigen, entweder von der Steuerbord- oder der Backbordseite zu schießen, was laut Battlefleet das Wechseln ermöglicht, wenn die Kanonen einer Seite beschädigt sind. Es gibt jedoch keine Möglichkeit zu sagen, auf welcher Seite des Schiffs beschädigte Geschütze tatsächlich sind, wenn du dich mitten in einer Schlacht befindest. All dies führt zu einem Gefühl der relativen Ohnmacht gegenüber dem taktischen Kampf, und am Ende mangelt es an Antworten. Gewinnst du einen Kampf, weil du gut gespielt hast? Oder war der Feind von Anfang an unterlegen? Battlefleet gibt dir diese Informationen während oder nach einem Kampf nicht, was es schwierig machte, aus deinen Fehlern oder deinen erfolgreichen Experimenten zu lernen. Wenn du beispielsweise zwei Schiffe derselben Klasse auf unterschiedliche Weise anpasst: Eines wurde für den Nahkampf gebaut, mit Fähigkeiten, die seine Space Marines für Enteraktionen stärkten und seine Waffen auf kurze Distanz stärker machten; mit einem anderen lässt sich die Reichweitenstrafen für Langstreckengeschütze für ein effektiveres Bombardement senken. Was hat bei meinem taktischen Stil besser abgeschnitten? Das Game gibt dir keine Antwort.
Schaden und Erfahrung
Es gibt keine einfache Möglichkeit, auf der Gefechtsoberfläche zu sehen, wie viel Schaden angerichtet wird, und der Siegesbildschirm zeigt nur, wie viel Erfahrung ein Schiff gesammelt hat. Potenziell wichtige Informationen, wie z. B. wie viel Schaden es Schilden und Rüstungen zugefügt hat oder wie erfolgreich Enterkommandos waren, würden viel dazu beitragen, zu verstehen, was tatsächlich funktioniert und was nicht. Ein Teil des Problems ist das Tempo: Bei ungefähr fünf Minuten pro Spiel kannst du möglicherweise ein Dutzend Spiele in einer Stunde spielen, was sich stark von einem Brettspiel unterscheidet, bei dem du selbst würfelst und jeden Trefferpunkt berechnen musst. Natürlich ist es für eine Echtzeit-Videospielkonvertierung sinnvoll, die meisten dieser Details zu überspringen, aber ohne sie auf dem Bildschirm zu sehen, ist Battlefleet zu undurchsichtig, um konsequent erfolgreiche taktische Entscheidungen zu treffen.
Fazit
Es gibt viele gute Ideen in Battlefleet Gothic: Armada, und es sieht auf jeden Fall nach einem großartigen taktischen Weltraumkampfspiel aus. Aber es hat Mühe, dies zu einem kohärenten Ganzen zu machen, was es schwierig macht, es zu empfehlen, es sei denn, du bist bereit, dich vollständig dem vollständigen Verständnis der unzugänglichen Systeme seines Kampfes zu widmen. Weitere Games auf Games und Lyrik:

Gothic Gothic 2 Gothic – Die Nacht des Raben Gothic 3 Gothic 3 – Götterdämmerung Risen Risen 2: Dark Waters Risen 3: Titan Lords Elex Elex 2 Adventures: Von den Pendulo Studios: Day One  Igor: Objective Uikokahonia Hollywood Monsters Hollywood Monsters 2: The Next Big Thing Der Fall John Yesterday Yesterday Origins Runaway – A Road Adventure Runaway: The Dream of the Turtle Runaway: A Twist of Fate Hidden Runaway Alfred Hitchcock – Vertigo

Battlefleet Gothic: Armada adaptiert ein taktisches Warhammer 40K-Brettspiel an Echtzeit-Seeschlachten und führt einige visuell ansprechende Raumschiffschlachten zwischen den Spezies durch. Die tatsächliche Taktik ist jedoch aufgrund von Problemen mit Tempo und Transparenz schwer zu verstehen.