Tauche ein in die packende Welt von Live by the Sword: Tactics! Stelle dein strategisches Geschick unter Beweis, führe ein Team furchtloser Krieger und erlebe epische Schlachten in einem innovativen taktischen RPG. Schmiede Allianzen, entfessle verheerende Angriffe und beherrsche das Schlachtfeld in diesem fesselnden Abenteuer, das deine taktischen Fähigkeiten auf die Probe stellt!
Inhaltsverzeichnis
Live by the Sword: Tactics – Ein taktisches Rollenspiel mit Fokus auf Balance
Live by the Sword: Tactics ist ein taktisches Rollenspiel, das sich auf ausgewogene Begegnungen und ein tiefes Gameplay konzentriert. Entwickelt von den Indie-Entwicklern Labrador Studios, bietet dieses Spiel ein intimes und persönliches Spielerlebnis.
Kleine, dichte Karten und 5-gegen-5-Kämpfe
Im Gegensatz zu anderen taktischen Rollenspielen liegt der Fokus von Live by the Sword: Tactics auf kleineren, dichteren Karten und 5-gegen-5-Kämpfen. Das führt zu einem begrenzten Umfang, der sich jedoch gut mit der begrenzten Anzahl an Kämpfern kombiniert. In diesem Spiel geht es mehr um Taktik als um den Einsatz besonders starker Einheiten.
Eingeschränkte Charakterentwicklung
Die Charakterentwicklung in Live by the Sword: Tactics ist recht eingeschränkt. Du hast die Möglichkeit, die Fähigkeiten deiner Einheiten vor einem Kampf zu ändern, aber sonst gibt es nur wenige Anpassungsmöglichkeiten. Die begrenzte Anzahl an Zügen ermutigt nicht unbedingt zum Experimentieren, aber sie behindert auch nicht die Entwicklung deiner Charaktere.
Langsame und langweilige Kämpfe
Die Kämpfe in Live by the Sword: Tactics können langsam und langweilig sein, besonders in den Story-Levels. Die Strategie besteht hauptsächlich darin, sich auf ein einzelnes Ziel zu konzentrieren, um die Anzahl der Feinde zu reduzieren. Selbst wenn nur noch ein oder zwei Feinde übrig sind, kann es lange dauern, die Begegnung zu beenden.
Multiplayer-Modus und andere Spielmodi
Wenn dir das Kern-Gameplay von Live by the Sword: Tactics gefällt, gibt es auch eine Menge Inhalt, in den du dich vertiefen kannst. Neben dem Story-Modus gibt es einen Abenteuermodus und einen Multiplayer-Modus, bei dem die Gegner von anderen menschlichen Spielern gesteuert werden. Das sorgt für eine solide Erfahrung, solange es eine aktive Spielerbasis gibt.
Benutzerdefinierte Spielfelder und Updates
Ein neues Update für Live by the Sword: Tactics ermöglicht es dir, benutzerdefinierte Spielfelder zu erstellen und gegen Freunde oder die KI anzutreten. Das Update bietet auch neue Fähigkeiten, Eigenschaften und Gegenstände, die deinem Spielerlebnis noch mehr Tiefe verleihen. Das Abenteuer-Statistikpunkte-System erlaubt es dir, die Lebenspunkte, Bewegung, Geschwindigkeit und Genauigkeit deiner Gruppenmitglieder zu verbessern.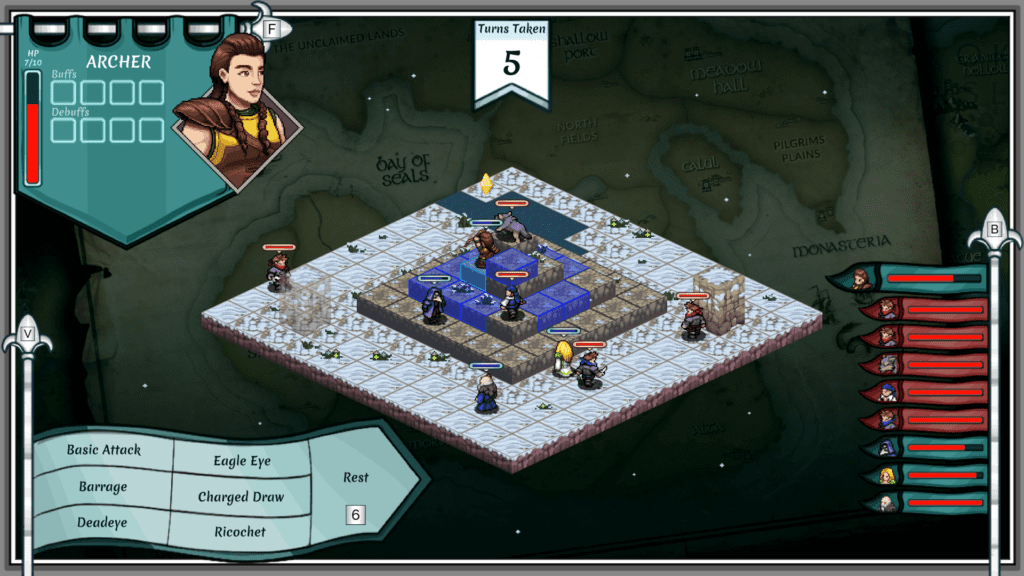 Fazit
Zusammenfassend lässt sich sagen, dass Live by the Sword: Tactics ein Spiel ist, das zwar auf ausgewogene Auseinandersetzungen setzt und ein solides Multiplayer-Erlebnis bietet, jedoch das Einzelspieler-Erlebnis eher eintönig gestaltet. Trotz unterschiedlicher Szenarien wirken die Begegnungen sehr ähnlich und das Spiel scheint seine kreative Freiheit einzuschränken, um Metagaming-Probleme zu vermeiden.
Für viele Fans des Genres ist dies möglicherweise kein empfehlenswertes Spiel, da der größte Teil des Gameplays abseits des Multiplayer-Modus nur wenig Interesse weckt.
Dennoch könnte das Spielen mit Freunden, in einer entspannteren Atmosphäre, für ein angenehmeres Erlebnis sorgen. Ungeachtet dessen ist es ratsam, Live by the Sword: Tactics eher zu überspringen.
Weiter geht es zur Webseite vom Game
Adventure gefällig? Dieser Entwickler liefert Abenteuer:
Die Pendulo Studios – Das 1. spanische Entwicklerstudio – Unterhaltsam und inspiriert