Woodruff and the Schnibble of Azimuth ist ein Spiel mit äußerst schrägem Humor. Begib dich auf die die Spur des Schnibble. Dr. Azimuth, der Adoptivvater von Woodruff ist entführt worden. Woodruff, eben noch ein unschuldiges Kleinkind, kann nicht Lesen und muss versuchen seinen Adoptivvater zu finden und zu retten. Der hat ihm kurz vor seiner Entführung einen Helm aufgesetzt, der ihn in einen Erwachsenen verwandelt. Woodruff muss hinter das Gehimnis des Schnibbles kommen.
Woodruffand the Schnibble of Azimuth
Das Adventure Woodruff and the Schnibble of Azimuth (Ausgesprochen: Wodruff) wurde von Coktel Vision entwickelt. Es ist ein äußerst schräges Spiel, mit noch schrägeren Figuren und einer durchgeknallten Handlung. Sierra übernahm die Aufgabe des Publishers.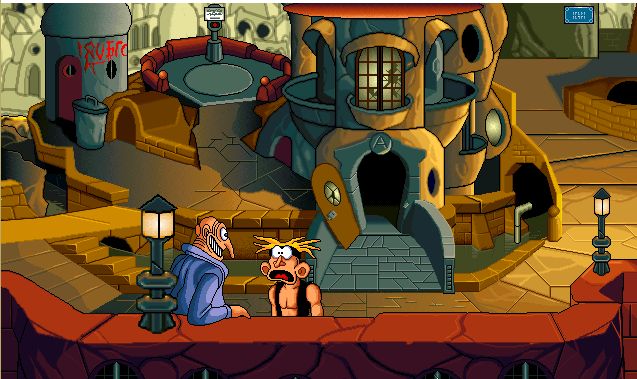 Die Handlung von Woodruff and the Schnibble of Azimuth
Es spielt hundert Jahre nach einem verheerenden Atomkrieg. Wir befinden uns in einer Stadt namens Vlurxtrznbnaxl. Dort leben die letzten Überlebenden der menschlichen Rasse, zusammen mit den Boozook. Die Boozook sind ein Mutantenvolk, die besagte Stadt erbaut haben. Der Regierungschef ist der ein menschlicher Diktator: "Der Obersack". Die Bevölkerung muss langweiliges Kabelfernsehen ertragen und die Boozook werden unterdrückt und müssen als Sklaven ihr Dasein fristen. Regiert wird die Stadt ansonsten vom Rat der Weisen. Der hat jedoch seine eigenen Probleme und kann nicht regieren. Jeder Weise hat seine eigen Art von Magie. Deine Aufgabe ist es, die Macht wieder ins Gleichgewicht zu bringen und den Obersack seiner Macht zu berauben.
Das Spiel Woodruff and the Schnibble of Azimuth
Woodruff muss einige Puzzles lösen. Dazu gehört erst einmal lesen zu lernen. Woodruff ist eigentlich ein Kleinkind. Dr. Azimuth hat ihm einen Helm aufgesetzt, der ihn in einen Erwachsenen verwandelt hat. Deine Aufgabe ist es Dr. Azimuth zu finden, der Rat der weisen Boozooks wieder handlungsfähigk zu machen und das Geheimnis des "Schnibbles" zu ergründen. Der Schnibble ist ein Messias, auf den die unterdrückten Boozook warten. Woodruff muss lernen zu zaubern, durch die Zeit reisen und versuchen die Dame der "Herz und Busen"-Show zu erobern. Die steht auf sehr gutem Fuße mit dem Obersack. Dabei lernt Woodruff die Tücken der Bürokratie kennen.
Gameplay von Woodruff and the Schnibble of Azimuth
Das Spiel weiß viel zu bieten. Der Sound ist skurril und verrückt. Die Lippenbewegungen hauchen den Figuren Leben ein. Die Zeichentrickanimationen sind sehr gut gelungen. Die Grafik des Spiels präsentiert sich in 640×480 Pixeln. Spielcharaktere präsentieren sich mit viel Detailreichtum animiert. Woodruffs Charakter macht im Laufe des Spiels einige Verwandlungen durch. Zu Beginn ist er ein Kind und wird dann zum Erwachsenen. Sogar als Greis und Blondine hat er seine Auftritte. Spielst du einen Moment mal nicht, vertreibt sich Woodruff auf seine Art und Weise die Zeit. Er hört Walkman oder macht anderen Quatsch.
Woodruff emuliert
Da das Spiel für MS-DOS erschienen ist, läuft es auf den heutigen Systemen nicht mehr. Über die DOSBox habe ich das Spiel zum Laufen gebracht. Retrogefühl und viel Freude an den kniffligen Rätseln hat mich gepackt. Besonders  die skurrilen Geräusche faszinieren mich an diesem Spiel. Die skurrilen Figuren hinterlassen einen bleibenden Eindruck. Ein Problem bei der Emulation das ich hatte, könnte auch ein Bug im Spiel sein. Woodruff unternimmt im Spiel eine Zeitreise in die Vergangenheit. In der Kerkergasse gibt es in der Gegenwart nichts weiter. Kehrt Woodruff in die Kerkergasse aus der Vergangenheit zurück, sollte eigentlich ein Haus dort stehen, bei dem der Weise erscheint, der ihm Fähigkeiten beibringt. Da ich in der Gegenwart nicht in der Gasse war, erscheint aus irgendeinem Grund der Weise nicht und ich kam in dem Spiel nicht weiter voran. Versuch also auf jeden Fall in der Gegenwart alle Örtlichkeiten zu finden.
Bei monkeygames findest du Woodruff and the Schnibble of Azimuth auf deutsch zum emulieren.
Fazit zu Woodruff and the Schnibble of Azimuth
Woodruff and the Schnibbel of Azimuth ist ein tolles Spiel, dass einfach nur begeistern kann, wenn nicht gerade der Bug auftaucht und am weiterspielen hindert. Grafik, Musik, Animationen und Soundkulisse, sowie Storyline lassen an Skurilität nichts zu wünschen übrig. Wer Adventure mag, dem kann ich dieses Spiel nur ans Herz legen.

(Werbung)
Lyrik inspiriert von Woodruff