Das Spiel Aoki Ookami to Shiroki Mejika Genchou Hishi ist ein frühes Strategispiel für den NES, das nur in Japan erschien.
Aoki Ookami to Shiroki Mejika – Genchou Hishi
In einer konfliktreichen Zeit wirst du als Herrscher ausgewählt. Du musst militärische Stärke und politische Artistik nutzen, um dein Imperium aufzubauen und die Kontinente einzunehmen. Legendäre Weise und Krieger sind deine Gefährten oder deine erbitterten Feinde.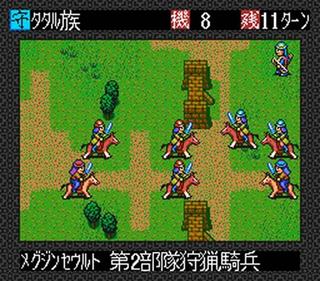 Du führst deine Ritter, Samurai und Elefanten durch den flammenden Sand von Arabien, durch den burmesischen Dschungel und die grasbewachsenen Hügel der Britischen Inseln. Über Quest die Seitenstraße zusammen mit Marco Polo und debattiert mit Thomas von Aquin. Begibst die Befehle aus deiner sicheren Festung oder Maschine an der Spitze deiner Regionen. Natürlich benötigst du auch rechtzeitig einen Nachfolger, damit deine großartige Dynastie weiterleben kann. Ziel ist es, dass sich alle deiner Macht beugen.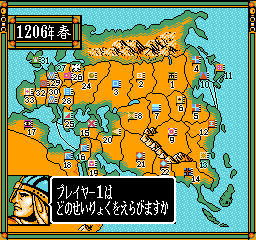 In dem Spiel der Oberst du die Mongolei oder die ganze Welt. Du spielst Dschingis Kahn, König Johannes, Philipp II oder einen anderen von 12 Machthabern. Du kannst aus 16 historischen Militäreinheiten deine Armee zusammenstellen. Dazu gehören auch Ritter, Samurai und Kriegselefanten.
Originally posted 2018-11-01 10:04:00.