Inhaltsverzeichnis
The Gallery: Call of the Starseed (2016) ist ein First-Person-Abenteuer von Cloudhead Games, das in vielen Kategorien eine Premiere ist. Als Vive-Starttitel war es eines der modernsten Abenteuerspiele seiner Zeit, und es bleibt ein faszinierendes, gut umgesetztes Kinoerlebnis.
Zurück in die 80er mit The Gallery – Call of the Starseed
Call of the Starseed wurde mit der Liebe zu Fantasy-Filmen der 80er Jahre wie The Dark Crystal (1982) und Labyrinth (1986) geschaffen. Das Game beginnt auf die offensichtlichste Art und Weise der 80er Jahre. Du besitzt eine Kassette von deiner Zwillingsschwester Elsie hinterlassen. Sie winkt, um dich unten an einer verlassenen, windgepeitschten Bucht zu treffen. Du nimmst dir die Freiheit, dich auf ein eigenes wildes Abenteuer zu begeben. Mit noch mehr Bändern, die du auf dem Weg gefunden hast, ziehst du weiter triffst einen in einer Kanalisation lebenden, verwirrten Professor, der weiß, wo Elsie hingegangen ist, und dich hinter ihr herschickt, was sich als verblüffender Ritt ins Unbekannte herausstellt.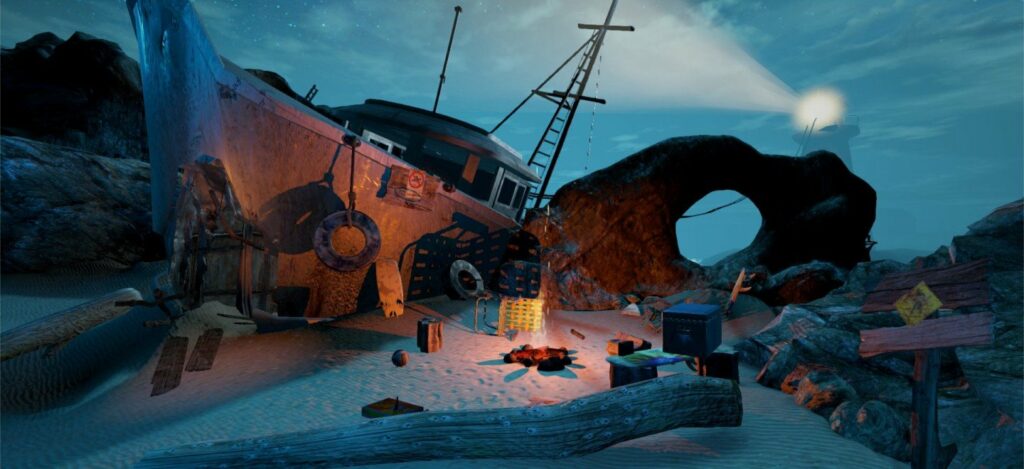 Die Rätsel
Wie bei vielen Abenteuerspielen sind die Rätsel in Call of the Starseed nicht besonders schwierig, sondern dienen eher als interaktive Möglichkeit, die Geschichte voranzutreiben. Das erste Rätsel, auf das du stößt, ergibt jedoch keinen Sinn, abgesehen von der Erklärung. Das fühlt sich nicht wirklich wie ein Game an. Der Ärger beginnt als du am Strand entlangspazierst. Du kommst an einem scheinbar wichtigen Korb vorbei. Bevor du seinen Inhalt jedoch inspizieren kannst, wird der Korb automatisch außer Reichweite gezogen.
Das Höhlenversteck des Professors
Du gehst weiter und gelangst in das Höhlenversteck des Professors, wo du eine im Morsecode geschriebene Nachricht entschlüsselst. Sie gibt dir das nächste Rätsel auf. Du musst mit einer Signalpistole eine Reihe von Glocken beschießen, um einen Leuchtturm abzulenken. Du musst die erste Folge von The Gallery im Kontext betrachten. Als erste Klasse von Motion-Controller-Spielen im Raummaßstab, die eine vollständige Objektinteraktion ermöglichten, war seine Aufgabe viel größer, als nur eine logisch konsistente Geschichte mit ebenso konsistenten Rätseln zu erzählen. Es musste dir beibringen, wie du dich durch die Welt bewegst und Dinge aufhebst. Es hat ein einzigartiges Inventarsystem geschaffen und Pionierarbeit bei der Blink-Teleportation geleistet.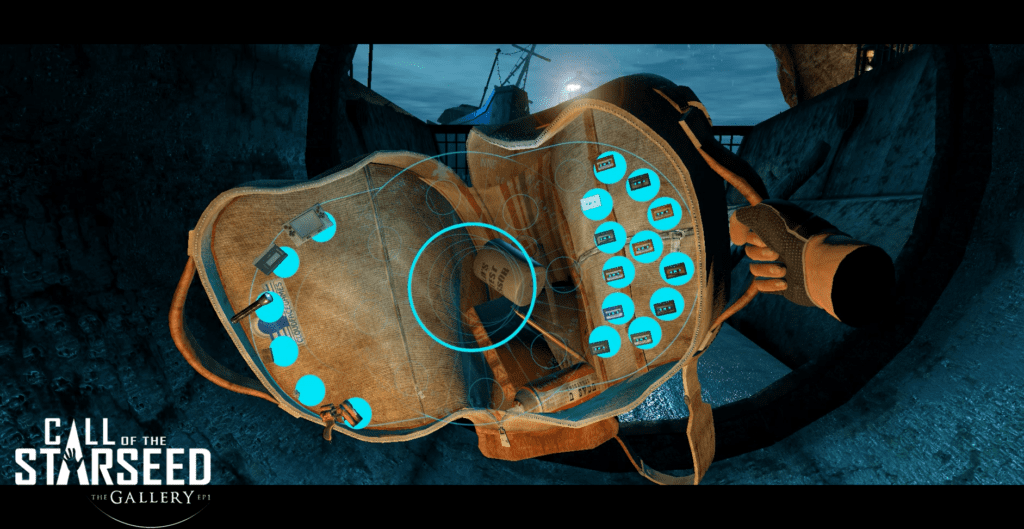 Due Immersion
Als eines der ersten Spiele seiner Art gibt es für Call of the Starseed noch einmal viel Spielraum, wenn es um einige der negativeren visuellen Aspekte geht. Sowohl Oculus als auch Valve haben viel getan, um die Grafiklast von VR auf GPUs zu optimieren, ganz zu schweigen davon, dass NVIDIA und AMD in der Zwischenzeit neue, leistungsstärkere GPUs herausgebracht haben. Allerdings wirken Texturen selbst bei hohen Einstellungen etwas zu einfach für eine so gut umgesetzte Atmosphäre, was von der genialen Beleuchtung und den beeindruckenden Filmsequenzen des Spiels ablenkt.
Die Objektinteraktion
Die Objektinteraktion ist nicht annähernd so gut, wie du es in späteren Titeln sehen würdest. Das Beispiel ist Lone Echo (2017) für seine dynamischen Handposen, die es dir ermöglicht, Gegenstände in jedem Winkel zu greifen und sie realistisch zu fassen. Das Halten von Gegenständen fühlt sich in Call of the Starseed nie ganz "richtig" an, da du nur wenige spezifische Haltegriffe für jeden Gegenstand hast, was die Immersion Eintauchen etwas erschwert. Cloudhead Games war einer der frühen Entwickler von Teleportation und Snap-Turn-Komfortmodus, die beide Industriestandards der Fortbewegung sind. Es gibt ein paar verschiedene Arten der Teleportation, also musst du experimentieren, um herauszufinden, was für dich richtig ist. Trotzdem ist das Fortbewegungsschema etwas in die Jahre gekommen. Du kannst Gegenstände auch aus geringer Entfernung greifen und sparst dir die Arbeit, dich ständig zu bücken.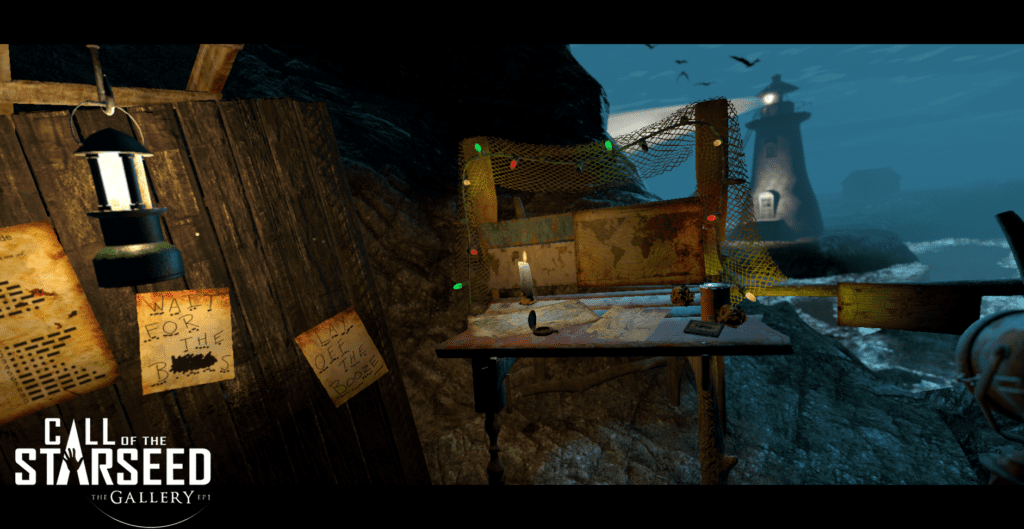 Die Story
In Bezug auf die Geschichte trifft Starseed jedoch die mutige Fantasy-Stimmung der 80er, die es anstrebte. Die Besetzung der Charaktere, obwohl karikaturistisch, sind echte Menschen. Du kannst dies einem gut gepflegten Drehbuch und einer erstklassigen Sprachausgabe zuschreiben, die die Charaktere der Welt wirklich zum Leben erwecken.
Fazit
The Gallery: Call of the Starseed ist ein First-Person-Abenteuer, das die Serie begründet und einen langsamen Abstieg in das wirklich Außergewöhnliche zeigt. Trotz einiger Kritikpunkte glänzt das Spiel letztendlich mit wunderschönen Filmsequenzen, realistischer Sprachausgabe und kompetentem Set-Design, was für einen unterhaltsamen, wenn auch kurzen Einstieg in eines der ersten VR-Spiele mit Bewegungssteuerung sorgt. Teleportation und Objektinteraktion sind etwas in die Jahre gekommen.
Weiter geht es zur Webseite über The Gallery – Call of the Starseed
Weitere Adventure auf Games und Lyrik: