Journey of a Roach schickt dich in ein Abenteuer mit einer Kakerlake. Gelange als Kakerlake zu deiner geliebten Blume, die außerhalb des Bunkers wächst.
Journey of a Roach
Der Protagonist in diesem Spiel ist eine Kakerlake. Die Erde ist nur noch eine wüstenähnliche Einöde. Die Atomkatastrophe dort hat nur einige Käfer verschont. Unser Protagonist ist die Küchenschabe Bud. Der verliebt sich augenblicklich in eine wunderschöne Blume. Zuhause berichtet er seinem Kumpel Jim davon. Beide leben in einem Atombunker, aus dem es jetzt gilt herauszukommen.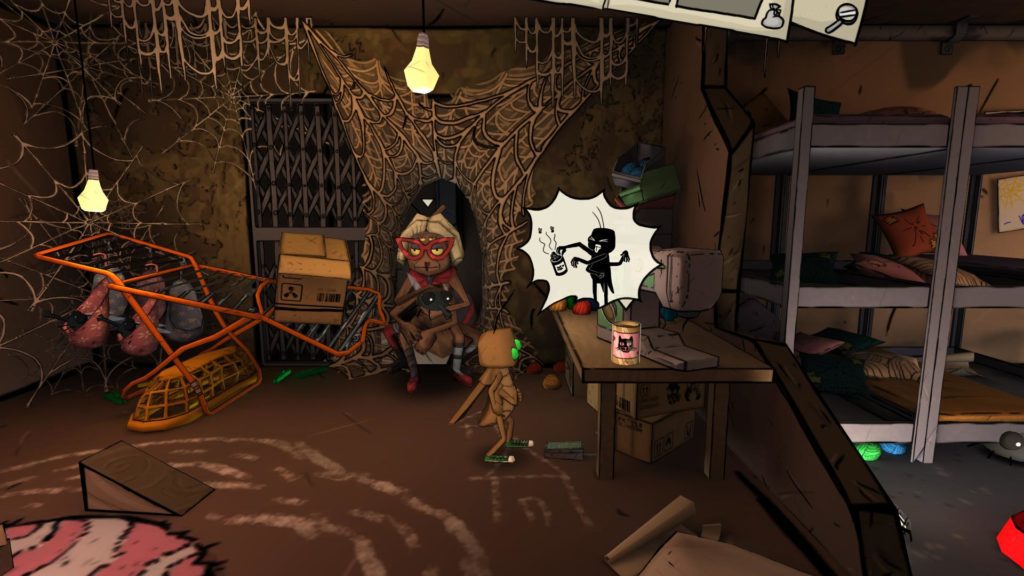 Das interessante an Bud ist, dass er sich frei im dreidimensionalen Raum bewegen kann. Die Perspektive hast du aus einem festen Blickwinkel heraus. In dem Adventures musst du hoch gelegene Schalter betätigen, Objekte einsammeln und alternative Wege finden. Die Schwierigkeit bildet dabei auch die Kamera, die sich beim Perspektivenwechsel mit dreht. Du musst dich auf die Suche nach Interaktionspunkten machen, um Rätsel zu lösen oder auch mit anderen zu sprechen.
Das Gebrabbel der Spielfiguren ist nicht zu verstehen und wird mit Comicbildern illustriert. Bei jedem Charakter dem du begegnest, wird dir gezeigt was deine nächste Aufgabe ist. Die Rätsel sind dabei nicht zu schwer geraten. Mit der Zeit werden die Level größer und unübersichtlicher. Nicht immer sind die Objekte gut auf dem Bildschirm als benutzbar zu erkennen. Da hilft die Hotspotanzeige ganz gut weiter.
Fazit
Journey of a Roach ist einfach nur sympathisch. Das Spiel ist niedlich und hat einige interessante Rätsel versteckt. Die Sprachausgabe ist gar nicht unbedingt notwendig. Das Spiel hat eine interessante und schöne Atmosphäre. Die Comic-Sprechblasen und die Zwischensequenzen sind sehr humorvoll gestaltet und unterhalten hervorragend. Das einzige an dem Spiel was zu bemängeln wäre, ist die kurze Spieldauer. In ungefähr 4 Stunden ist man durch Journey of a Roach durch.