Fable spielt in einer gefährlichen und tödlichen Fantasywelt. Du spielst den jungen Quickthorpe, der die Aufgabe bekommt die Welt zu retten!
Fable
Das Volk der Mecubarz besuchte einst ein Volk in einer Fantasywelt. Die Mecubarz wollten eine Zivilisation der Schönheit, Weisheit und Macht erschaffen. Sie besaßen fortschrittliche Technologie, im Gegensatz der Menschen, die in der mittelalterlichen Welt lebten. Die Menschen beherrschte Furcht und Gier. Sie versuchten, angeführt von Ismael, einem Hohepriester des Mecubarz-Kultes, das Volk zu hintergehen und die Macht an sich zu reißen. Die astralen Wesen rächten sich. Sie zerschlugen die Welt in vier Teile. Den ersten Teil bedeckten sie mit Eis, den Zweiten hüllten sie in Nebel, den Dritten tauchten sie in Wasser und den Vierten verschlang das Feuer. Die Mitverschwörer Ismaels verwandelten sie in halbgöttliche Wesen, die sie zwangen, die Schlüssel zur Macht der Mecubarz zu bewachen. Der Hohepriester blieb seitdem verschollen. 100 Jahre später schickt der Dorfälteste Quickthorpe los, damit er die vier Wächterbestien tötet, die Steine zurückholt und die Welt rettet.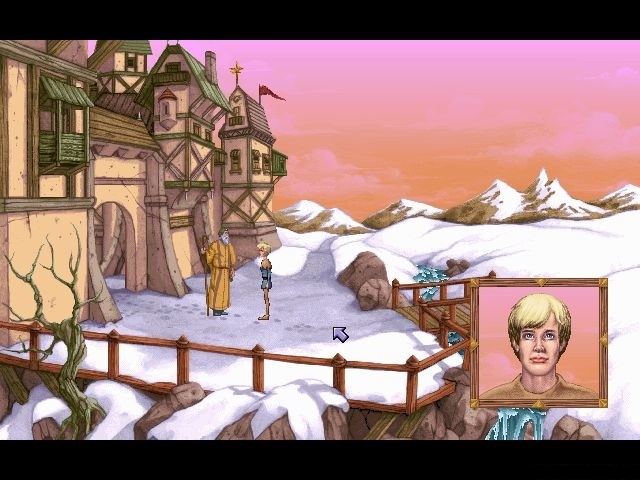 Das Spiel
Du übernimmst die Rolle von Quickthorpe. Fable ist ein klassisches Point & Click Adventure, in dem du verschiedene Quests löst. Dafür sammelst Informationen und was nicht niet- und nagelfest ist. Fällst du falsche Entscheidungen, erwarten dich zahlreiche Todesarten. Stirbt Quickthorpe, geht das Spiel ohne ihn weiter und du kannst nichts steuern und musst zusehen, was ohne ihn geschieht. Wenn Quickthorpe im Jenseits ist, kannst du trotzdem speichern. Bewegt sich Quickthorpe zu schnell oder zu langsam, passt du die Spielgeschwindigkeit nach Bedarf an.
Grafik und Sound
Das Spiel nutzt SVGA-Grafik. Du benötigst Direct X der Windows95-Version um Fable zu spielen. In- und Outro werden mit 3D-Rendersequenzen dargestellt. Hintergründe, Charaktere und Objekte zeichneten die Entwickler von Hand. Die Charaktere sind animiert und das Spiel hat Liebe zum Detail. Die Orte im Spiel sind durch die verschiedenen Elemente abwechslungsreich. Fable hat keine Hintergrundmusik, dafür aber schöne Sounds. Die Effekte werden gut rübergebracht und anstelle der Hintergrundmusik gibt es verschiedene Hintergrundgeräusche, wie zum Beispiel das Prasseln eines Feuers oder das Rauschen eines Flusses. Die Synchronisation ist erstklassig. Quickthorpe wird von Hans-Georg Panczak gesprochen, der deutschen Synchronstimme von Luke Skywalker. Es gibt derben Humor und verschiedene Akzente im Spiel.
Die Steuerung
Wie bei anderen Adventures wird Fable mit der Maus gesteuert. Die rechte Maustaste initiiert Aktionen, wie zum Beispiel betrachten, sprechen oder nehmen. Mit der linken Maustaste befiehlst du deinem Helden, sich zu bewegen oder Aktionen auszuführen. Das Inventar lässt sich mit einem Klick auf Quickthorpe oder mithilfe der rechten Maustaste öffnen. Leider reicht ein Anklicken für das Benutzen von Gegenständen nicht. Zuerst wählst du die Aktion per Mausklick aus und nimmst einen Gegenstand, bevor du ihn nutzt. Bei wichtigen Objekten, die Quickthorpe betrachtet, öffnet sich ein kleines Fenster, in dem du Gegenstände genauer betrachtest oder durchsuchst. Zusätzlich gibt es eine Übersichtskarte, über die du dich zurechtfinden kannst. Um dich fortzubewegen durchläufst du extra jedes Gebiet.
Ein Held gegen das Böse
Fable ist ein Adventure, das sich selbst nicht sehr ernst nimmt. Die Atmosphäre erinnert stark an Simon the Sorcerer. Regelmäßig gibt es Anspielungen auf unsere Welt. Der Protagonist, ein junger Held, zieht los, um das Böse zu vernichten und die legendären Artefakte zu erlangen, weil kein anderer Lust hat. Über die Hintergründe der Story erfährst du immer nur stückchenweise etwas.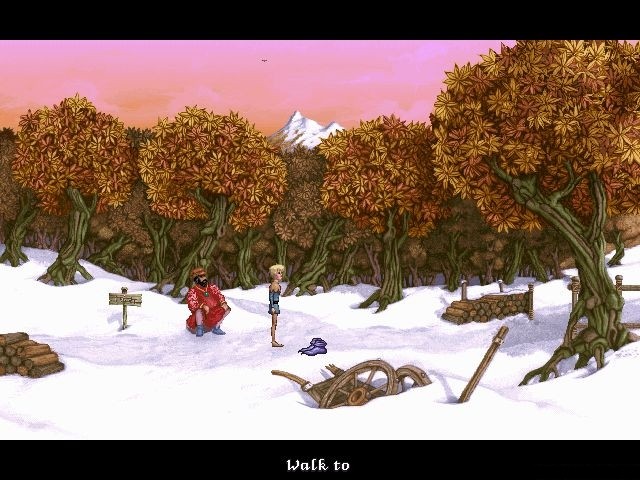 Inventarfüller und Rätsel
Ein Drittel der eingesammelten Gegenstände erweisen sich als nutzlos und Inventarfüller. Das verkompliziert einige Rätsel, da du erst die richtigen Gegenstände aus dem Inventar finden musst. Hinweise, für die Rätsellösungen gibt es oftmals in Gesprächen. Die Atmosphäre wirkt witzig, mit etwas eigensinnigen Humor. Neben menschlichen Figuren, begegnet Quickthorpe zum Beispiel Voodooechsen oder dem Sensenmann.
Ein sterblicher Charakter
Speicher auf jeden Fall oft ab. Willst du falsche Antworten in Gesprächen oder machst Dinge, die andere Charaktere nicht gerne sehen, findest du schnell ein vorzeitiges Ende. Quickthorpen hat in seiner Welt sehr viele Möglichkeiten, um zu sterben.
Fable emuliert
Ein Problem bei fable ist es, das Spiel zum Laufen zu bekommen. Um es spielen zu können, bist du gezwungen, die DOS-Box zu nutzen. Leider hat es die Angewohnheit, sich öfters aufzuhängen, wenn du einen Bildschirm verlässt. Wenn du über die Options-Datei der DOS-Box gehst und die Zeile cycles= auto auf cycles fixed 8000 änderst, verändert sich die Geschwindigkeit der DOS-Box. Hängt es sich trotzdem auf, ändere die Zahl erneut um. Mindestens 6000 cycles müssen eingestellt sein. Bei mir hat das leider nicht funktioniert und das Spiel hat sich trotz dessen oft aufgehangen. Deshalb sortiere ich es auch bei der Ecke der verlorenen Spiele ein.
Das Spielende
Bei Fable gibt es zwei verschiedene Spielenden. Eine Variante erscheint nur in der internationalen Veröffentlichung, während das nordamerikanische Ende sich anders darstellt. Das europäische Ende hat im Gegensatz zur Alternative ein Happy End.
Erscheinungsgeschichte
Das Spiel Fable erschien 1996 für die Systeme MS-DOS und Windows als klassisches Point & Click-Adventure. Simbiosis Interactive entwickelte das Spiel. Pubisher war Sir-Tech in Nordamerika. In Europa übernahm Telstar Electronic Studios die Veröffentlichung.
Fazit
Wer Simon the Sorcerer kennt, ist bei fable an der richtigen Adresse. Das Spiel ist lustig, abwechslungsreich und unterhaltsam. Abgesehen davon, dass die Steuerung gewöhnungsbedürftig ist und du viele Möglichkeiten hast, Quickthorpe in den Tod zu steuern, ist fable für Adventure Fans sehr zu empfehlen. Das Spiel hätte mehr hergegeben und bringt nicht viel Neues auf dem Plan. Aber es ist unterhaltsam.
Wer sein Glück mit dem Spiel versuchen möchte, findet Fable bei Monkeygames
oder hier:

(Werbung)
Weitere Games auf Games und Lyrik: