Die Telltale Games nahmen sich in fünf Epsioden die Back to the Future-Reihe vor. Die Handlung spielt sechs Monate nach dem dritten Film von Back to the Future. DocBrown verschwindet auf einer seiner Reisen. Zu Beginn des Spiels werden die Habseligkeiten von Doc Brown versteigert.
Die Darstellungen sind detailliert und zeigen, dass sie sich an die Fans der Filme richten. Die Zeitmaschine taucht vor Marty auf, mit Hinweisen darauf, dass der Doc Probleme hat. Marty reist mit dem De-Lorean ins Jahr 1931. Der arme Doc muss bald dem Sensenmann die Hand schütteln und Martys Aufgabe ist es, ihn zu retten.
Die Zwischensequenzen gestalten sich sehr gut. Dazu gibt es eine schöne Filmmusik und die passenden Dialoge. Die Grafik gestaltet sich comichaft. Der Sound ist sehr schön, allerdings ohne die Originalstimmen.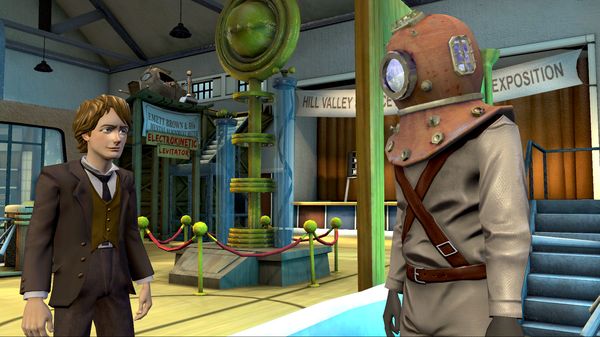 Dafür bieten die Räsel wenig Anspruch. Leider lassen Steuerung und Kameraführung etwas zu wünschen übrig. Tastatur und Maus werden zum Steuern eingesetzt.
Bei einer Episode kannst du mit zwei bis drei Stunden rechnen.
Bei einer Episode kannst du mit zwei bis drei Stunden rechnen.
Fazit
Die Telltale Games haben ein unterhaltsames Spiel mit Doc Brown und Marty McFly vorgelegt. Es hat zwar einige Schwächen, eignet sich aber definitiv für Fans der Reihe. Eine interessante Weitererzählung der Story, die man aus den Filmen kennt.