Pssst ist ein Action-Videospiel, das von Ultimate Play the Game entwickelt und im Juni 1983 für das ZX Spectrum veröffentlicht wurde. Im Spiel muss Robbie the Robot seine Pflanze schützen, da sie von verschiedenen Insekten angegriffen wird , von denen jedes ein anderes Abwehrmittel benötigt, um es zu neutralisieren. Pssst war nach Jetpac das zweite Spiel, das von Ultimate veröffentlicht wurde.
Das Spiel schrieb Chris Stamper. Die Grafiken erstellte sein Bruder Tim Stamper entworfen. Pssst war eines der wenigen Spectrum-Spiele, die auch im ROM-Format für die Verwendung mit dem Interface 2 verfügbar waren und das "sofortige" Laden des Spiels ermöglichten (das normale Laden der Kassette kann einige Minuten dauern). Das Spiel erhielt bei Veröffentlichung positive Kritiken von zwei Veröffentlichungen, wobei Kritiker vor allem seine Präsentation und sein Gameplay lobten. Es wurde im Dezember 1983 von Personal Computer Games auf Platz 40 der Liste der "Bestseller-Software" gesetzt.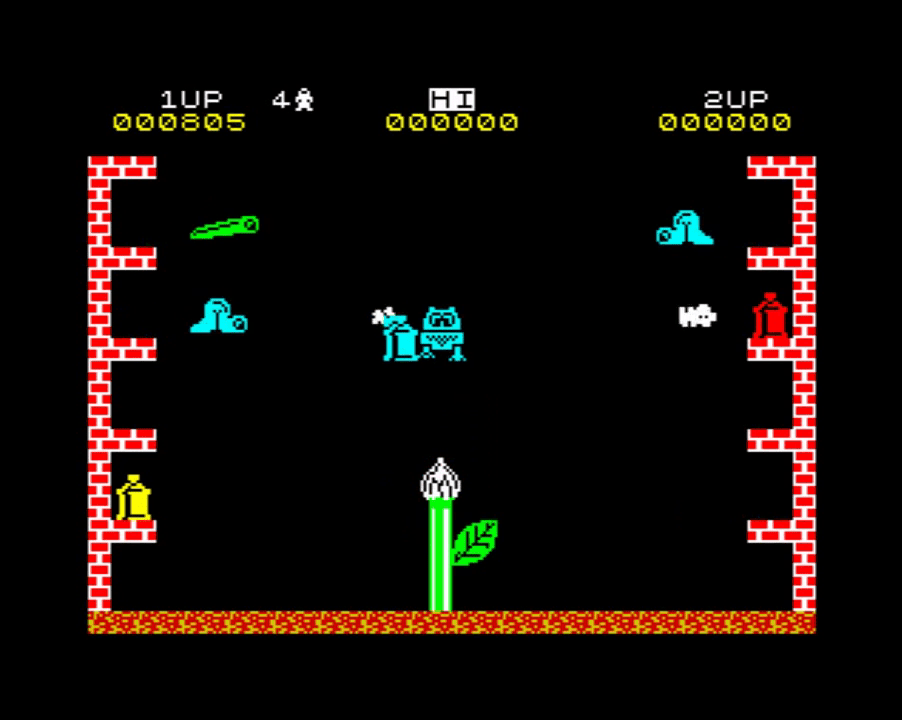 Du musst die Pflanze vor Parasiten geschützt, wodurch sie blüht und das Level beendet. Das Spiel wird aus einer einzigen 2D-Perspektive präsentiert und dreht sich um das Ziel von Robbie the Robot, seine Pflanze vor interstellaren Weltraumschnecken, Blutegeln und Mücken zu schützen. Die Pflanze wächst von der unteren Mitte des Bildschirms aus, und Sprühdosen mit drei verschiedenen Pestiziden befinden sich auf Leisten auf jeder Seite des Bildschirms. Bonusgegenstände wie Dünger und Spaten erscheinen auf nicht besetzten Leisten, was sowohl die Punktzahl der Spieler als auch die Wachstumsrate der Pflanze erhöht.
Es gibt drei Arten von farbigen Parasiten und drei Arten von Pestiziden, die die Parasiten entweder töten, betäuben oder keine Wirkung auf sie haben. Der Spieler kann jeweils nur eine Art von Pestizid tragen. Während der frühen Phasen des Spiels kann das tödliche Pestizid jederzeit übertragen werden. In späteren Phasen wird jedoch mehr als eine Art von Parasiten gleichzeitig auf dem Bildschirm angezeigt, was die Wahl des Pestizids taktischer macht.
Wenn die Pflanze wächst, können Blätter sprießen. Diese erhöhen die Wachstumsrate, aber auch die Anfälligkeit für die Parasiten. Sobald die Pflanze eine vorgegebene Höhe erreicht hat, blüht sie und der Spieler rückt zum nächsten Level vor. Ein Leben wird abgezogen, wenn die Pflanze stirbt oder der Spieler Kontakt mit einem Parasiten aufnimmt.

Paul Liptrot von Home Computing Weekly lobte die Grafiken, indem er sie als "reibungslos" und farbenfroh bezeichnete und das "süchtig machende" Gameplay lobte. ZX Computing betrachtete das Spiel als sehr professionell geschrieben und produziert, mit exzellent glatten und detaillierten Grafiken. Darüber hinaus stellte die Überprüfung Originalität, Suchtgefahr und Genuss von Pssst fest. In der zweiten Ausgabe von Personal Computer Games wurde das Spiel auf Platz 40 seiner meistverkauften Softwareliste gesetzt. In der vierten Ausgabe von Personal Computer Games wurde Pssst aufgrund der "berühmten Grafik" von Ultimate für ein Spiel des Jahres 1983 nominiert. Laut dem Rezensenten waren andere Attribute des Spiels seine "Originalität" und "Spaß" im Vergleich zu anderen Ultimate-Titeln, die 1983 veröffentlicht wurden. In einer retrospektiven Rezension hat ein Rezensent von Retro Games! zusammengefasst, dass das Spiel "nicht das beste" von Ultimate's Veröffentlichungen für das ZX Spectrum war, obwohl es als "weniger gelobt" als die anderen angesehen wurde. Sie betrachteten Pssst jedoch als "Vorgeschmack auf die kommenden Dinge" und als signifikante Verbesserung gegenüber der "klobigen" und "nervösen" Animation früherer Spiele für das ZX Spectrum.
Fazit
Pssst! lohnt sich wieder für Retrospieler, die ein süchtig machendes Spiel suchen. Für ein Alter ist das Spiel überraschend unterhaltsam, mit einer Prise Taktik.