Rockman EXE WS erschien für den Bandai Wonderswan Color. Die Geschichte basiert auf die Battle Network Games, aber ist ein von Capcom entwickeltes klassisches Jump & Run. Publisher des Spieles war Bandai. Heißt es hier wieder Back to the Roots?
Rockman.EXE WS
In Rockman EXE WS (ロックマンエグゼ WS) handelt es sich um ein klassisches Side-Scrolling Jump & Run. In diesem Teil steuerst du Mega Man, der Anweisungen von Lan bekommt. Die Geschichte selbst basiert auf der Battle Network Serie. Das Spiel wurde nur in Japan veröffentlicht. Abgesehen von dem Spielprinzip unterscheiden sich einige Dinge vom Battle Network.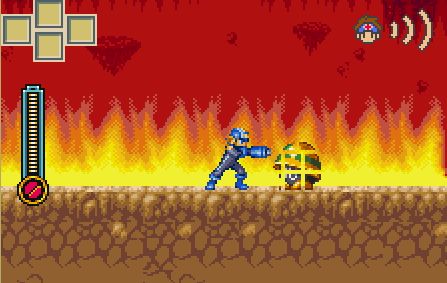 Gameplay
Im Original sind die WunderSwan-Kontrollen etwas ungewohnt. Versuchst du, mit Mega Man Leitern zu erreichen kann das im einen oder anderen Fall zur Frustration führen. Manchmal sind die Battle Chips sinnvoll, aber leider nicht immer. Die Grafik ist detailreich und in Farbe. Die Animationen sind sauber und fließend. Die Musik ist kein Ohrwurm, hat aber trotzdem einige schöne Melodien dabei. Überragend ist er deshalb trotzdem nicht. Einfache Instrumente werden eingesetzt. Die Soundeffekte passen, ragen jedoch nicht sonderlich heraus.
Der Schwierigkeitsgrad
Das Spiel ist nicht sehr einfach. Nach jedem Level werden die 9 Leben von Mega Man aufgefüllt. In den Leveln gibt es versteckte Feinde, tote Winkel und Puzzle. Stellst du dich nicht mit der richtigen Strategie auf den Boss ein, bringt er dich schnell um die Ecke. Das Spiel hat einen hohen Wiederspielwert. Passwörter gibt es für die Level nicht. Dafür kannst du regelmäßig Savegames anlegen.

Unterschiede zum Battle Network
Battle Chips verschwinden sie nach Benutzung. Du kannst dir deine Level oder Endgegner nicht vor dem Spiel auszusuchen undwirst direkt in den ersten Level hineingesetzt. Einige Level haben mehrere Wege zum Durchlaufen. Die Level kannst du mehrere Male durchspielen. Dir stehen 9 Leben zur Verfügung. Im Spiel finden sich die Elektrizität, Wasser und Feuer. Mega Mans Style lässt sich bei Bedarf ändern, was sich zum Beispiel auf Rüstungen auswirkt. Rüstungen lassen sich nicht aussuchen. Manchmaldie Verbindung zwischen Mega Man und Lan schwächer. Je nach stärke der Verbindung kannst du von Lan Hilfe erwarten oder nicht.
Fazit
Abgesehen von der japanischen Sprache ist Rockman EXE WS ein unterhaltsamer klassischer Mega Man Spaß. Vom ursprünglichen Mega Man Spiel gibt es die eine oder andere Abweichung. Es wird dem Spieler nicht leicht gemacht und Capcom lieferte damit ein Game mit hohem Wiederspielwert.