Knight Squad ist ein bombermanartiges Spiel. Dich erwartet ein zerstörerisches Chaos, das deine Freunde in die Luft jagt. Es fehlt jedoch jede Art von Geschichte oder Erzählung, um zu erklären, warum etwas passiert.
Die Ritter in Knight Squad
Du hast von Anfang an die Wahl zwischen einer Ritterbesetzung. Es gibt Storm, Smash, Shooter, Selfie, Skills, Shockwave, Solo, Saviour und Sparkles. Durch das Erreichen bestimmter Errungenschaften werden zusätzliche Ritter freigeschaltet. Jedes hat seine eigene Animation, die ihm einen Hauch von Persönlichkeit verleiht. Ihre Modelle im Spiel haben ihre eigenen visuellen Qualitäten, die sie einzigartig machen, Von Schwerttypen bis hin zu Rüstungserscheinungen.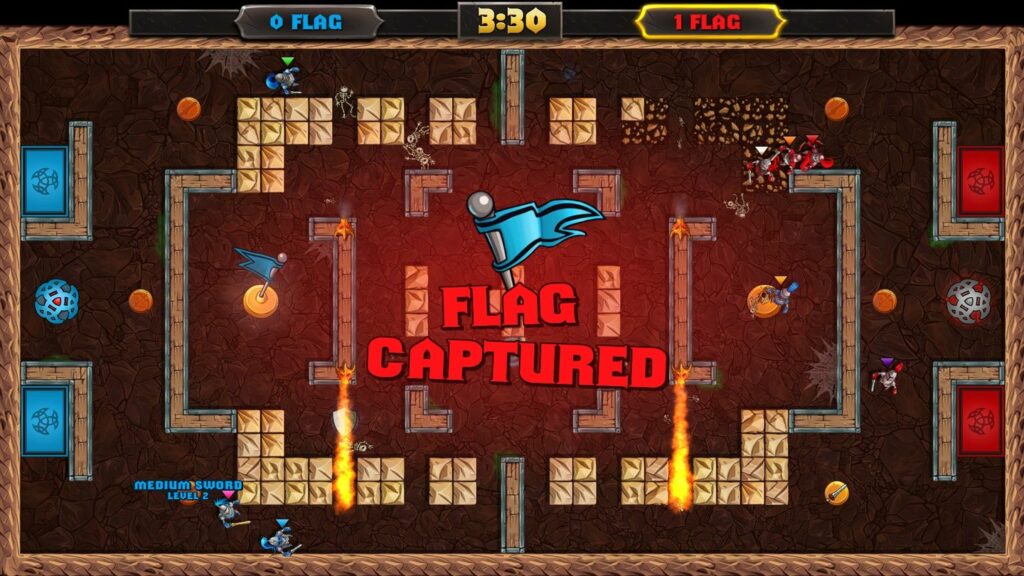 Das Spielziel
Im Kern besteht das Ziel von Knight Squad darin, die anderen Ritter auf die eine oder andere Weise zu töten. Die Waffenauswahl reicht von Schwertern, Bogen und Pfeilen bis hin zu Dingen wie Miniguns und Laserblastern. Während die Feuerkraft fortschrittlicher Technologie im Grunde das Spiel zwar lustig gestaltet, stört es Gleichgewicht des Spiels.
Die Spieloptionen
Die Spieloptionen sind entweder ein Free-for-all-Setup oder ein Team, das zwischen roten und blauen gegnerischen Seiten basiert. In 4v4 gibt es Team Deathmatch, Domination, Crystal Rush, Capture the Flag und Soccer. In Free-for-all gibt es Juggernaut, Capture the Grail, Gladiator und Last Man Standing. Mit dem DLC "The Extra Chivalrous" gibt es vier zusätzliche Spielmodi: Jail Break, Arms Race, Soul Hunter und Serial Killer. Viele dieser Spielmodi sind sich leider zu ähnlich, um sich voneinander zu unterscheiden. Wenn es 1v7- oder 2v6-Modi gab, hätte dies möglicherweise dazu beigetragen, dieses Problem zu reduzieren. Die Spiele sind chaotisch, wenn du gegen sieben andere Ritter anztrittst. Die Karten sind nicht breit genug, um viel Platz zur Deckung zu lassen.
Die Karten
Die verfügbare Auswahl an Karten machte Spielmatches interessant. Sie verfügen über zerstörbare Mauern und Umweltgefahren, die gegen beide Seiten des Kampfes wirken. Die Spielentwickler haben die Karten an die jeweiligen Spielmodi angepasst. Dann wurden sie weiter ausgebaut, indem für jeden Modustyp verschiedene Kartenvarianten angeboten werden. Leider bedeutet dies, dass viele der Kartentexturen wiederverwendet werden. Es führt zu einem Gefühl der Wiederholung, selbst wenn zwischen verschiedenen Karten gespielt wird.
Das Menü
Die Menüoptionen sind knapp. Die Grafikoptionen waren Auflösungsumschaltung, V-Sync und etwas, das als Kameraverwacklung bezeichnet wird. Der einzige Weg, darauf zuzugreifen, ist über das Hauptmenü. Es gibt keine Option im Spiel, um Video oder Audio sofort anzuhalten und anzupassen.
Der Multiplayer
Der Multiplayer macht nur Sinn, wenn du jemanden in der Lobby findest. Derer Singleplayer mit sieben Bots ist ziemlich unterhaltsam. Die vier KI-Stufen reichen von einfach bis extrem. "Einfache" Gegner geraten gelegentlich in die Falle, wenn sie gegen Wände laufen, und sind nicht allzu schlau. Die "extreme" KI kann ein gewisses Maß an Herausforderung bieten, wenn du einen harten Wettbewerb willst.
Der Herausforderungshandschuh
Eine der Hauptattraktionen von Knight Squad Singleplayer ist der Herausforderungshandschuh. Du trittst gegen eine bunte Vielfalt an Monstern an. Es ist eine Geduldsprobe. Du musst zwischen den Hindernissen nach Mustern suchen und auf den richtigen Moment warten, um zuzuschlagen. Es wird leicht frustrierend.
Der Amoklauf der Blitze
Beim "Amoklauf der Blitze" tötest du Legionen von Toten, die auf dich zukommen. "Attack of the Trolls" lässt dich gegen acht Trolle antreten, die Stachelschilde angreifen. Du musst ihrem Angriff ausweichen und im richtigen Moment aus dem Weg gehen. Von den sechs verfügbaren Herausforderungen waren die ersten fünf durchdacht und zusammengestellt.
Die Dark Knights Army
Die letzte, die Herausforderung der Dark Knights Army wirkt enttäuschend. Es geht zurück auf die Prämisse des Hauptspiels, andere Ritter zu besiegen. Wenn du vorher gegen ein paar unmögliche Monster gekämpft hast, fühlte es sich fehl am Platz an, eine leichte letzte Aufgabe zu haben. Bestenlisten für jede Herausforderung helfen dabei, mit deinen Erfolgen zusammen mit zu prahlen. Es ist gerade Motivation genug für mich, nach unzähligen Todesfällen weiterzumachen.
Fazit
Knight Squad ist ein anständiges Spiel, um es mit Freunden zu spielen. Aber die Singleplayer-Features hätten mehr vertragen können. Der Herausforderungsmodus ist eine nette Abwechslung zum Rest des Spiels. Leider ist der Wiederspielwert nicht sehr hoch. Knight Squad hat viele Spielmodi zur Auswahl. Aber es ist so übersättigt, dass sie sich ähnlich anfühlen, genauso wie die Karten. Knight Squad ist eine lustige Ablenkung, um mit Freunden zu spielen, aber es gibt nichts, wo der einsame Ritter im Einzelspielermodus sein Schwert versenken könnte. Dieses Spiel funktioniert für Fans des chaotischen Bomberman-Partyspiels.
Chainsawesome Games entwickelten und veröffentlichten Knight Squad. Die Veröffentlichung erfolgte am 16. November 2015. Das Spiel erschien für Windows und Xbox One.