Castle of Deceit ist ein Side-Scrolling-Spiel für das NES, das 1990 von Bunch Games veröffentlicht wurde, bei dem du die Kontrolle über einen Zauberer übernimmst, der in einer Burg gefangen ist, mit nur einem Zauber, um sich zu verteidigen.
Die Story von Castle of Deceit
Phfax, ein mystisches Wesen und Träger der Smaragdmagie, willigte ein, sein Leben zu opfern, um die Steine der Rune zu beschützen. Jahrhundertelang lebte er im Energieplasma der Steine, wo die Runen verborgen waren. Bis es ihn schließlich wahnsinnig machte.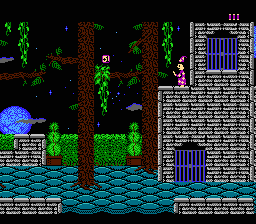 Die Kraft des Steins war so groß, dass sogar die bitteren Halluzinationen seines Wahnsinns zum Leben erweckt wurden. Sechs tödliche Wesen erschienen und stahlen die Runensteine. Cebo, der vielversprechendste der jungen Magier von Dace, muss das Schloss betreten und die Realitäten erkunden. Aber traue deinen Sinnen nicht – was du siehst, was du hörst, kann alles eine Lüge sein.