Ein Quantum Trost ist das James Bond-Spiel, das 2008 von Activision veröffentlicht wurde. Der Ego Shooter bietet viel Action, nette Bond-Girls und jede Menge Agentenabenteuer.
Ein Quantum Trost
Der Originaltitel des Spiels ist Quantum of Solace. Das Spiel ist das Erste von Activision, nachdem Electronic Arts die Franchise Rechte abgab. Das Spiel kombiniert den Film Casino Royal und ein Quantum Trost zu einem Spiel. Du hast immer einige Level in Ein Quantum Trost und regelmäßige Flashbacks in Casino Royal. So springt das Spiel zwischen Szenen der einzelnen Filme in und her. Die PS2-Version ist USK-16. Im Gegensatz dazu ist die PS3-Version mit USK-18 eingestuft.
Die Angreiferarmee
Die Szenen aus den Filmen sind wieder erkennbar, wurden jedoch mit vielen zusätzlichen Gegnern gespickt. Das mindert leider die Glaubwürdigkeit des Spiels. Die story hätte besser erzählt werden können. Du bekommst Missionsbriefings, gelegentliche Einzelmissionen, aber keinen roten Faden der Geschichte. Er finden sich hin und wieder lose Enden eines roten Fadens, dessen Anfang du suchst.
Die Briefings
Beim Briefings fällt auf, dass dieses erheblich leiser ist, als der Rest des Spiels. Das fällt leider negativ auf. Die deutschen Synchronstimmen, außer die Daniel Craigs, scheinen nicht sehr motiviert. Der positive Aspekt ist, dass viele originale Synchronsprecher aus den Filmen für die Synchronisation hinzugezogen wurden.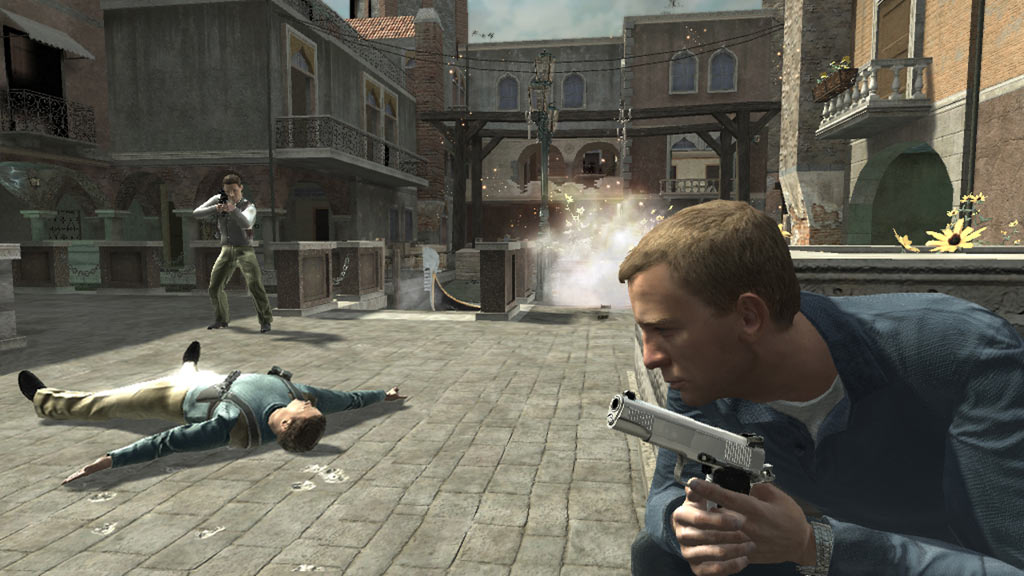 Die Missionen
Leider fehlt es den Missionen erheblich an Innovation. Überwiegend geht es darum, heranstürmende Gegner zu bezwingen. Dafür steht dir ein gutes Waffenarsenal zur Verfügung. Insbesondere bei späteren Missionen wird es wichtig die Deckung zu nutzen. Mit einer Zielerfassung kannst du Gegner Ziele anvisieren. Die KI ist intelligent genug, Gegenstände hinter denen du dich versteckst zu zerlegen. Zusätzlich kannst du dich während der Missionen zum Beispiel in Kameras einhacken, um die Umgebung besser beobachten zu können.
Die Waffen
Als Waffen dienen dir Pistolen, MGs, Granaten oder auch Scharfschützengewehre. Maximal drei Waffen kannst du gleichzeitig getragen. Wenn der Nahkampf lieber ist, kannst du Gegner auch auf diese Weise aus dem Verkehr ziehen. Das lautlose Ausschalten von Gegnern hat seine Vorteile. Auch die KI nutzt im Kampf ihre Deckung, verändert ihre Positionen oder ruft nach Verstärkung, wenn sie merkt dass etwas nicht stimmt.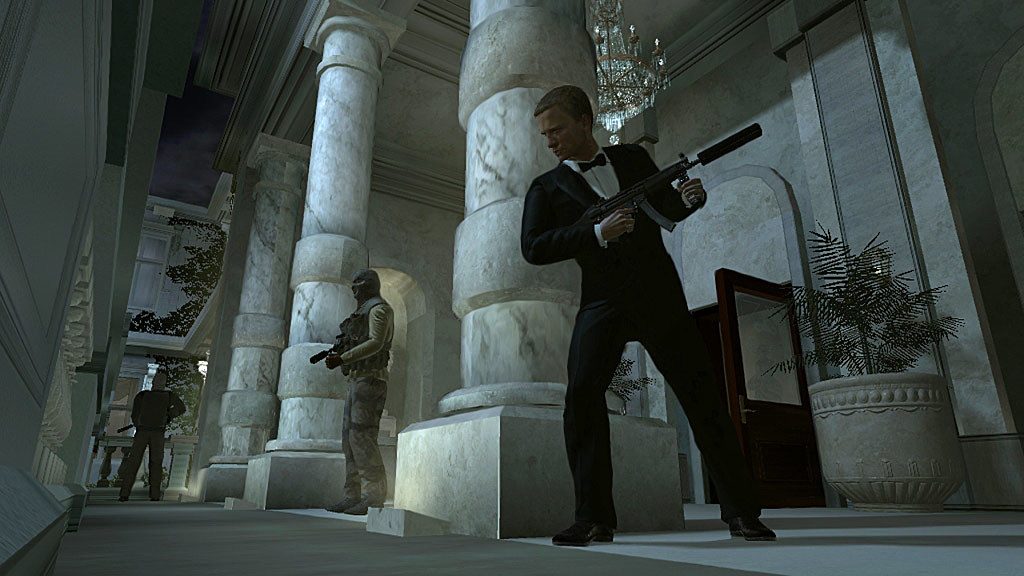 Schleichaktionen
Im Spiel gehst du nicht die ganze Zeit rabiat mit Feuerwaffen vor. Du schleichst durch die Räume, knackst Türschlösser und erforscht die Gegend. Wirst oder siehst du blau leuchtende, klingelnde Handys hast du die Möglichkeit dir gute Tipps abzuholen. Du kannst die Textnachrichten der Gegner lesen oder Fotos ansehen, die nützliche Hinweise enthalten. Die Spielspeicherung erfolgt automatisch.
Der Multiplayer
Der Mehrspielermodus präsentiert sich in neun Variationen. Bis zu zwölf Spieler können sich daran beteiligen. Dazu gehört zum Beispiel der Modus "Territory Control", der darauf abzielt, dass zwei Teams Gegenstände einsammeln und sichern müssen.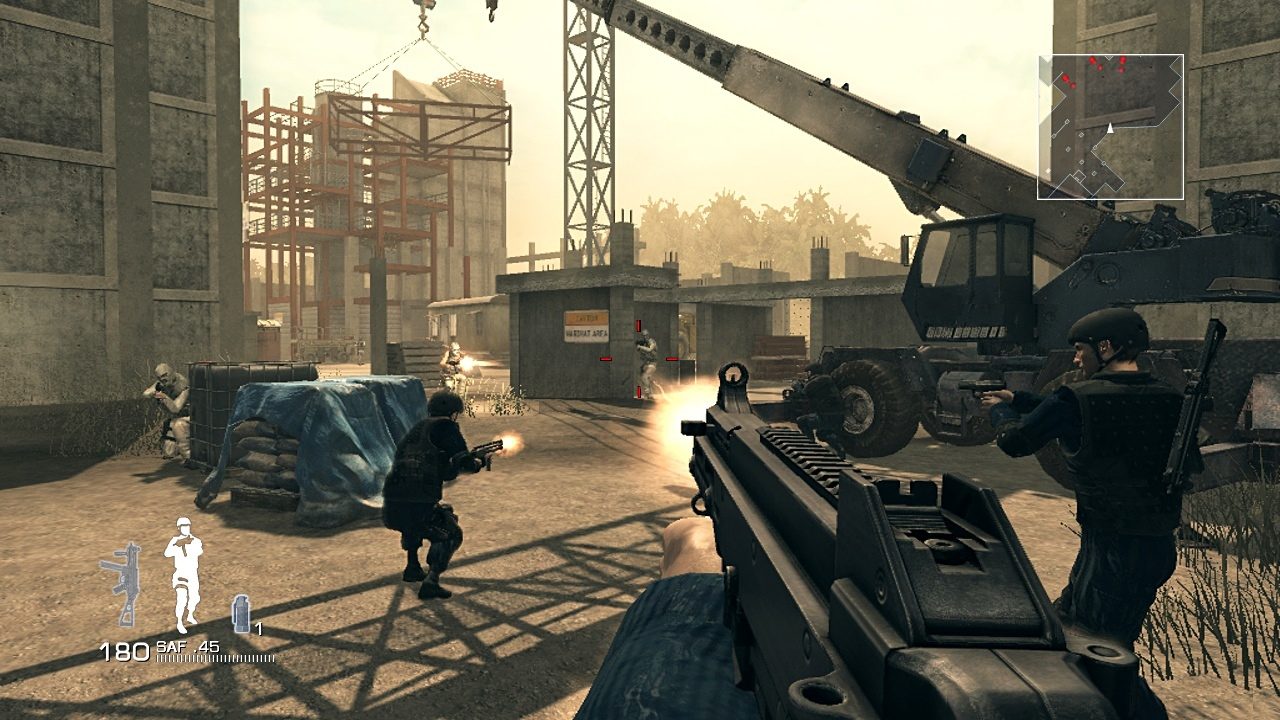 Grafik und Sound
Das Leveldesign hätte mehr hergegeben. Ab und zu ruckelt es etwas, wenn die Framerate zu sehr absinkt. Das kann vor allem bei den Zwischensequenzen passieren. Daniel Craig ist sehr gut wieder zu erkennen, was bei den anderen Figuren nicht immer der Fall ist. Die Spielgeschwindigkeit ist hoch und gut. Wenn du eine PS3- oder wie Wii-Konsole hast, steht dir die Möglichkeit offen, zwischen englischer Originalsprache und deutscher Synchronisation zu wählen.
Die Collector's Edition
Zu Ein Quantum Trost erschien eine Collector's Edition. Das Spiel befindet sich in einer edlen Metallbox. Enthalten ist viel Material behind the scenes zum Spiel. Zusätzlich erhältst du Einblicke in die Entwicklungsarbeit des Spiels, sowie die Zusammenarbeit von Filmteam und Schauspielern.

(Werbung)
Die Limited Edition
Die amerikanische Version erschien auch als Limited Edition, mit einem 007-T-Shirt: James Bond 007 Quantum of Solice with Limited Edition 007 T-Shirt (PS3)
(Werbung)
Fazit
Das Spiel präsentiert sich mit einigen schönen Bond-Momenten. Es ist nicht nur ein Spiel, das auf reines Shooting aus ist,, sondern auch taktisches Vorgehen verlangt. Interessant ist die Verbindung zweier Bond-Filme zu einem Spiel. Der Mehrspielermodus gibt viele Varianten her. Leider hat die story starke Schwächen, sofern sie da ist. Oft bleiben die Beweggründe der Figuren im Dunkeln. Die deutsche Sprachausgabe ist mangelhaft. Die technische Umsetzung ist in Ordnung. Das Spiel unterhält eine kurze Zeit, bringt aber nicht viel Wiederspielwert mit sich.
Originally posted 2018-06-29 08:56:00.