Imperivm: Great Battles of Rome ist der dritte Teil der Imperivum-Reihe. Die ersten beiden Teile waren Celtic Kings: Rage of War und Imperivm II: The Punic Wars. Auch diesen Teil entwickelte das bulgarische Studio Haemimont Games. Das Echtzeitstrategiespiel legt seine Prioritäten auf Kämpfe und weniger den wirtschaftlichen Aufbauaspekt. Außerdem enthält es einige RPG-Elemente. Rohstoffe, wie zum Beispiel Lebensmittel und Gold werden automatisch erzeugt.
Acht Nationen stehen zur Auswahl. Dazu gehören Rom, Gallien, Deutschland, Großbritannien, Ägypten, Karthago und Spanien. Als Spielmodi bieten sich die Standardkampagne sowie historische Schlachten und eigene Kampfszenarien an. Bis zu 8 Spieler können online miteinander Spielen.
Die Zielsetzung liegt in der Rekrutierung einer Armee und der Eroberung des feindlichen Landes. Bis zu 5.000 Einheiten können in einer Armee kämpfen. Der Schlüssel zum Erfolg liegt in der richtigen Taktik. Das Gelände spielt bei der Taktik eine Rolle. Deine Helden üben Einfluss durch ihre außergewöhnlichen Fähigkeiten aus und beeinflussen die Moral deiner Truppen.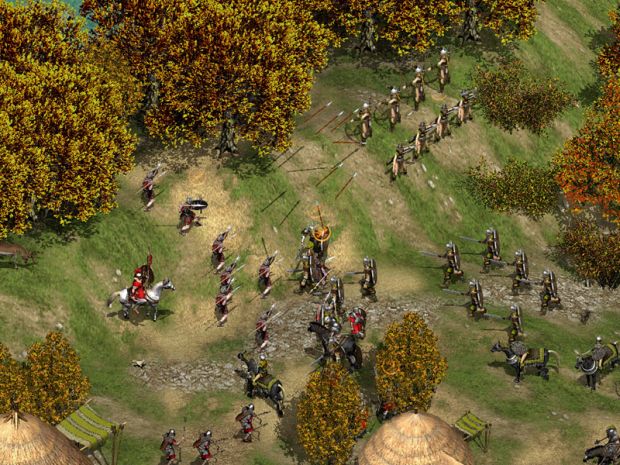 Fazit
Der dritte Teil von Imperivm schließt gut an die anderen Teile an. Er ist eher für Echtzeitstrategen zu empfehlen, da der Aufbaupart im Hintergrund liegt und die Prioritäten sich auf die Kämpfe legen.