In Werewolf  erlebst du die Transformation in einen Werwolf.  Werwolf – The Last Warrior erschien als Plattformer  für den NES. 
Das Artwork in Werewolf
Das Artwork sieht fantastisch aus und gibt einen Eindruck vom Spiel. Es kam auch mit einem Comic, der zeigte, dass Data East einige Mühe in die Handlung gesteckt hat. Dr. Faryan ist der Hauptschurke im Spiel und er nutzt seine bösen Kräfte, um Mutanten zu erschaffen, die die Erde erobern sollen. Der letzte verbleibende Krieger, der die Welt rettet, ist Werewolf. Als Werwolf zu spielen ist ein gutes Konzept.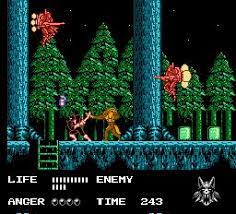 Spielweise
Du beginnst als ein Mann, der in der Lage ist, sich in einen Werwolf zu verwandeln. In normaler menschlicher Form kannst du Projektile abfeuern. Au0erdem kannst du schlagen und springen. Du kannst auch einen Supersprung, indem du B + Up drückst, wodurch du etwas höher springen kannst. Als Werwolf verlierst du die Fähigkeit, Projektile abzufeuern, und bist gezwungen, deinen Schlag einzusetzen, aber mit dem Kompromiss von mehr Kraft und der Fähigkeit, höher zu springen.
Werwolf
Du verwandelst dich in einen Werwolf, indem du im Level ein beliebiges rotes "W" sammelst. Das erste, das du findest, zeigt eine Zwischensequenz, in der die Transformation mit Donner und Blitz im Hintergrund stattfindet. Es ist ziemlich episch. Als Werwolf kannst du keine Projektile abfeuern. Es gibt ein Power-Up, das dir eine Kugel gibt, sobald du es benutzt hast, kämpfst du wieder mit deinen Krallen. 
Rückwärtssalto
Du hast auch die Fähigkeit, einen doppelten Rückwärtssalto auszuführen, wodurch du für kurze Zeit immun gegen Schaden wirst. Schließlich gibt es noch deine Wutanzeige, die durch das Sammeln von Blasen ausgelöst wird. Wenn du genug sammelst, kannst du dich von einem normalen Werwolf in einen "Super"-Werwolf verwandeln. Deine Angriffe werden viel stärker und du springst höher. Die Verwandlung dauert nur wenige Minuten und du kehrst zum normalen Werwolf zurück, sobald deine Wutanzeige abgelaufen ist.
Steuerung
Trotz der coolen Fähigkeiten gibt es jedoch einige Mängel in der Steuerung, Grafik und Schwierigkeit. Die Kontrollen sind kaputt. Werewolf: The Last Warrior besitzt leider keine bequeme Steuerung. B nutzt du zum Springen und A zum Rennen. Die Kletterwände sind cool, aber fehlerhaft. Es erlaubt dir, auf bestimmte Bereiche zuzugreifen, die du als menschliche Form nicht erreichen kannst, aber dein Werwolf hat nicht die Fähigkeit, auf Felsvorsprünge zu klettern, was bedeutet, dass du einen umständlichen Sprung auf Plattformen machen musst, wenn du die Spitze erreichst. Du kannst dich auch an jedes Objekt klammern, was das Gameplay verlangsamt und dich an Wänden hängen lässt. 
Hindernisse
Mit deinem Supersprung kannst du Hindernisse überwinden, die du normalerweise nicht überwinden kannst, und du erhältst eine ziemlich coole Flip-Animation. Als Superwerwolf springst du jedoch viel zu hoch und deine Größe kannst du auch nicht kontrollieren. Bei den meisten Plattformern kannst du deine Sprunghöhe steuern, indem du auf die Sprungtaste tippst, anstatt sie gedrückt zu halten, aber bei Werewolf gibt es so etwas nicht.
Der doppelte Backflip
Mit deinem doppelten Backflip kannst du bei Bedarf keinen Schaden nehmen. Manchmal, wenn zu viel los ist, kannst du einen doppelten Rückwärtssalto machen, um den Tod zu verhindern. Der größte Fehler dabei ist jedoch, dass der Bildschirm während der Ausführung gesperrt wird. Das bedeutet, dass der Bildschirm nicht richtig auf deinen Charakter ausgerichtet ist. Dies kann verwendet werden, um große Teile einiger Stufen zu überspringen. Zum Beispiel kannst du in Phase 2 jedem Projektil ausweichen, wenn sich dein Charakter in der Nähe der rechten Seite des Bildschirms befindet, weil das Spiel denkt, dass du dich in der Mitte befindest. Der Double-Backflip-Trick kann in diesem Spiel viel missbraucht werden.
Grafik
Die Grafik verleiht dem Spiel eine anständige Menge an Abwechslung. Du läufst über eine Bühne, auf der du dich auf einem Gebäude befindest, vor einem Wasserfall, in einer Innenstadt und mehreren Bühnen, auf denen es Nacht ist. Einige der felsigen Stufen sehen sehr gut gemacht aus und der Wasserfall ist gut animiert. In Werwolfgestalt sieht dein Charakter gut aus. In Werewolf: The Last Warrior sieht die Position beim Ducken nicht richtig aus. Der springende Sprite für Werewolf: The Last Warrior sieht extrem undetailliert aus. Etwas mehr Arbeit hätte in die eigentliche Werwolf-Animation gesteckt werden können.
Die Zwischensequenzen
Außerhalb der Werwolf-Transformation sind die Zwischensequenzen sehr begrenzt und sehen nicht besonders aus. Viele der Bilder der Zwischensequenzen werden mehrmals im Spiel wiederverwendet. Der Text und die Farben, die in den meisten Zwischensequenzen verwendet werden, sind sehr verwaschen und schwer zu erkennen. Trotz des schlecht animierten Werwolf-Sprites und der faulen Zwischensequenzen zeigt die Grafik eine anständige Leistung von Data East und verleiht dem Spiel etwas Abwechslung.
Schwierigkeitsgrad
Das Spiel ist aus meistens den falschen Gründen extrem schwierig. Anstatt herauszufordern, taucht die Schwierigkeit aufgrund des schlechten Leveldesigns und der oben erwähnten schlechten Steuerung auf. Das Spiel bietet einige Bereiche mit verschiedenen Todesfällen. Stufe 3-2, die Wahnsinnsbasis, hat eine Weggabelung, an der du eine 50/50-Entscheidung treffen kannst. Entweder du gelangst du zum nächsten Abschnitt der Stufe oder du fällst in die Stacheln und sterben. Da du unbeabsichtigt auf Wände kletterst, höher als nötig springst und in Bereiche außerhalb deines Sichtfelds rückwärts springen kabbst, ist es viel einfacher, Schaden durch Projektile und Feinde zu erleiden.
Wasser
Jeder Spieler, der Werewolf: The Last Warrior gespielt hat, weiß, wie schwierig Stufe 4, der Wald bzw. der Wasserfall-Level ist. In der Zwischensequenz wirst du gewarnt, dass der größte Feind des Werwolfs Wasser ist. Du verlierst sofort ein Leben, wenn du ins Wasser fällst. Data East fügte zu viele Feinde und Projektile hinzu. Jeder Treffer wirft dich direkt ins Wasser. Von allen Etappen ist diese definitiv die härteste.
Die Bosse
Obwohl es schwierige Phasen gibt, sind die Bosse sehr einfach. Das macht das Spiel im Verhältnis zu den Levels unausgewogen. Die Muster des Bosses sind normalerweise leicht zu verstehen und können ausgenutzt werden. Auch der Endboss leistet kaum Widerstand.
Musik und Klang
Das Spiel hat gute Musik, aber es gibt nicht genug Musikvielfalt in diesem Spiel. Wie bei den Zwischensequenzen ging Data East den faulen Ausweg und recycelte für jede Phase die gleichen zwei Musik. Es gibt zwei verschiedene Musikstücke, je nachdem, ob du in Menschen- oder Werwolfform bist. Es gibt auch andere Musik für die Bosse. Die Musik, die während der Werwolfform gespielt wird, ist großartig für den Beginn des Spiels, aber es wäre wünschenswert, wenn es mehr Tracks gäbe, die besser zu den späteren Phasen passen. Es gibt auch keine Musik ausschließlich für Super-Werwolf-Form, was wirklich großartig gewesen wäre. Stattdessen spielt es die normale Werwolfmusik. Nichts Besonderes ist in der Tonabteilung. Derselbe Sound wird jedes Mal abgespielt, wenn du einen Feind mit deinen Krallen triffst, egal ob es sich um den Boss oder einen normalen Feind handelt. Wenn du einen Supersprung machst, hörst du das Geräusch deines Charakters, der Saltos macht, was eigentlich ganz gut klingt. Die Musik klingt insgesamt großartig, aber es hätte mehr Mühe darauf verwendet werden können, für jede Stufe einen anderen Track zu machen und einen separaten Track für Super Werwolf zu machen.
Game Over
In Werewolf hast du 3-4 Continues und null Leben. Wenn du ein Leben verlierst, wirst du auf einem Bildschirm mit der Aufschrift "GAME OVER" begrüßt, auf dem du "CONTINUE" oder "END" auswählen kannst. Normalerweise wird die Option "Fortfahren" standardmäßig ausgewählt. Wenn dir jedoch die Continues ausgehen, wählt der Cursor für den Bruchteil einer Sekunde Continue und dann sofort wieder End. Das Spiel wählt das Ende automatisch erneut aus und erlaubt dir nicht, danach weiter zu wählen.
Fazit
Werewolf: The Last Warrior ist ein lustiges Konzept, wurde aber schlecht umgesetzt. Es hatte eine gute Grafik und viele coole Fähigkeiten, aber die schlechten Zwischensequenzen, die schlechte Steuerung und der Schwierigkeitsgrad verringern die Qualität des Spiels. Auch wenn die Grafik dem Spiel etwas Abwechslung verlieh und das Klettern und der Rückwärtssalto des Werwolfs cool sind, hätte das Spiel verbessert werden können, z. B. das Klettern einfacher, die Rückwärtssaltos nicht so gebrochen und das Springen besser gemacht – zusammen mit einem nicht ganz so billiges Leveldesign. Wenn diese Dinge verbessert worden wären, wäre dies ein großartiger Beat-'em-up-Sidescroller geworden, ansonsten ist es mittelmäßig.