In Lords of the Fallen schickt Deck 13 Protagonisten Harkyn in bester Rollenspielmanie in den Kampf.
Harkyn ist ein verurteilter Verbrecher, der sich zu Beginn des Spiels in einem abgelegenen Bergkloster befindet. Die Mönche dort wurden von den Rohgar angegriffen und überrannt.
In diesem Video zeigen wir dir den Trailer zum Spiel:
Lords of the fallen – viel Action und schwache Story
Man erfährt leider nur in wenigen Ansätzen etwas über den Protagonisten, dabei wäre es interessant gewesen, etwas mehr über seine Vorgeschichte und die Hintergründe zu wissen. In einigen Zwischensequenzen werden die Ereignisse der Handlung dargestellt und man erfährt warum die Rohgar das Kloster angreifen. Jedoch kommt die Geschichte im Spiel doch etwas zu kurz.
Levelgestaltung
Die einzelnen Dungeons von Lords of the Fallen sind übersichtlich gestaltet. Insgesamt ist das Spiel recht linear gehalten. Es gibt einige Nebengänge und verschlossene Türen, die erkundet werden können. Die Zielsetzungen geben die einzelnen Quests vor. Was dem Spiel fehlt, sind eine Karte, eine Minimap oder Zielmarkierungen, damit man weiß, wohin man überhaupt muss. Auch ein Questlog sucht man vergeblich. Das sorgt für Planlosigkeit im Spiel. Die Dämonenwelt der Rohgar ist teilweise noch unübersichtlicher, als die normalen Level gestaltet.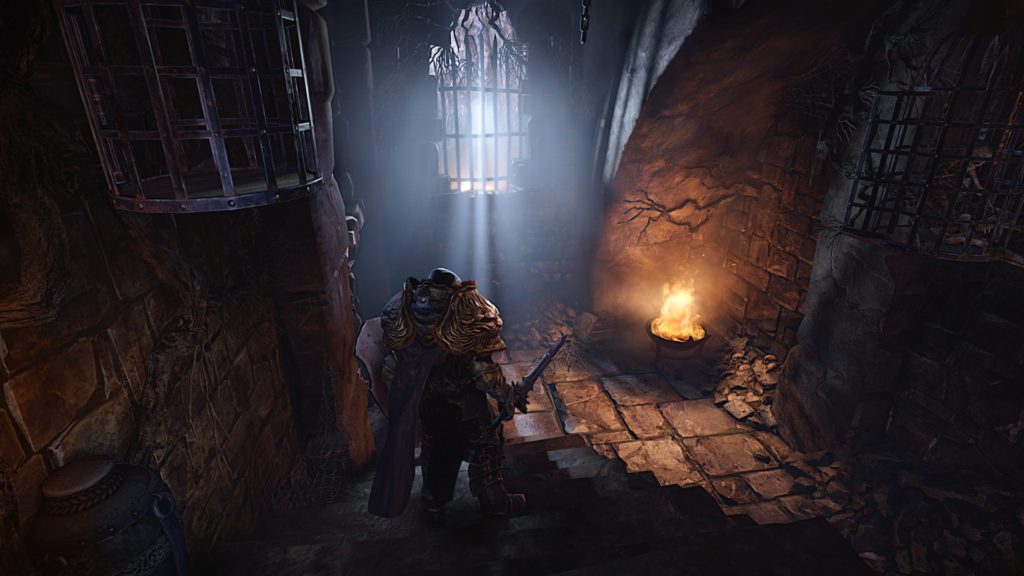 Das Spiel punktet vor allem durch die Kämpfe. Sie stehen im Mittelpunkt. Zu den Gegnern gehören Krieger, Schildträger, Bogenschützen, Fechter und Magier. Auch Dämonen und Zombies stellen sich dem Krieger entgegen. Als Waffen stehen Schwerter, Äxte und andere Dinge zur Verfügung. Bei der Rüstung von Harkyn musst du auf das jeweilige Gewicht achten und kannst deinen Held je nach Ausrüstung unterschiedlich bewegen. Teilweise können einige Kämpfer so frustrierend sein, weil die Gegner Harkyn bereits beim 1. Schlag umhauen, egal wie gut er gerüstet ist. Anstelle des Nahkampf kann Harkyn auch auf AG zurückgreifen, um seine Gegner zu besiegen.
Für mehr Frust sorgt das System "Erfahrungspunkte" im Spiel. Stirbt Harkyn, verliert er die gesammelten Erfahrungspunkte, die in der Spielwelt zurückbleiben. Er muss sie dann rechtzeitig wieder einsammeln, bevor sie verloren gehen.
Fazit
Abgesehen von der etwas mageren Story, ist es ein gutes Spiel. Zwar gibt es den einen oder anderen Frustfaktor, und auch die Kameraführung ist nicht immer optimal, trotzdem macht es jede Menge Spaß. Grafisch kann es auf jeden Fall nur punkten. Für Rollenspielfans ist das Spiel definitiv etwas.
Ähnliche Spiele:
The Surge Teil 1 und Teil 2 : Bei den Spielen wird ebenso auf viel Action gesetzt, die Geschichte spiel allerdings in der Zukunft in einer düsteren Science-Fiction Welt. Beide Teile stammen von Deck 13.
(Werbung)
(Werbung)
(Werbung)
(Werbung)
(Werbung)
(Werbung)
Originally posted 2019-06-28 11:53:53.