Book of Demons ist ein Hack-and-Slash-Game, ähnlich wie Diablo, entwickelt vom Entwickler Thing Trunk.
Book of Demons als Pop-Up-Diablo
Der polnische Entwickler Thing Trunk will klassische Spiele aus dem Goldenen Zeitalter der PC-Spiele neu zu erfinden. Geplant ist, dass die Return2Games-Reihe aus insgesamt sieben Spielen bestehen wird, die nicht nur den Veteranen einen Nostalgie-Kick verpassen, sondern auch ein ganz neues Publikum anziehen. Book of Demons ist der erste Teil der Reihe, dessen Hack-and-Slash-Gameplay eine Hommage an Diablo ist.
Die Pop-Up-Welt
Die Serie spielt im Paperverse, einem bezaubernden Land voller Pop-up-Buchlandschaften und papierdünner Charaktere. Die Charaktere sind hübsch illustriert, wobei die begrenzte Animation und die Atmosphäre die eines Kinderpuppentheaters ist. Die Inspiration stammt von Diablo, aber der Stil und das Gameplay sind unbeschwerter und versöhnlicher.
Die verlassene Stadt
Die Suche beginnt in einer verlassenen Stadt, in der die einzigen Einwohner, ein Heiler, eine Bardame, ein Weiser und eine Wahrsagerin sind. Alle anderen sind abgehauen, um dem Zorn des Erzdämons zu entkommen. Alle außer unserem Helden. Er nimmt die Bürde auf sich, den Tag zu retten. Du kannst Klatsch und Tratsch mit diesen Charakteren austauschen, und wenn du ihre Taschen um Silber bereicherst, können sie überredet werden, dir auf verschiedene Weise zu helfen.
Weg vom Dorf
Nachdem du das Dorf verlassen hast, besteht die einzige Möglichkeit darin, den Keller der Kathedrale der Stadt zu erkunden. Du wirst bald feststellen, dass der Klatsch wahr ist und dass ein Dämon im Labyrinth der Korridore lauert und Mahlzeiten aus Menschenfleisch für seinen Meister zubereitet. Du arbeitest dich nach unten vor. Die nächste Station sind die Katakomben, wo eine Armee der Toten vom Gegenpapst wiederbelebt wurde. Die letzte Anlaufstelle ist die Hölle selbst für einen Showdown mit dem Erzdämon.
Das Tutorial
Das Tutorial wurde sorgfältig erstellt und verwendet Wegpunkte, um dich durch ein Level zu führen. Jeder Punkt von Interesse öffnet ein Erklärungsfenster mit anschaulichen Beispielen. Es ist kein schwer zu verstehendes Spiel, aber diese gut gemachte Einführung gibt dir volles Vertrauen in die Designer und macht dich gespannt auf den Hack-and-Slash-Part.
Folge den Fußspuren
Die Navigation wird durch die Aufnahme einer Minikarte und Fußspuren vereinfacht, die eine einfache Verfolgung deines Weges ermöglichen. Eine Checkliste der wertvollen Gegenstände und deren Umgebung stellt sicher, dass keine Plünderung ungeplündert bleibt. Eine besonders nützliche Art von Schätzen sind Gegenstandskarten. Diese sind oft in Bücherregalen zu finden und können in beliebige freie Steckplätze gesteckt werden.
Deine Karten
Du wirst bald mehr Karten als Slots haben, aber zum Glück kannst du den Weisen bezahlen, um zusätzliche Slots zu öffnen. Es gibt drei Arten von Karten: Gegenstände, Zauber und Artefakte. Gegenstände, wie Heiltränke, haben begrenzte Dosen, können aber von der Wahrsagerin nachgefüllt werden.
Zaubersprüche
Zaubersprüche erfordern zum Wirken Mana und Artefakte. Sie bieten passive Vorteile. Du musst den Weisen bezahlen, um einige Karten zu identifizieren. Die Wahrsagerin verwendet Runen, um das Level einer Karte zu erhöhen. Selbst während des Kampfes kannst du immer noch mit Karten zwischen den Slots jonglieren, was zusätzliche Flexibilität bietet.
Wen spielst du?
Anfangs besteht die einzige Wahl darin, als schwertschwingender Krieger zu spielen, aber später kannst du einen Schurken freischalten, der mit einem Bogen bewaffnet ist, und einen Zauberer. Der prozedural generierte isometrische Dungeons verfolgen einen Ansatz mit einem einfachen Antippen, das den Helden deiner Wahl durch die meist linearen Korridore bewegt. Dein Charakter hält an Kreuzungen an und ein schnelles Antippen bringt ihn ebenfalls zum Stehen.
Angriff auf Feinde
Ein Tippen greift Feinde an, öffnet Truhen, untersucht Merkmale und macht so ziemlich alles andere, was du dir wünschst. Sobald ein Feind ausgewählt ist, greift dein Charakter automatisch weiter an, aber du hast die Möglichkeit, den Angriff durch Antippen und Halten zu beschleunigen. Einige Feinde sind schwer gepanzert oder wirken Zauber. Du musst deine anfänglichen Angriffe darauf konzentrieren, diese Attribute zu zerstören, bevor du anfängst, Schaden zuzufügen.
Die Herausforderung
Trotz seiner Zugänglichkeit bietet Book of Demons immer noch eine große Herausforderung. Es gibt drei Schwierigkeitsstufen. In tieferen Dungeon-Levels greifen dich Feinden mit Zaubersprüchen an. Wenn die Dinge zu chaotisch werden, ist die Versuchung groß, wild zu tippen und das Beste zu hoffen, aber normalerweise ist es am besten, etwas mehr Vorsicht walten zu lassen.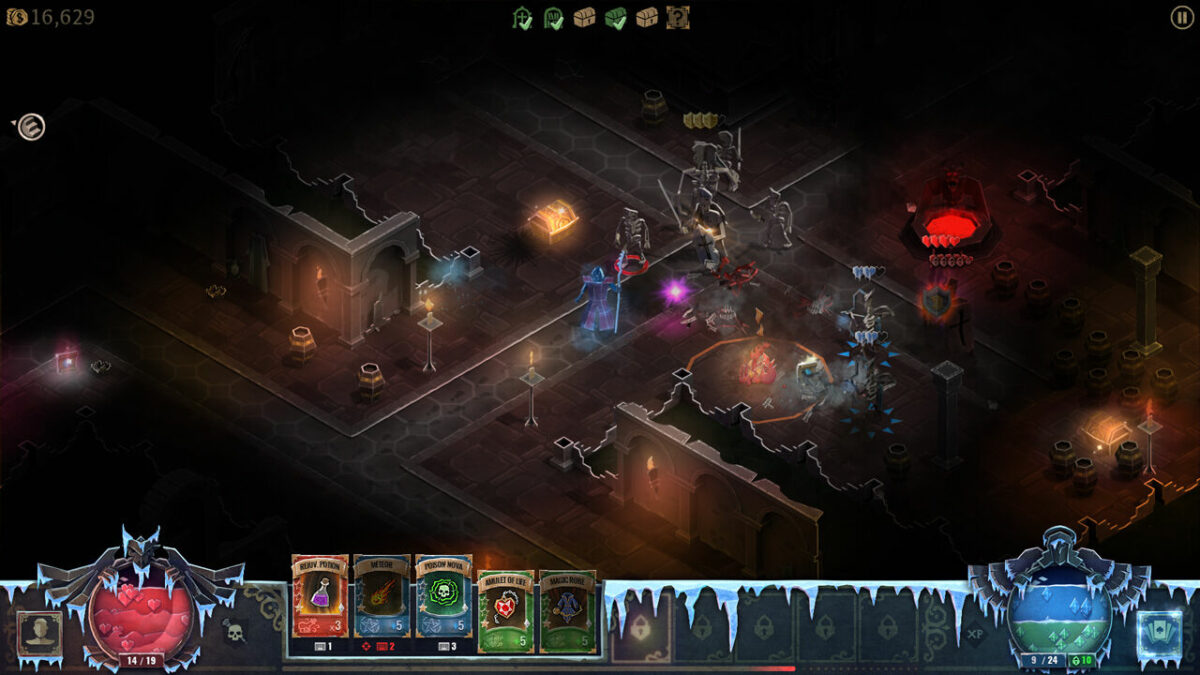 Die Monster
Einige Monster tragen Schilde oder werden richtig wütend, wenn du sie zu schnell angreifst. Andere explodieren in Giftwolken oder fallen von oben herunter und betäuben dich für kurze Zeit. Lasse dich auch nicht von den ziemlich albernen Namen der Bosse täuschen, sie können auch gewaltige Gegner mit ihren eigenen Spezialfähigkeiten sein. Die meisten haben mehrere Stufen, manchmal sind sie mit anderen Feinden verbunden, die zuerst besiegt werden müssen, oder sie haben ihre eigenen unverwundbaren Einflusssphären. Es verleiht der zentralen Mechanik etwas mehr Tiefe.
Der Schwierigkeitsgrad
Die Dinge werden nie frustrierend schwierig. Es gibt viele Möglichkeiten, die zahlreichen Brunnen zu besuchen, die Gesundheit und Mana wiederherstellen. Auch der Tod muss nicht endgültig sein. Erreiche den Punkt deines Untergangs, der durch einen Grabstein markiert ist, und alle deine Fortschritte können zurückerobert werden. Die Entwickler haben sich wirklich bemüht, das Spiel so zugänglich wie möglich zu gestalten. Ihr Flexiscope-System ermöglicht es den Spielern sogar, die Länge des Spiels anzupassen und gleichzeitig eine lohnende Mischung aus Herausforderungen und Beute zu gewährleisten, unabhängig von Ihren zeitlichen Einschränkungen.
Fazit
Book of Demons ist viel mehr, als der erste Eindruck vermuten lässt. Es kann sich manchmal ein wenig repetitiv und automatisiert anfühlen, aber durchdachte Designentscheidungen helfen, das Interesse aufrechtzuerhalten. Mit drei deutlich unterschiedlichen Charakteren, jeder mit seinen eigenen Signaturkarten und drei Schwierigkeitsstufen, garantiert das Spiel sicherlich eine Wiederholung, selbst nachdem du deinen ersten Durchlauf abgeschlossen hast. Das Game ist eine überlegte und würdige Hommage an das Action-Rollenspiel-Genre.