Inhaltsverzeichnis
Hi-Fi Rush bringt den Rhythmus ins Blut. Es ist schwer, einem Spiel mit dem Stammbaum von Tango Gameworks skeptisch gegenüberzustehen, vor allem, wenn man an das allgemeine Leitbild des Studios glaubt. Während sich die Spieleindustrie auf endlose Fortsetzungen und fast ständige Remakes einlässt, hat Tango seit 2014 drei neue, faszinierende Welten geschaffen – The Evil Within, Ghostwire Tokyo und jetzt Hi-Fi Rush. Im Allgemeinen ist das Studio für seine schöne Ästhetik bekannt, aber sie neigen dazu, in der Art und Weise, wie sie sich anfühlen, zu schwanken, was ihnen eine Nischen- und Kultqualität verleiht. Hi-Fi Rush ist eine erfrischende Abkehr von der Vorliebe des Studios für Horror und durchbricht diesen Fluch auf angenehme Weise.
Der Kampf gegen einen Riesenroboter
Hi-Fi Rush wirft einige verlockende Perspektiven auf. Du kämpfst gegen einen riesigen Roboter zum Beat eines Nine Inch Nails-Songs in einer makellosen Cyberpunk-Welt mit Cel-Shading. Das Lustige daran ist, dass dieses Versprechen tatsächlich eingelöst wird. Diese spezielle Sequenz kommt am Ende des Tutorial-Levels des Spiels, nachdem du Chai, den selbst stilisierten "zukünftigen Rockstar"-Protagonisten mit einem gebrochenen Arm, kennengelernt hast.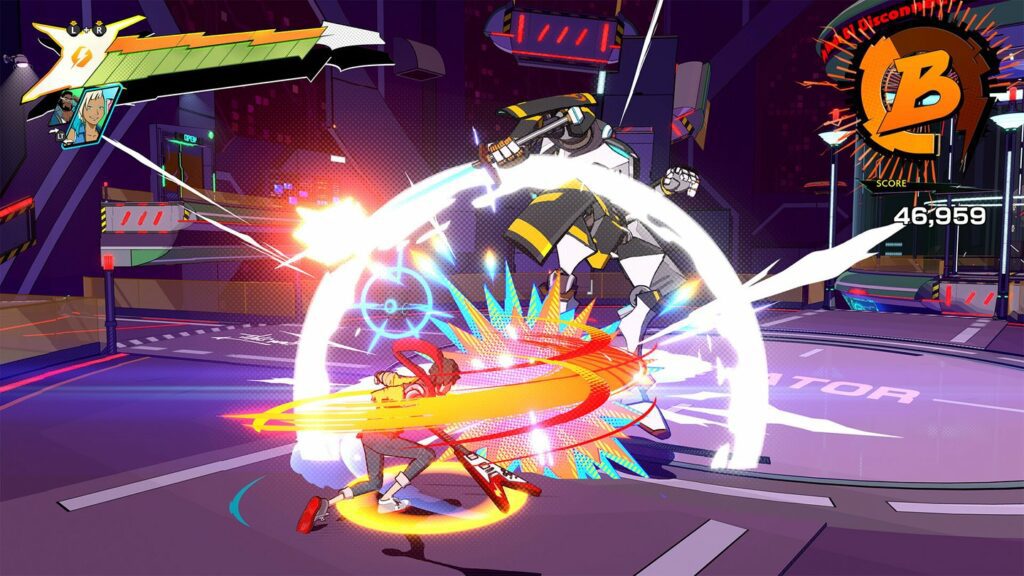 Der Roboterarm
Chai wird von der geldgierigen Vandelay Corporation als "defekt" bezeichnet, weshalb sie ihm einen Roboterarm einsetzen, damit er ihren Müll abholen kann. Leider fällt Chais treuer iPod während der Operation in die Maschine und wird mit seiner Brust verschmolzen, so dass er in die rhythmische Unterströmung dieser mechanisierten Welt eintauchen kann. Dein Roboterarm ist jetzt ein schrottreifes Flying V, und du zerstörst Droiden mit Kombo-Attacken, die mehr Schaden anrichten, wenn du mit Tempo tippen kannst.
Der Klang der Musik
Plötzlich werden die Wände vom Klang der Musik erfüllt, und das Team für Umgebungsdesign hat diese anspruchsvolle Aufgabe mit Bravour gemeistert. Für ein Spiel, das in einer riesigen Fabrik spielt, die für das Medium ein wohlbekanntes Terrain ist, ist die Umgebung nie langweilig. Nehmen Sie die Produktionszone, in der du aus Frachtcontainern Slalom-Skilifte, ausladende Pflücker, trickreiche Röhren und pulsierende Maschinen findest, die alle auf die Musik in deinen Ohren reagieren. Hi-Fi Rush grenzt mit seiner audiovisuellen Harmonie zuweilen an Synästhesie. Es gibt diesen fantastischen Schattierungseffekt, der Chai und anderen Charakteren folgt, sowie eine lustige Mischung aus Comic-Storyboards, statischen Szenen und 3D-Spider-Verse-Bewegungen mit augenzwinkernden Übergängen in die Spielzeit, die den "Wow-Faktor" betonen. Du musst es sehen, um es zu glauben.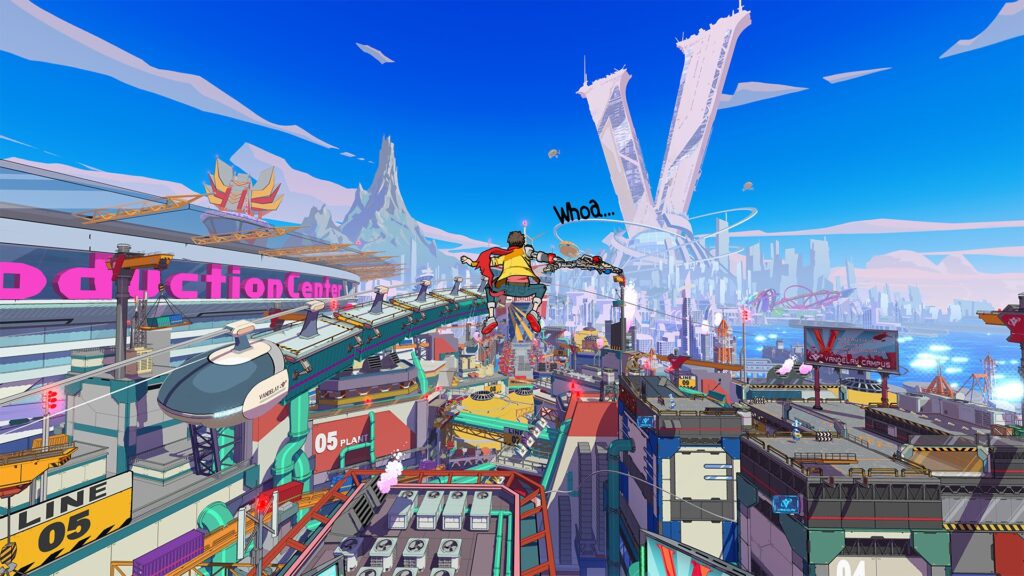 Eine musische Welt
Wenn du einen Moment stillhältst, wirst du auch eine der tausenden von subtilen Tango-Elementen in Hi-Fi Rush bemerken, wie z. B. Metalltüren, durch die Chai springen kann und die sich zeitversetzt schließen, wodurch der Backbeat synchronisiert wird. Es ist erstaunlich, wie sie es geschafft haben, so etwas zu implementieren. Diese winzigen Details gibt es zuhauf, wenn du das Kampfsystem des Spiels erkundest. Ruhe- und Jonglierangriffe werden durch ein Schritt- und Klatschsystem im Offbeat gekennzeichnet, wobei visuelle Hinweise helfen, den Rhythmus zu lernen. Verschiedene Instrumente dienen als Akzente für den Soundtrack, mit dem du deine Kombos beendest.
Neue Fähigkeiten
Im Laufe des Spiels werden immer wieder neue Fähigkeiten eingeführt, wie z. B. eine magnetische Anziehungskraft, mit der du dich auf Feinde zubewegst und die Zeit, die du auf dem Boden verbringst, verkürzt. Schließlich halten dich die Feinde für ein Schnellfeuer-Gedächtnisspiel auf, bei dem Chai zu einem Takt blocken muss, was das Tempo des Kampfes aufrüttelt, wenn du denkst, dass du es im Griff hast. Während der Missionen und im Versteck zwischen den Levels steht ein umfangreiches Upgrade-System zur Verfügung, mit dem du deine Spezialangriffe optimieren, dein bestes Arsenal finden und deine Werte verbessern kannst. Das ist ein Segen für den Wiederspielwert – ich werde auf jeden Fall wieder einsteigen, um die begehrten S-Ränge zu erreichen.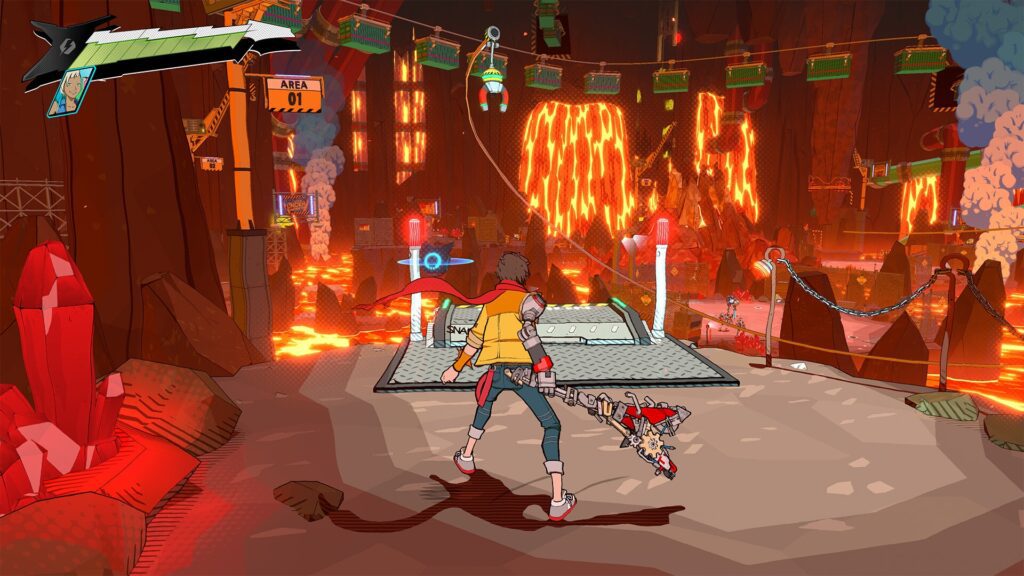 808
Chai wird im Kampf von seinem treuen Katzengefährten 808 unterstützt und schließlich von einer Reihe von Hilfscharakteren, die du im Kampf herbeirufst, um Schilde zu zerstören und Luft zu holen. Unglaublicherweise sind auch ihre Angriffe mit dem Rhythmus synchronisiert, unabhängig davon, wann du ihre Kräfte aktivierst.
Die Songs
Die tollen lizenzierten Songs von Nine Inch Nails und The Prodigy sorgen für einige wirklich unvergessliche Momente, aber ein großes Lob gebührt auch der Hausband, die bei jeder Strophe mitgröhlt. Inmitten des Schlachtgetümmels lassen sich tolle Songs entdecken. Wenn du zum ersten Mal in diesen perfekten Flow-Zustand der musikalischen Schlacht eintrittst, kannst du es kaum erwarten, ihn wieder zu erreichen.
Eine Cyberpunk-Geschichte
Hi-Fi Rush ist die Art von moderner Cyberpunk-Geschichte, die ohne ein intelligentes Autorenteam schief geht, aber sie umgeht diese Fallstricke mit ihren aufrichtigen Synchronsprechern und einer glaubwürdigen Anti-Korruptionsgeschichte. Es gibt viele unaufdringliche, aber bissige Witze über die Gefahren der künstlichen Intelligenz, die weit verbreitete Automatisierung und das Nichtlesen der EULA sowie einen "Linker-Hai"-Gag, der den Witz gründlich auf den Punkt bringt. Es ist hilfreich, dass der Protagonist von Robbie Daymond gesprochen wird, der die Art von liebenswerter Stimme hat, die eine Szene innerhalb von fünf Sekunden von urkomisch zu emotional machen kann. Chais offener, gesprächiger Elan wird auch in Bewegung umgesetzt. Wenn man das Spiel im Leerlauf laufen lässt, schnippt er mit den Fingern, komplett mit Lautmalerei aus dem Comic, im Takt, wobei sich seine Gitarrengurte und sein Halstuch im Wind wiegen.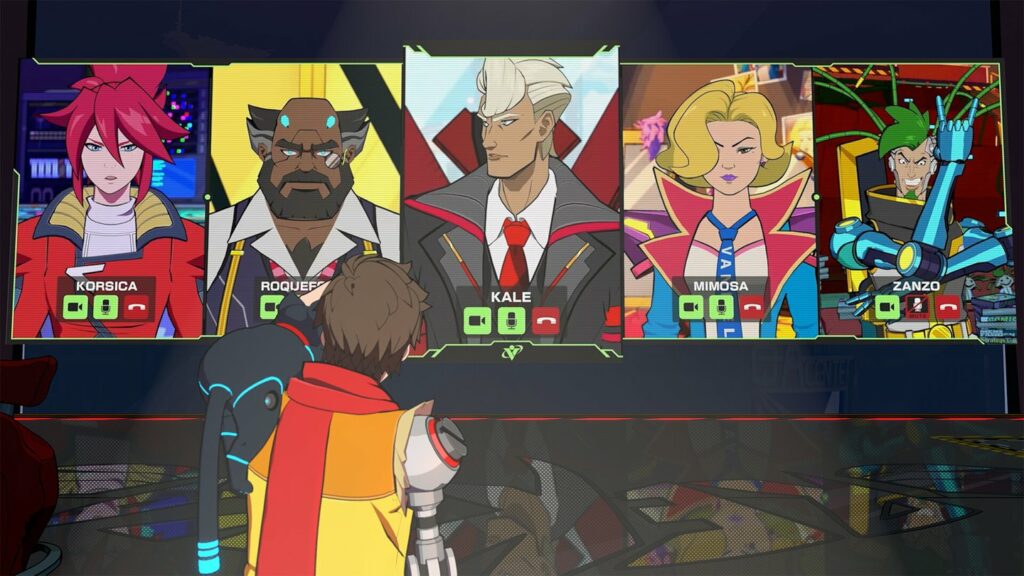 Die Antagonisten
Die Antagonisten aus der Liga der bösen mittleren Manager sind alle fehlerhaft und interessant genug, um ihre eigenen Levels zu dominieren, so dass Hi-Fi Rush seine kitschigen Einzeiler verdient, wenn Chai den tödlichen Schlag ausführt. Dankenswerterweise rundet das Spiel seine größeren Handlungsbögen mit einem epischen Schlussakt ab, der dich mit einem mulmigen Gefühl zurücklässt. Es hat auch die perfekte Länge für ein Hack 'n' Slash, mit einer Laufzeit von etwa 10 Stunden und viel Raum für die Wiederholbarkeit nach der Tat.
Lebensfreude pur
Ehrlich gesagt ist das einzige negative Gefühl, das man bei diesem Spiel hat, eine stellvertretende Traurigkeit darüber, wie experimentell es sich im Klima der modernen Spieleindustrie anfühlt. Hi-Fi Rush ist eine Meisterleistung der Lebensfreude. Eine brandneue, augenzwinkernde Welt voller Fantasie von einem AAA-Studio in einem riesigen Verlag. Und Xbox hat es aus dem Nichts heraus auf den Markt gebracht. Es ist ein unglaublich mutiger Schritt, der sich ausgezahlt hat. Heutzutage ist es ein seltenes Gefühl, ein Spiel mit dem inspirierenden Drang zu verlassen, etwas Kreatives zu machen und deshalb verdient Hi-Fi Rush, dass so viele Augen wie möglich darauf gerichtet werden. Es erinnert an die goldenen Tage der Xbox-Exklusivspiele.
Fazit
Hi-Fi Rush ist die perfekte Überraschung für die Xbox. Ein kreativ belebendes Abenteuer, das inmitten der zahlreichen Lizenzköder, Remakes und Fortsetzungen wie ein frischer Wind weht. Es ist das bisher schlüssigste Projekt von Tango Gameworks und obendrein ein dringend benötigtes Xbox-Exklusivspiel von höchster Qualität. Nur wenige Spiele können sich mit einem stilistisch so bahnbrechenden Spiel wie Jet Set Radio messen, aber Hi-Fi Rush reiht sich dank seines intuitiven, vollwertigen Kampfsystems, der meisterhaften Art Direction und der antikapitalistischen Geschichte problemlos in diese Reihe ein. Hier heißt es nur: greif zu.
Weiter geht es zur Webseite von Hi-Fi Rush
Andere Artikel auf Games und Lyrik: