Inhaltsverzeichnis
Wie viele der früheren Spiele des Entwicklers Supermassive ist The Quarry eindeutig sowohl von als auch für Leute gemacht, die Horrorfilme lieben. Von Anfang an baut es langsam Spannung und Atmosphäre auf und zieht dich in das Spiel hinein, indem es dich ständig auffordert, kleine Entscheidungen zu treffen, die die jugendliche Besetzung potenzieller Mordopfer leiten.
Der Horror in The Quarry
Als das Blut zu fließen begann, fühlte sich jede Entscheidung wie ein weiterer Schritt in einer rollenden Katastrophe an, und das machte es fast unmöglich, sie verweigern. Vieles von The Quarry ist nicht interaktiv. Als spirituelle Fortsetzung von Until Dawn ist es ein besserer Film, aber ein schlechteres Spiel. Du folgst der Geschichte von neun Lagerbetreuern, die am Ende des Sommers für eine weitere Nacht im Wald festsitzen und nichts anderes zu tun haben, als eine letzte Party zu schmeißen, bevor sie in ihr Leben zurückkehren. Irgendetwas verfolgt sie von der Baumgrenze und deine Entscheidungen bestimmen, welcher der Berater, wenn überhaupt, die Nacht überleben kann. Dieses Setup legt drei ziemlich lehrbuchartige Horrorhandlungen übereinander, während du Fortschritte machst, aber du kannst sagen, dass Supermassive Games viel Spaß daran hatte, herauszufinden, wie man sie miteinander verbindet. Wenn du spielst, denkst du vielleicht, dass du in einer Art von Horrorfilm bist.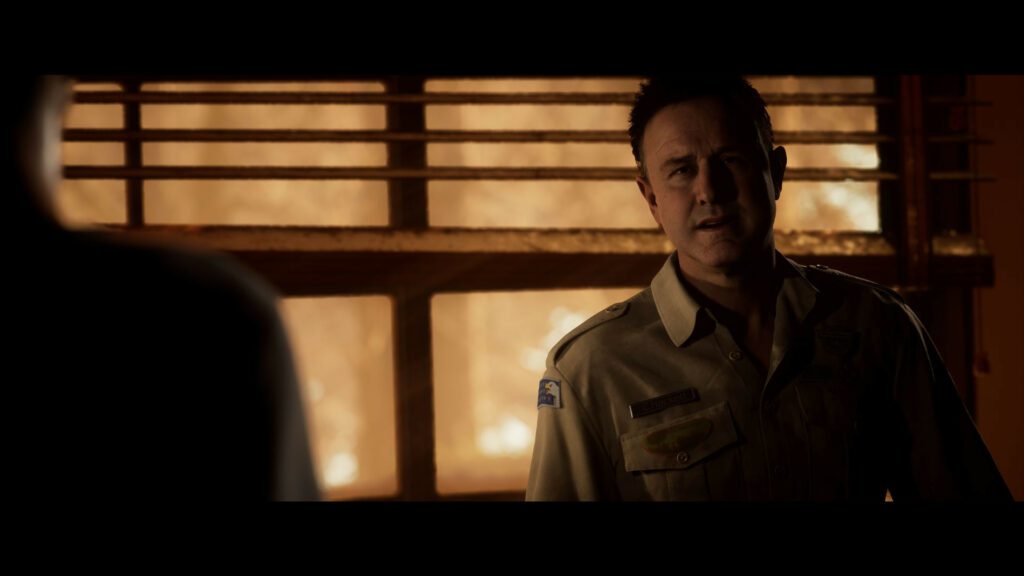 Das Sommercamp
Der Titelschauplatz von The Quarry ist ein Sommercamp im Hinterland von New York, Hackett's Quarry, das langsam auseinanderfällt. Es wurde ursprünglich so konzipiert, dass es wie die postkartenwürdigste Version seiner selbst aussieht, von warmem Sonnenlicht hinterleuchtet und über etwa eine Milliarde Hektar natürlicher Pracht ausgebreitet. Es ist eine Hollywood-Version des perfekten Sommererlebnisses, mit farbenfroher Kinematographie, die das ganze Camp wie die geschätzte Erinnerung von jemandem aussehen lässt. Dann geht die Sonne unter, der Wald wird gefährlich still, die Fäulnis wird deutlicher und der Albtraum beginnt. Du spielst als jeder der neun Camp-Berater und steuerst einen nach dem anderen zu verschiedenen Zeitpunkten in der ungefähr 10-stündigen Kampagne. Du kannst den Verlauf der Ereignisse durch Erkundungsszenen, Gesprächsoptionen, schnelle Ereignisse, Stealth, einfache Kämpfe und Unterbrechungen im Mass-Effect-Stil beeinflussen, in denen du ein kurzes Fenster hast, in dem du einen plötzlichen Zug machen kannst. In The Quarry sind viele Zugänglichkeitsoptionen integriert, mit denen du die Schwierigkeit all dieser Aktionen anpassen oder einige von ihnen sogar so einstellen kannst, dass sie immer automatisch erfolgreich sind.
Der Filmmodus
Es gibt auch einen Filmmodus, der die Geschichte ohne jegliche Interaktivität abspielen lässt und auf eine von einigen verschiedenen voreingestellten Schlussfolgerungen zusteuert. Während du das meiste, was es zu sehen gibt, im Filmmodus siehst, verpasst du ein paar wichtige Ereignisse, viele optionale und viel Story-Kontext, der nur durch manuelles Spielen entstehen kann. Du musst nicht zusammenzucken, um durch The Quarry zu kommen. Tatsächlich gibt es mehrere Szenen, in denen das Scheitern von etwas wie einem schnellen Zeitereignis nicht unbedingt ein schlechtes Ergebnis hat, was sie eher zu schnellen Entscheidungen als zu mechanischen Herausforderungen macht.
Ein interaktiver Film
Das Hauptproblem bei The Quarry ist, dass es für den größten Teil seiner Laufzeit weniger ein Spiel als vielmehr ein leicht interaktiver Film ist. Du kannst überraschend lange Strecken zurücklegen, ohne eine sinnvolle Entscheidung treffen oder die direkte Kontrolle über einen Charakter übernehmen zu müssen. Alles, was du tun musst, ist zuzusehen. Das Game ist wie in Until Dawn sowie den Spielen in Supermassives Dark Pictures Anthology, eher ein Mysterium als ein Horrorfilm. Während der Erkundungssequenzen im Stil eines Abenteuerspiels hast du die Möglichkeit, wichtige Details über das Geschehen herauszufinden, indem du Hinweise entdeckst, Dateien liest, Rätsel löst und gelegentlich in eine im Nachhinein wirklich offensichtliche Falle tappst . Davon gibt es in The Quarry nicht viele. Du hast die Möglichkeit, etwas von der seltsamen Geschichte hinter dem Lager und der Umgebung zu enträtseln, aber es fühlt sich wie ein nachträglicher Einfall an.
Kein Überspringen in The Quarry
Ein weiteres Problem ist, dass du keine Zwischensequenzen oder Dialoge überspringen kannst, die du bereits bei wiederholten Durchspielen gesehen hast. In Until Dawn bereitete das leichte Kopfschmerzen. In The Quarry, das länger und deutlich weniger interaktiv ist, ist es frustrierend. Es macht viel Spaß, es noch einmal durchzugehen und bewusst andere Entscheidungen zu treffen oder sogar absichtlich zu scheitern, nur um zu sehen, was passiert. Das Setting und die Geschichte sind fesselnd. Es wäre ein unterhaltsamerer Prozess, bei dem einige wichtige Lebensqualitätsmerkmale fehlen. Eine bessere Szenenauswahl wäre schön, ebenso wie eine Run-Taste, eine Schnellvorlauf-Option oder besser beschriftete Points of no Return. So wie es ist, beinhaltet jeder Versuch, The Quarry erneut zu spielen, tatsächlich Stunden vergeudeter Zeit, in der du nur sitzen und zusehen kannst, wie es sich selbst wieder abspielt.
Der Film in The Quarry
Der Film in The Quarry soll absichtlich einen helleren Ton haben als die anderen Horrorspiele von Supermassive. Es ist von Anfang an sehr selbstbewusst, mit einer Besetzung von Charakteren, die alle zuvor mindestens einen Horrorfilm gesehen haben und sich entsprechend verhalten. Gleichzeitig fühlt sich die Geschichte von The Quarry an, als hätte Supermassive viel aus seinen vergangenen Projekten gelernt und setzt diese Erfahrung um. Es fühlt sich selbstbewusster an, mit einer solideren, kohärenteren Handlungsstruktur. Es gibt immer noch viele Wendungen, aber sie sind sorgfältig kalkuliert, und einige sorgen für Überraschungen.
Todesrücklauf
Die Quarry's Death Rewind-Funktion, die nach deinem ersten Clear freigeschaltet oder als Bonus für den Kauf der Deluxe-Edition angeboten wird, gibt dir im Laufe eines einzigen Durchlaufs drei "Leben". In jedem kannst du die wichtigste Entscheidung wiederholen, die sonst zum Tod eines spielbaren Charakters geführt hätte. Das bedeutet jedoch, dass du sehr weit zurückspringen kannst, da das Schicksal einiger Charaktere durch Entscheidungen besiegelt wurde, die du vor Stunden getroffen hast, und die das gesamte Spiel von diesem Zeitpunkt an erneut spielen müssen. Supermassive arbeitet daran, dies zu verbessern, damit die Leute nicht unerwartet so weit zurückgeschleudert werden. Es ist aber nicht ganz klar, wie diese Lösung aussehen würde oder wann sie eintreffen würde. In der Zwischenzeit ist Death Rewind großartig, wenn du gerade einen QTE vermasselt haben, aber nicht, wenn eine wichtige Story-Entscheidung nicht so gelaufen ist, wie du es willst.
Die Motion-Capture-Schauspieler
Ein besonderes Highlight ist die Besetzung der Motion-Capture-Schauspieler. Ein paar von ihnen haben immer noch relativ wenig zu tun. Die meisten Charaktere sind wirklich sympathisch und du hast viel Zeit, sie kennenzulernen. Ariel Winter, Siobhan Williams und Justice Smith als Abigail, Laura und Ryan sind jeweils besondere Herausragend. Brenda Song als Kaitlyn schafft es irgendwie, als größter Badass in der Besetzung zu enden. Die Charaktere in The Quarry verhalten sich jedoch nicht wirklich wie in einem Horrorfilm. Viele von ihnen agieren auf einer Ebene ironischer Distanz, die gelegentlich an Selbstparodie grenzt, besonders wenn du auf einer Flucht bist. Es gibt mehrere Sequenzen, in denen deine aktuellen Charaktere immer noch ernsthaft über ihr unbedeutendes Beziehungsdrama sprachen, obwohl sie mit dem Blut eines anderen bedeckt waren. Wenn es auf Scream zielte, schoss es darüber hinaus und traf The Cabin in the Woods.
Zu wenig Drama
Keine Szene ist dramatisch genug, dass sie nicht durch einen halben Scherz aus der Bahn geworfen werden könnte. Es kommt nicht so sehr als Bewusstsein des Mediums rüber, sondern als regelrechte traumatische Dissoziation. In Horrorbegriffen, wenn Supermassive Games auf Scream abzielte, schoss es darüber hinaus und endete mit The Cabin in the Woods.
Fazit
The Quarry ist es wert, mindestens einmal gespielt zu werden, aber im Vergleich zu Until Dawn ist es ein Schritt nach vorne und ein Schritt zurück. Es verfügt über ein solides Drehbuch, das von einer großartigen Besetzung aufgeführt wird, mit einer spannenden Geschichte, die dich zu ein paar verschiedenen befriedigenden oder enttäuschenden Schlussfolgerungen führen können. Es ist jedoch nicht so interaktiv und das macht es zu einer lästigen Pflicht, es wie beabsichtigt wiederzugeben. Es ist immer noch eine lustige Erfahrung, besonders beim ersten Mal, aber die Formel von Supermassive Games könnte einige Verbesserungen gebrauchen. The Quarry ist eine lustige, blutige Achterbahnfahrt beim ersten Durchspielen, aber der Mangel an Interaktivität und viele kleine Probleme ziehen das Ganze herunter.
Weiter geht es zur Webseite von Supermassive Games
Einen weiteren Test zu The Quarry findest du bei GamePro