The Adventures of Tom Sawyer
Du übernimmst Tom Sawyer, der mitten am Tag in der Klasse anfängt zu träumen. Im Spiel rettest du die entführte Becky vor Injun Joe. Das Spiel ist ein typischer Plattformer. Das Spiel ist nicht sehr toll, sondern eher einfach und etwas langweilig. Du springst überwiegend um die Feinde herum und vermeidest sie soweit es geht oder du bewirfst sie mit Steinen. Wenn Tom stirbt, explodiert er in einer Rauchwolke. In dem Fall verlässt er wahrscheinlich seine Traumwelt.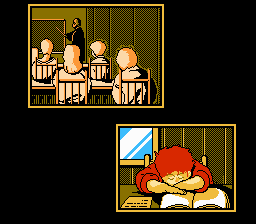 Beim Riverrafting verwandelt sich der Side-Scroller in einen vertikalen Shooter. In jedem Level verbringst du Zeit damit, Buchstaben zu sammeln. Dazu gibt es einige kleiere Endgegner, die in den Leveln verteilt sind. Das Spiel besteht aus sechs Leveln und dauert ungefähr eine Stunde. Was in dem Spiel definitiv fehlt ist Huckleberry Finn.