Reise in Spellforce Conquest of Eo von den bescheidenen Anfängen des kleinen Zaubererturms deines alten Meisters und erkunde die Länder von Eo auf deiner Suche nach magischer Macht.
Spellforce Conquest of Eo als neues Strategie-Rollenspiel
Dir bietet sich mit Spellforce Conquest of Eo ein sich ständig änderndes Strategie-Rollenspiel. Du trittst gegen konkurrierende Fraktionen an und schickst deine Armeen und Helden durch das Land, um Geheimnisse und mächtige Artefakte zu entdecken, während du dein Wissen und deine Magie aufbaust, um der mächtigste Magier aller Zeiten zu werden.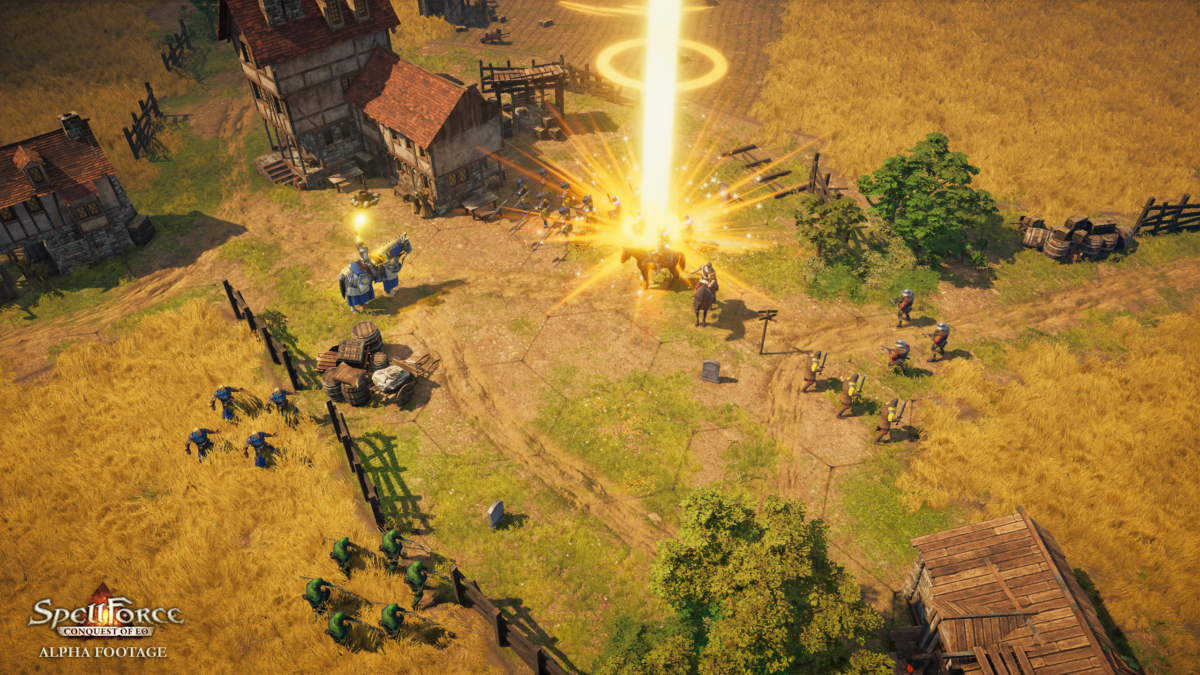 Helden und Armeen
Befehlige mächtige Helden und Armeen und schicke sie auf unzählige Quests. Fülle dein Zauberbuch mit Zaubersprüchen, um deine Macht zu steigern und den Turm deines Zauberers zu errichten, um der größte Magier aller Zeiten zu werden. Erobere Eo in diesem reichhaltigen rundenbasierten Strategiespiel, das in der Welt von SpellForce angesiedelt ist. Werde Sie zum größten Magier in diesem rundenbasierten Fantasy-Epos in der Welt von SpellForce!
Der Beginn des Zaubererturms
Von den bescheidenen Anfängen deines kleinen Zaubererturms aus schickst du deine Schergen und Helden los, um die Reiche von Eo zu erkunden. Steigere deinen Einfluss und deine Macht und füllen dein Zauberbuch mit arkanem Wissen. Trete bei deiner Jagd nach uralten Artefakten und verborgenen Geheimnissen gegen magische Konkurrenten an, während du deinen Turm und dein Einflussgebiet aufbaust, um den größten Zauber zu entfesseln, den die Welt je gekannt hat.
Die Features von Spellforce Conquest of Eo
Baue deinen Turm auf und baue neue Räume, um den Weg deines Zauberers zu beschreiten. Rekrutiere einzelne Helden, die deine Truppen anführen, jeder mit seiner persönlichen Aufgabe. Lasse das lebendige interaktive Zauberbuch neue Geheimnisse und Zauber enthüllen. Stelle alles her, von magischen Runen und Artefakten bis hin zu untoten Dienern und Entdecke mit jeder prozedural generierten Kampagne neue Abenteuer.
Einen Releasetermin für das neue Spellforce-Game gibt es von THQ Nordic noch nicht.
Weiter geht es zur Webseite zu Spellforce – Conquest of Eo
Hier kommst du zum Artikel über THQ Nordic