Steige in Dying Light – The Following in einen Offroad-Buggy, um vom Fahrersitz aus, deine Zombie-Schlachten zu schlagen.
Inhaltsverzeichnis
Autos in The Following
Das Hinzufügen eines Autos zu diesem auf Parkour basierenden Zombie-Slasher funktioniert viel besser als erwartet. Angesichts der Aussicht, in Dying Lights großem, auf Geschichten basierendem DLC The Following auf den Fahrersitz eines Offroad-Buggys zu steigen, mag wie eine falsche Abzweigung erscheinen, um einen Parkour hinter sich zu lassen. Die Einbeziehung von Fahrzeug-Zombie-Schlachten mit einem modifizierbaren Auto passt jedoch gut zu einer Menge Missionen und einer ausgezeichneten mysteriösen Geschichte, die sich zu einer gut geölten Maschine zusammenfügt.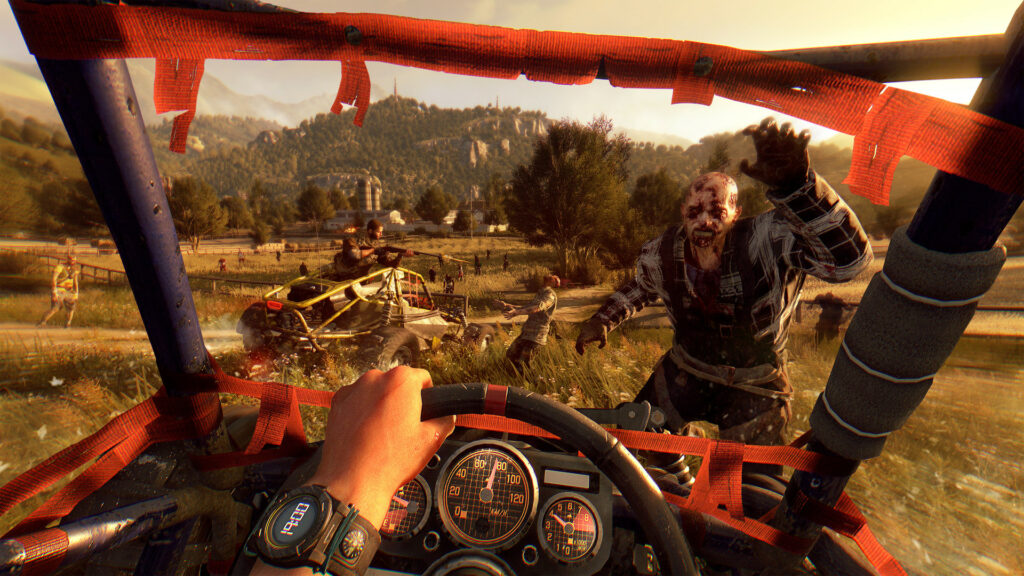 Kyle Crane und ihr neues Auto
Kyle Crane, der Held von Harran, stellt dir in dem weitläufigen neuen Gebiet namens The Farmland deinen neuen besten Freund vor. Deine neue Waffe ist ein Auto. Dieser malerische Ort verfügt über eine größere Fläche als Harran. Dazu kommt ein viel schnelleres Transportmittel. Das Gebiet bietet dicht besiedelten Slums und Gebäude, offene Felder, wunderschöne Küstenklippen und ausgedehnte Gebiete sowie Nebenstraßen.
Die verlorene Küste
In den Farmlands wimmelt es nur so von Zombie-"Leben", aber es fühlt sich anders an, weil es hier viel schwieriger ist, verfolgenden Zombies auszuweichen. Wenn das nächste Gebäude eine Meile entfernt ist, gibt es nichts, was die Sichtlinie mit Verfolgern stören könnte, also ist es ein fast sicheres Todesurteil, hier draußen nachts ohne Fluchtmöglichkeit entdeckt zu werden. Da es The Following jedoch normalerweise so einfach macht, dein Auto zu deinem Standort zu rufen, fühlte es sich selten wie eine schlechte Sache an. Die Ausnahme ist, wenn du stirbst und in einem Jagdturm nicht in der Nähe deines Autos oder eines sicheren Hauses wieder auftauchst.
Eine weitläufige Welt und dein Buggy
Aufgrund dieser weitläufigen und gefährlichen Umgebung glänzt die Vielseitigkeit des Buggys wirklich. Obwohl es selten unbedingt erforderlich ist, um eine der Hauptstory-Missionen oder die große Anzahl von Nebenquests anzunehmen. Du möchtest nie weit von deinem Fahrzeug entfernt sein. Wie deine zuverlässigen, aber zerbrechlichen Waffen besteht der Buggy aus mehreren herstellbaren und plünderbaren Teilen, die mit der Zeit im täglichen Einsatz zum Töten von Zombies verschleißt werden. Fahre zum Beispiel über etwas anderes als eine gut asphaltierte Straße, und deine Federung und Reifen werden langsam abgenutzt. Das Auto in gutem Zustand zu halten, haucht Dying Lights neues Leben ein, da Autos, die die Autobahn verunreinigen jetzt eine potenzielle Goldmine für die Bergung von Motoren und das Ablassen von Kraftstoff sind.
Dein Fahrerrang
Wenn du deinen Fahrerrang erhöhst, erhältst du Zugriff auf die Herstellung besserer Teile. Du installierst neue verstärkte Käfigteile, um sammelbare Lackierungen zu zeigen, und verwandelst dein Gefährt sogar in eine Zombietötungsmaschine mit Rammbalken, Flammenwerfern und Minenspendern. Das kooperative Spiel nutzt dies mit der Möglichkeit, auf das Gefährt eines anderen Spielers zu klettern, um ankommende virale Zombies mit Fernkampfwaffen wie der neuen Armbrust auszuschalten. Sie sind ideal, um Banditen und Zombies gleichermaßen schnell mit zufriedenstellenden Kopfschüssen auszuschalten. Oder du nimmst gegen bis zu drei andere Spieler an Wettkämpfen teil.
Die Quests
Das zentrale Element dieser Erweiterung sind in The Followings Reihe hochwertige Quests. Kyle Crane absolviert sie, um das Vertrauen der Einheimischen zu gewinnen, um einem gruseligen Kult nahe zu kommen. Das Konzept, dich zu Nebenquests zu zwingen, um mit der Geschichte voranzukommen, hätte leicht nach hinten gehen können Glücklicherweise überzeugt die schiere Menge an Dingen, die du tun musst, überzeugt, indem es sich nie wie eine lästige Pflicht anfühlt. Quests, wie das Tauchen durch eine klaustrophobische Unterwasserhöhle oder eine Schatzsuche nach antiken Revolvern, zeigen nicht nur die vielfältigen Missionen von Dying Light – The Following, sondern geben dir auch reichlich Gelegenheit, deine Freerunning-Parkour-Fähigkeiten unter Beweis zu stellen, während du durch die Landschaft fährst. Dying Light – The Following ist eine interessante Erweiterung für ein so denkwürdiges Zombiespiel. Während die Hauptgeschichte zu langsam hochfährt, überrascht das Finale des DLC mit einer atemberaubenden Wendung.
Fazit
Dying Light: The Following schafft es, eine neue unterhaltsame Umgebung zum Erkunden zusammen mit einem Fahrzeug zu integrieren, das gut mit einer Geschichte zusammenpasst, die langsam beginnt, aber mit einem starken Paukenschlag endet.
Weiter geht es zur Seite über Dying Light – The Following
Andere Artikel auf Games und Lyrik: