Leisure Suit Larry 1 bzw. Leisure Suit Larry in the Land of the Lounge Lizards ist der erste Teil der Larry Laffer-Reihe, bei dem es darum geht ein par nette Damen aufzureißen.
Der Beginn von Leisure Suit Larry 1
Das Spiel wurde in 3 Monaten geschrieben und 1987 veröffentlicht und verkaufte im ersten Monat enttäuschende 4.000 Exemplare. Al wandte sich größeren und besseren Dingen zu, nur um zu sehen, wie Larry 6 Monate später die Top 10 nur durch Mundpropaganda erreichte. Jahre später ist Larry zu einer Ikone für Abenteuerspieler geworden.
Larry der Charmeur
Du spielst in dem Spiel Larry, der in späteren Spielen als Larry Laffer bekannt ist. Du suchst ein par nette Damen für eine Nacht in der Stadt, die sich nur mit deinem Charme, deinem guten Aussehen und 94,00 $ in deiner Tasche begnügen. Es ist eine einfache Geschichte. Teil des Charmes der Leisure Suit Larry-Serie ist, dass er im Grunde nur ein einsamer Mann ist, der nach Liebe oder Sex sucht, wo immer er sie finden kann.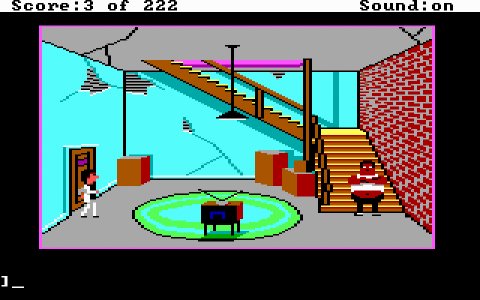 Die Grafik
Leisure Suit Larry 1 wurde mit der AGI-Engine geschrieben. Die Hintergründe sind in Anbetracht der Bildschirmgröße von 300 x 200 sehr detailliert und im echten Sierra-Format haben alle lustige Beschreibungen, wenn man sie sich ansieht. Das einzige Problem mit den Grafiken in der AGI-Engine ist, dass es sehr leicht ist, kleine Elemente zu übersehen, die du später benötigstt Stelle also sicher, dass du immer einen Look-Befehl ausführst, wenn du einen Raum betrittst.
Der Sound
Der Sound ist großartig für seine Zeit. Die Musik ist angemessen lebhaft und passt zum Ton des Spiels. Du wirst das Spiel auf keinen Fall beenden, ohne dich dabei zu erwischen, wie du das Titellied mindestens einmal summst.
Das Gameplay
Das Gameplay ist typisch für andere AGI-Spiele und besteht darin, Larry mit den Pfeiltasten zu navigieren und mithilfe eines Textparsers mit deiner Umgebung zu interagieren. Die Hälfte des Spaßes in Leisure Suit Larry 1 besteht darin, seltsame Sätze einzugeben, nur um zu sehen, was das Spiel als Antwort sagt, und es hat fast immer eine Antwort.
Die Puzzles
Die Puzzles sind meistens von der fesselnden Sorte. Für jede Frau, die du triffst, brauchst du etwas, um ihre Wünsche zu erfüllen, bevor sie dich befriedigt. Die Rätsel sind gut gemacht und größtenteils logisch, wenn du die richtige Einstellung für das Spiel hast. Sei dir nur bewusst, dass du, wie bei den meisten Sierra-Abenteuerspielen, sterben kannst, wenn du nicht aufpasst – und du kannst sehr oft sterben.
Die Spiellänge
Der einzige Nachteil des Spiels ist, dass es ziemlich kurz ist und von einem erfahrenen Spieler in wenigen Stunden problemlos durchgespielt werden kann. Aber in wahrer Sierra-Manier ist das Spiel mit Elementen gefüllt, die dich dazu bringen, zum Spiel zurückzukehren, nachdem es gelöst wurde. Das Spiel verwendet ein Punktesystem, das für das erfolgreiche Lösen von Rätseln sowie für das Ergreifen von Aktionen belohnt wird, die außerhalb der Hauptgeschichte, aber innerhalb des Charakters liegen, und der ansonsten statischen Handlung den Wunsch zur Erforschung mitgibt.
Fazit
Alles in allem ist dieses Spiel ein Klassiker im Adventure-Genre. Aber wenn du dieses Spiel wirklich in seiner ganzen Pracht erleben möchtest, halte Ausschau nach dem VGA-Remake, das in der SCI-Engine mit 256 Farben und Point & Click-Oberfläche erstellt wurde. Du solltest bei dem Spiel zumindest mal reingeschaut haben, denn es ist ein Klassiker.
Andere Adventure:
Runaway 2 – The Dream of the Turtle
Blacksad – Under the Skin