Inhaltsverzeichnis
Homeworld zu spielen: Deserts of Kharak ist, als würde man sich in einen bequemen, alten Sessel setzen, einen Schluck guten Whiskys nehmen und eine Zillion Panzer bestellen, um alles in die Luft zu jagen, was sich einem in den Weg stellt. Obwohl das Spiel im Gegensatz zu den früheren Weltraumspielen der Serie auf der Erde angesiedelt ist, fühlt sich die Echtzeitstrategie-Mechanik auf hohem Niveau vertraut und intuitiv an, vor allem, wenn man Homeworld 1 und 2 vor kurzem mit der Homeworld Remastered Collection durchgespielt hat. Ich konnte mich sehr schnell zurechtfinden und mit minimalem Aufwand ein Verständnis für die verschiedenen Einheitentypen und die grundlegende Steuerung entwickeln, um dann sofort den äußerst unterhaltsamen Mehrspielermodus und die geradezu geniale Kampagne zu genießen, die vor Spannung und fesselnden, sich ständig weiterentwickelnden Kämpfen von Anfang bis Ende kaum nachlässt.
Die Kampagne
Die Geschichte der Kampagne von Homeworld: Deserts of Kharak ist nicht umwerfend, aber sie ist ein cleveres und frisches Sci-Fi-Szenario, das sich in das größere Homeworld-Universum einfügt, indem es die Entdeckung der uralten Technologie, die die Rückkehr in den Weltraum ermöglichte, auf unerwartete Weise erweitert. Die Sprecher sind von höchstem Niveau, von der entschlossenen Wissenschaftsheldin Rachel S'Jet über ihre engagierten Unterkommandanten bis hin zu den mysteriösen religiösen Fanatikern, die sich mir auf Schritt und Tritt widersetzten.
Die Charaktere
Leider haben diese Charaktere in Homeworld: Deserts of Kharak aufgrund der inhärenten Beschränkungen des RTS-Genres nicht genügend Möglichkeiten, zu interagieren, Emotionen zu zeigen oder sich über ihre ursprünglichen Archetypen hinaus zu entwickeln. Und während die Zwischensequenzen einen großartigen, malerischen Stil haben, der an die erstaunlichen Animationssequenzen von Homeworld erinnert, werden viele der wichtigsten Handlungspunkte von Deserts of Kharak in unzureichenden Monologen und Briefings nach den Missionen enthüllt. Es gibt ein paar wirklich denkwürdige Momente der "Show, Don't Tell"-Erzählung, aber sie sind zu spärlich über die etwa 15 Stunden der Kampagne verteilt.
Bombastische Schlachten
Die rasante Geschichte von Homeworld: Deserts of Kharak und die bombastischen Schlachten werden durch eine stimmungsvolle, subtile, arabisch angehauchte Musik und ein großartiges Sounddesign ergänzt. Jeder Moment der erzählerischen Enthüllung wird von Arrangements untermalt, die die Notlage der belagerten Kapisi-Expedition unterstreichen. Jeder Kontakt mit dem Feind wird von einem knackigen und befriedigenden Railgun-Feuer, einem atmosphärischen Stakkato von automatischen Waffen auf kleineren Schiffen und befriedigenden, bassigen Explosionen begleitet, die anzeigen, dass deine größeren Geschütze ihr Ziel gefunden haben.
Befehlige deine Armee
Inmitten all des Lichts und der Geräusche fühlt man sich in Homeworld: Deserts of Kharak schnell in der Lage, seine Armee zu befehligen, aber das soll nicht heißen, dass es dem Spiel an Herausforderung oder Komplexität mangelt. Die verschiedenen Szenarien, die sich dir bieten, sind oft verzweifelt, hektisch und voll von unvorhersehbaren Wechseln in Tempo und Initiative. Das Eintreffen feindlicher Verstärkungen konnte eine "sichere" Karte plötzlich in Gefahr bringen, während eine günstige Unterstützung durch eine computergesteuerte verbündete Streitmacht eine verzweifelte Halteaktion auf dem letzten verteidigbaren Bergrücken in einen triumphalen Gegenangriff verwandeln konnte. Es ist ein Geben und Nehmen, das verhindert, dass sich die meisten Missionen wie ein einfaches Abhacken von Zielen anfühlen. Als ich meinen massiven, mit Panzern ausgerüsteten Wüstentransporter, die Kapisi, steuerte, die den Mutterschiffen des klassischen Homeworld nachempfunden ist, muss man oft Risiko und Belohnung abwägen, wenn man die Erreichung von Zielen hinauszögert, um mehr Ressourcen zu sammeln, ein Vorschlag, der oft zu längeren Gefechten und höheren Verlusten führt, als man an Rohstoffen gewinnt. Wenn deine überlebenden Einheiten von einer Mission bis zur nächsten durchhalten, gewinnen diese Entscheidungen enorm an Bedeutung.
Die Missionen
Trotz dieser Umstände fühlte sich die Kampagne von Homeworld: Deserts of Kharak mit ihren 13 Missionen nie frustrierend, überwältigend oder unfair an. Auf dem normalen Schwierigkeitsgrad zeigte die KI genau das richtige Maß an Aggressivität, um Sie als Neuling mit Homeworld-Erfahrung auf Trab zu halten oder Ihnen in manchen Missionen sogar den Rücken zuzukehren, ohne dass es sich wie eine unüberwindbare Flut anfühlte. Aber das wirklich herausragende Merkmal, das Deserts of Kharak zu einem Spielvergnügen macht, sind die Werkzeuge, die dir als General zur Verfügung stehen: ein exzellentes strategisches Overlay, das aus den Originalspielen übernommen und eindrucksvoll aktualisiert wurde, und eine vielseitige, unkomplizierte Einheitensteuerung.
Die strategische Ansicht
Die erweiterte strategische Ansicht in Homeworld: Deserts of Kharak, die das gesamte Schlachtfeld auf einer großen Karte zeigt, ist eine hervorragende Informationsanzeige, die einen umfassenden Blick auf jeden Bereich des Schlachtfelds in Sensorreichweite Ihrer Einheiten bietet, mit leicht lesbaren Symbolen für freundliche und feindliche Einheiten, die das Chaos der Schlacht auf seine grundlegendsten Elemente reduzieren. Du wirst den größten Teil der Kampagne in dieser Ansicht spielen, was sich großartig anfühlt, dir aber ein schlechtes Gewissen macht, weil du die Grafik übersprungen hast. Kharak ist eine attraktive Welt, wenn auch ein wenig eintönig in seinen sandigen, weitläufigen Umgebungen. Aber immer, wenn du das Gefühl hattest, etwas zu verpassen, kannst du mit einem kurzen Druck auf die Leertaste ein mit Explosionen gespicktes Highlight aus nächster Nähe genießen, bevor du wieder herauszoomst, um dich wieder an die Arbeit zu machen. Verschiedene, taktisch spezifische Audiohinweise machen dich in Homeworld: Deserts of Kharak auch auf Dinge aufmerksam, die dort schief liefen, wo deine Aufmerksamkeit nicht hingehörte, wie z. B. eine kleine, unterausgerüstete Einheit, die Ressourcen sammelt und sich dem Zorn einer ganzen Kampfgruppe gegenübersieht. Das ist ein Geschenk des Himmels für jemanden, der einen Tunnelblick hat und die Minikarte schlecht im Blick hat, wenn er ein Spiel spielt, in dem so viel auf einmal passiert.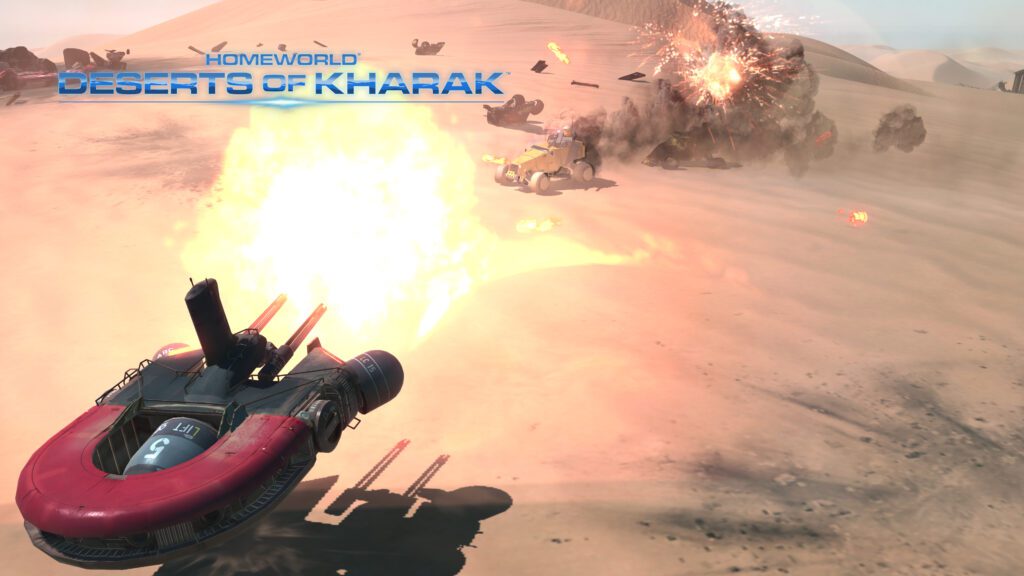 Das strategische Overlay
Ein Manko ist, dass das strategische Overlay in Homeworld: Deserts of Kharak auch schlecht angibt, welche Einheiten über Flugabwehrfähigkeiten verfügen. Lufteinheiten werden im mittleren und späten Spiel ziemlich wichtig, und einige Einheitentypen können durch ein Upgrade Luftabwehrfähigkeiten erhalten, ohne dass sich das Symbol, das sie auf dem Overlay darstellt, ändert. Es ist ärgerlich, wenn deine Bomber abgeschossen werden, weil du dir ein Panzermodell nicht genau angesehen hast.
Die Kriegskasse
Die Kriegskasse der Einheiten, die sich im Laufe der Kampagne von Homeworld: Deserts of Kharak langsam vergrößerte, ermöglichte es dir, extrem unterschiedliche und spezialisierte Armeekompositionen zu erstellen. In den ersten Missionen setzt man eine Menge entbehrlicher, leichter Fahrzeuge in einem frontalen Schwarm ein, um das Feuer auf sich zu ziehen, während panzerbrechende Railguns mit großer Reichweite, ein persönlicher Favorit von mir, den Gegner mit der Präzision eines Scharfschützen von erhöhtem Gelände aus zerlegen, was sich auf die Reichweite und den Schaden auswirkt – eine Anspielung auf das Full-3D-Bewegungs-Gameplay des klassischen Homeworld. Am Ende hast du eine undurchdringliche Frontlinie von "Battlecruiser"-Panzern, die von Fahrzeugen mit Reparaturfähigkeiten unterstützt werden, die die Linie halten, während die Ultra-Langstrecken-Artillerie den Gegner abdeckt und Kampfflugzeuge, die von meinem Flugzeugträger aus eingesetzt werden, vorrangige Ziele von oben angreifen. Beide Spielstile sind unabhängig von der Mission realisierbar.
Der Standard-Mehrspielermodus
Der Standard-Mehrspielermodus in Homeworld: Deserts of Kharak belohnt die Vielfalt der Gebäude, die Kenntnis des Geländes und das Experimentieren. Der Mehrspielermodus ist ebenfalls sehr gut gelungen, wenn auch etwas kleiner, als er eigentlich sein sollte. Die Einheitenobergrenze liegt bei 125 Einheiten, im Vergleich zu fast 200 Einheiten in der Kampagne, was sich merklich darauf auswirkt, wie ich den Umfang einer Schlacht in einem 1v1-Szenario wahrnehme. In 2v2 und 3v3 ist jedoch immer eine Menge los. Der Standard-Spielmodus belohnt auch die Vielfalt der Gebäude, die Kenntnis des Geländes und das Experimentieren mit einem zielbasierten Artefaktextraktionsrennen. Du kannst immer noch den Sieg erringen, indem du die gegnerischen Flugzeugträger zerstörst, aber ich fand das relativ selten, verglichen damit, das erste Team zu sein, das fünf Artefakte von ihren festgelegten Spawn-Punkten extrahiert. Dieses Zielsystem legt den Fokus auf die gesamte Karte und nicht nur darauf, wo der Feind sein Lager aufgeschlagen hat, und sorgt für viel abwechslungsreichere und dynamischere Gefechte als ein Träger-gegen-Träger-Schlachtfeld.
Der Sand im Getriebe
Hier und da gibt es etwas Sand im Getriebe. Auf der Makroebene hat man in Homeworld: Deserts of Kharak nie Probleme, Einheitengruppen dorthin zu bringen, wo man sie haben will, aber wenn sie einmal dort sind, hat man nicht das Gefühl, dass man ihnen wirklich vertrauen kann, dass sie auf taktischer Ebene ohne Mikromanagement funktionieren. Vielleicht bist du zum Beispiel enttäuscht, dass es in Homeworld: Deserts of Kharak keine Möglichkeit gibt, die Ausrichtung einer Kontrollgruppenformation mit einem Bewegungsbefehl schnell festzulegen, wie es in anderen groß angelegten RTS-Spielen wie der Total War- und Supreme Commander-Reihe oder dem Company of Heroes von Homeworld-Entwickler Relic möglich ist. Fahrzeuge, die nicht im Kampf eingesetzt werden, waren in ihren Kontrollgruppen oft nicht in Position und gerieten unter Beschuss, wenn sie es nicht sein sollten. Wenn du weißt, dass Entwickler Blackbird Relic Alumni an der Spitze hat, hast du weniger Probleme damit, dass sich diese Einheiten intelligent verhalten.
Fazit
Kurz gesagt, Deserts of Kharak ist ein wunderbares Strategiespiel. Es schafft, woran so viele RTS-Spiele scheitern: Es gibt einem multitaskingfähigen Kommandanten alle Informationen, Einheitenoptionen und Steuerungsflexibilität, die er braucht, um unnötige Barrieren zwischen dem, was sein Gehirn von seiner Armee will, und dem, was sie tatsächlich in der Lage ist, in einem Moment auszuführen, zu beseitigen. Aufgrund der umfassenden Perspektive der strategischen Sichtweise hast du jederzeit das Gefühl, einen kühlen Kopf zu bewahren und die Situation zu beherrschen. Selbst wenn etwas sehr schief läuft, weißt du, dass du in Homeworld: Deserts of Kharak in der Lage sein wirst, deine Kampfgruppen effizient zu kommandieren, um die heiße Zone zu verlassen und das Szenario ohne größere strategische Komplikationen zu stabilisieren. Wenn man an der Reihe ist, zum Angriff überzugehen, hatte ich das Gefühl, ein gut eingespieltes Orchester der Verwüstung zu dirigieren. Die Kampagne sorgt für ein abwechslungsreiches Tempo und einen fesselnden Kontext, während der Mehrspielermodus die Stärken des Kampfsystems ausspielt, indem du mehr tun musst, als nur das gesamte Material des Feindes zu zerstören, um den Sieg zu erringen.
Weiter geht es zur Webseite über Homeworld: Desert of Kharak
Andere Spiele auf Games und Lyrik: