In The Weaponographist, verflucht dich eine Hexe und überzeugt dich, für (vor allem ihre) wohltätigen Zwecke auf Monsterjagd zu gehen. Das Spiel ist ein Top-Down-Dungeon-Crawler der nicht besonder herausragt. Das Spiel nutzt ein schnelles Tempo und bietet harte Herausforderungen. Dazu kommen eine große Auswahl an Monstern und Waffen, Waffen- und Geschicklichkeits-Gimmicks und jede Menge altmodischer Cartoon-Charme.
Doug McGrave
Ein großer Teil des Reizes des Spiels liegt in seiner Weigerung, irgendetwas ernst zu nehmen. In der Solo-Kampagne spielst du Doug McGrave, einen dämonentötenden Hengst in glänzender Rüstung. Während er in der Eröffnungssequenz durch die Landschaft wandert und nach neuen Herausforderungen und neuen Quellen für seinen Gewinn sucht, trifft er auf eine Hexe, die um Hilfe bittet, um eine Dämonenplage auszumerzen. Sie ist jedoch pleite, also ist Dougie nicht interessiert – zumindest nicht, bis sie einen Fluch ausspricht, der Vitalität und Waffen vernichtet und ihn bald davon überzeugt, dass er versuchen sollte, für wohltätige Zwecke zu töten. Im Spiel gibt es keine Mehrspieler-Optionen außer der Möglichkeit, deine zeitgesteuerten Ergebnisse online mit anderen Spielern zu vergleichen.
Der Retro-Charme in The Weaponographist
All dies wird als Weiterentwicklung des traditionellen Rollenspiel-Epos gespielt, wobei Doug aus The Weaponographist bis zu seinem großen, stoßstangenartigen Kinn wie ein Zeichentrick-Superheld aussieht. Die Visuals stammen direkt aus einem alten Zeichentrickfilm. Sowohl die Zwischensequenzen als auch die Grafiken im Spiel wirken wie verlorene Clips aus den Cartoon-Clips der 70er Jahren.
Der Sound
Der Ton ist nur eine Nuance weicher als die Piepser und Bloops der 16-Bit-Ära, was dem Spiel noch mehr Retro-Charme verleiht. Bild und Ton verbinden sich zu einer leichten, sorglosen Stimmung, die viel zum Gesamterlebnis beiträgt, unterirdische Kerker zu erkunden und alle Bewohner zu ermorden. Die Autoren bemühen sich auch nicht zu sehr, sodass du dich nicht mit stöhnenden Wortspielen oder den widerwärtigen, unlustigen Witzen herumschlagen musst, die in Spielen allzu häufig vorkommen.
Gameplay
Das Gameplay von The Weaponographist ist nicht ganz so unterhaltsam wie das Setting und die Geschichte. The Weaponographist hält an der traditionellen Hack-and-Slash-RPG-Formel fest. Doug wagt sich in mehrere Dungeon-Ebenen – die Tiefen – die jeweils mit zahlreichen engen Räumen gefüllt sind, die als Kampfarenen dienen. In jeder Tiefe befinden sich einige Speicherpunkte, mit denen du den Fortschritt in der Mitte und dann noch einmal vor dem abschließenden Bosskampf speichern kannst. Räume funktionieren im Allgemeinen wie folgt: Du gehst hinein, die Tür schließt sich und du kommst nicht heraus, bis du Dutzende von Creeps getötet hast.
Die Gegner
Die weitreichende Schurkengalerie in The Weaponographist besteht aus Dämonen in allen möglichen seltsamen Formen. Es gibt Löwen mit Peitschen, die als Trainer von Zirkuslöwen verkleidet sind, Kobolde mit tödlichen Jo-Jos, Dunkelelfen-Bogenschützen, Ents mit Steinschleudern und mehr. Jede Tiefe bietet eine Handvoll neuer Kreaturen mit neuen Waffen. Alle Waffen können aufgehoben und gegen die Bösewichte eingesetzt werden, was die Dinge belebt, während du immer tiefer in das unterirdische Labyrinth des Bösen vordringst. Es ist alles mehr als ein bisschen surreal, aber die Kreaturen sind zu breit gezeichnet und bunt, um gruselig zu sein. Eine etwas erwachsenere Art Direction hätte dies zu einer verstörenden, alptraumhaften Erfahrung gemacht.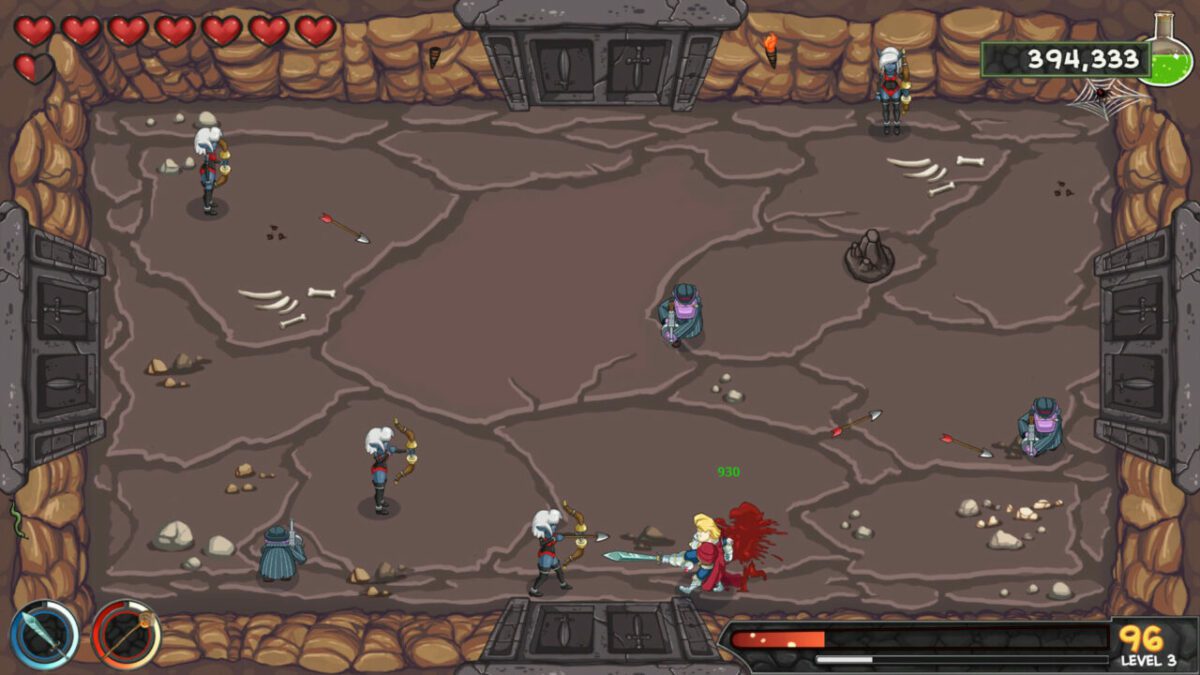 Der Fluch
Wie oben erwähnt, verringerte der Fluch der Hexe die Haltbarkeit von Dougs Waffen und seine Fähigkeiten als Krieger. Jedes Schwert, jede Peitsche, jedes Maschinengewehr, jeder Speer usw. hat in The Weaponographist eine Lebensdauer, die auf einem Messmeter auf der unteren linken Seite des Bildschirms abläuft. Wenn deine Waffe zerbröckelt, musst du so schnell wie möglich etwas anderes ergattern. Magische Waffen können ausgerüstet werden, um mächtige Angriffe zu starten. Feuerringe können zum Beispiel mit den magischen Stäben beschworen werden, die erschlagene Zauberer zurückgelassen haben, und die Tubas, die von Schlägern der Marschkapelle fallen gelassen werden, können verwendet werden, um todessternähnliche Laserstrahlen abzufeuern.
Die Geschwindigkeit
Geschwindigkeit ist in The Weaponographist auch von entscheidender Bedeutung. Dougs Fluch lässt ihn schwächer werden, wenn er keine Monster tötet, wobei seine Stärke auf einem Combo-Balken angezeigt wird. Lässt seine Mordlust nach, beginnt die Leiste sich schnell zu leeren. Wenn sie vollständig aufgebraucht ist, beginnt Doug, Erfahrung zu verlieren. Es ist also unerlässlich, weiterzumachen und sich stetig voranzumetzeln. Wenn du dies tust, gerät Doug in einen Rhythmus, in dem er regelmäßig aufsteigt und den immer härteren Mobs von Bösewichten, die jede neue Dungeonkammer füllen, immer einen Schritt voraus bleibt. Wenn du beim Töten ins Hintertreffen gerötst, wird alles schnell härter und härter, mit dem Endergebnis, dass du von der schieren Anzahl von Feinden überwältigt wirst.
Welche Waffe nimmst du?
Beide Elemente in The Weaponographist haben einen großen Einfluss auf den Kampf und verwandeln ihn in eine passende Mischung aus Geschwindigkeit und Strategie. Ständiges Laufen und Töten ist der Schlüssel zu allem, obwohl du auch darauf achten musst, welche Waffe du aufhebst. Einige funktionieren einfach nicht sehr gut gegen bestimmte Feinde, und andere sind stark unterfordert oder passen schlecht, wenn es um eine große Anzahl von Feinden geht. Die Kettensäge zum Beispiel ist in Schwärmen von Monstern praktisch wertlos, weil sie sich nur langsam bewegen lässt. Auf der anderen Seite sind Waffen wie die Flinke Peitsche fast zu mächtig, wenn man bedenkt, wie schnell du Schaden austeilen kannst, während du herumrast.
Der Glücksfaktor
Auch hier gehört etwas Glück zu The Weaponographist, denn in manchen Räumen kann man ohne gute Waffe so lange stecken bleiben, dass man sich genauso gut hinlegen und sterben könnte. Feindliche Buffs, die Monster beschleunigen oder Bälle aus todbringendem Schleim durch Räume springen lassen, können ebenfalls auftauchen und das Leben noch härter machen. Eine Kombination aus diesen scheinbar zufälligen Spezialeffekten und schlechten kann Dougs Dungeon-Feldzug in Eile beenden, selbst wenn du dein Combo-Meter aufrecht erhältst.
Wiederholungen vom Dungeon
Die Aktion wiederholt sich jedoch. Beim Kampf geht es darum, immer wieder dasselbe zu tun, während du deine Herangehensweise leicht anpassen, um mit verschiedenen Arten von Feinden fertig zu werden. Die Dungeons von The Weaponographist sind am Anfang schwierig, was bedeutet, dass du Räume regelmäßig wiederholen musst. In den ersten Räumen jeder Tiefe wirst du einige Male sterben, um einen Respawn im Dorfzentrum auszulösen, wo du die von besiegten Feinden erworbene Dämonenschleimhaut für Buffs für Waffen, magische Ausrüstung usw. ausgeben kannst. So musst du Doug auf diese Weise in so ziemlich jeder Tiefe aufbauen und mindestens drei oder vier Mal sterben, bevor du stark genug wirst, um die Gegner zu überwältigen. Sei auf jede Menge Wiederholungen vorbereitet.
Fazit
Trotz seiner Abhängigkeit von einer vertrauten Formel und einigen Wiederholungen ist The Weaponographist aufgrund seines schnellen Tempos und der interessanten Konzepte, die den Gebrauch und die Fähigkeiten von Waffen regeln, ein lustiges Arcade-Spiel. Dies ist eines dieser freundlichen Spiele, die fast jeder gerne für kurze Spielsitzungen ab und zu startet, besonders diejenigen, die ihre Dungeon-Crawler mit Sinn für Humor und einem Retro-Geschmack mögen.
Der Entwickler vom Spiel ist Team Puuba.
Hier geht es zur Webseite vom Spiel