The Family Edition is based on the game show Wheel of Fortune, which you can play anytime on the NES! It has the basic elements, rotate, buy vowel, solve, etc. The game is just like the game show that was on TV. You can play with up to 3 players (3 human players only need 2 controllers, you use controller # 1 for the first and third player) to make the most money and get a chance at the bonus round to win one of the win fabulous prizes on offer such as an emerald necklace, a Bentley, a trip to Paris and much more! The basic elements are all there. You spin the wheel and receive the displayed amount per letter that you receive on the board this round. Vowels are $ 250 each. The aim is to solve the puzzle in order to win the round and reach the bonus round. If you are not alone, you can play against 2 computer players with 3 different levels of difficulty. 1,2 or 3 (with 3 being the hardest) Moving and selecting is all you have to do. So no problem with controllers at all.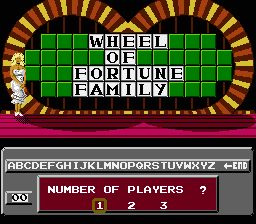 Anyone can get used to the basic control setup of the game. All you need to do is think about the puzzle that is in place, not the controls. The graphics all look like the game show, although Pat Sajak doesn't appear in the game at all ... The puzzle tiles light up with the letter you have selected, just like the game show. Vanna goes and twists her just like on the show and everything else has decent graphics to make it realistic. In the intro it plays the "WHEEL OF FORTUNE" call that the audience calls at the beginning of each show. That was well done. Music and sound are very simple, nothing special. Anyone of any age can play it. The only thing that gets in the way is the fact that there is a timer, which may make it a little harder for slower and younger players.
You can play it with friends or alone, and the fun will last for a long time! Try to compare the game to the real game show and see how well they did! There are tons of puzzles. So it offers long employment.