The Addams Family The Game Boy game is one of the first Addams Family games. Gomez family is kidnapped. Your job is to free the family members again.

Gameboy
In the original Game Boy version the Addams Family presents itself with an entertaining Jump & Run game. In addition, it appeared for Amiga, Amstrad CPC, Atari ST, Commodore 64, Game Gear, Genesis, NES, SNES and ZX Spectrum. The side scrolling game is related to the movie released in 1991 and was developed in 1992 by Ocean Software.
The hijacked Addams
Gomez Addams has to go in search of his family. The individual family members disappeared inside the house. Gomez's job is to find and free all.
The Game

For the Game Boy, the graphics the Addams Family offers are very good. The backgrounds could be drawn lovingly. The music is also beautifully composed. The level design is varied. In 14 different levels, they present themselves. As locations, you will pass through the villa of the family, a cemetery, the toy land and a refrigerator.
Weapons and Enemies
With different weapons you draw against the opponents in the field. In defense, the individual weapons unfortunately fail more often. You will meet the most diverse enemies. The bosses are appropriate in difficulty.
Gameplay
Your opponents are ghosts, bats and other monsters. Touch them you will be de-energized. When your energy is used up, you lose a life. In total there are five available here. On the way you will find items, such as potions that support you. For example, you can transform yourself into a werewolf or a wolf.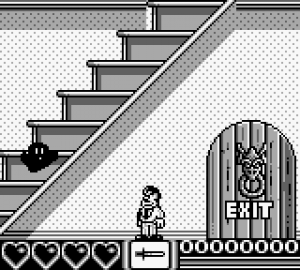 The control
A downside offers the control. Gomez steers slightly stepping and shoots a bit too slow. The course of the monsters is sometimes unpredictable and difficult to see through. Traps on the ground are not recognizable.
Conclusion
Yes, the Addams Family plays like a customized Super Mario game. The gameplay is very similar or almost identical. Although it looks a bit like a copy it is very entertaining and captivating. The game is not outstanding but good. For Jump & Run fans it's definitely worth a look.