The Addams Family already appeared on the SNES system. Gomez has to save his family in this Jump & Run.
The Addams Family
The SNES version
The developer Ocean Software developed the game, which was released for various platforms. These include z. NES and the Sega systems.
The plot
Gomez has to save his family. In Addams Family's mansion, you'll cross the spooky building and the surrounding area, seeking out your captive family members to save them. Not only you, but also the stolen family fortune you have to hool back. You have to stop a ghastly leprechaun, a mad scientist and a witch.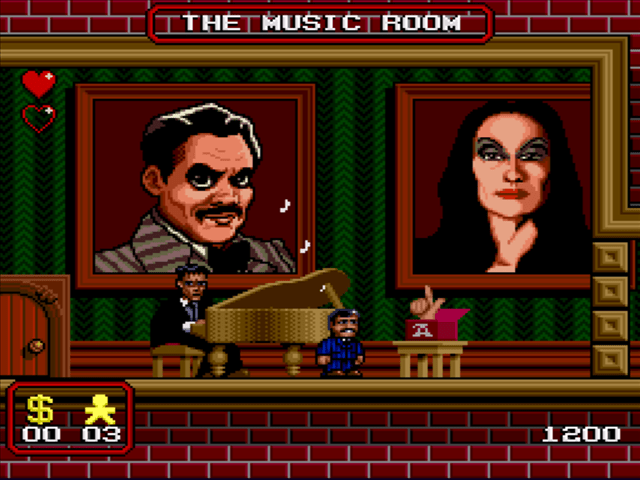 The Levels

Not only do you roam the mansion with Gomez. From the beginning, you also search the exterior of the property. This makes the level size impressive, because you have to decide where to go first. Not only do you have to save your family, but you also have to secure your own survival by, for example, gaining extra lives.
Gameplay
You start the game with five lives. Two heart containers are available to you as a power bar. This means that you desperately need more energy and heart containers to free your family members. You are forced to search the villa strategically. You also explore selected areas to face a final boss. After the boss fight you will get a password that will let you continue where you left off. In the fight against the opponents you will find weapons such as swords. Shoes increase the speed of Gomez. So he can overcome larger abysses.
Conclusion
Graphically, the game is well-designed for its time. The atmosphere of the estate of Addams Family is well represented. There are also cute little characters and happy melodies. Nevertheless, the game is not easy and the opponents are sometimes difficult to defeat. Convincing is the freedom of gameplay. Without an expansion of your energy bar, you will not get far in the game. The Addams Family is definitely worth a look.
Originally posted 2018-04-15 08:25:00.