Are you looking for a new, unique adventure? Then Tchia from developer Awaceb might be the right game for you. In the game, you slip into the role of the courageous adventuress Tchia, who sets out in search of the ruler of the world, Meavora. But what sets the game apart from its open-world predecessors is its joyful transformation mechanics and humorous storytelling.
Table of Contents
Tchia and Maano
The story begins on an idyllic island steeped in rich culture and living traditions. Tchia is a young woman who grew up in this world and learned the art of the ukulele from her father, a gifted musician. But the peaceful life on the island is abruptly interrupted when strange creatures called Maano appear and devastate the land.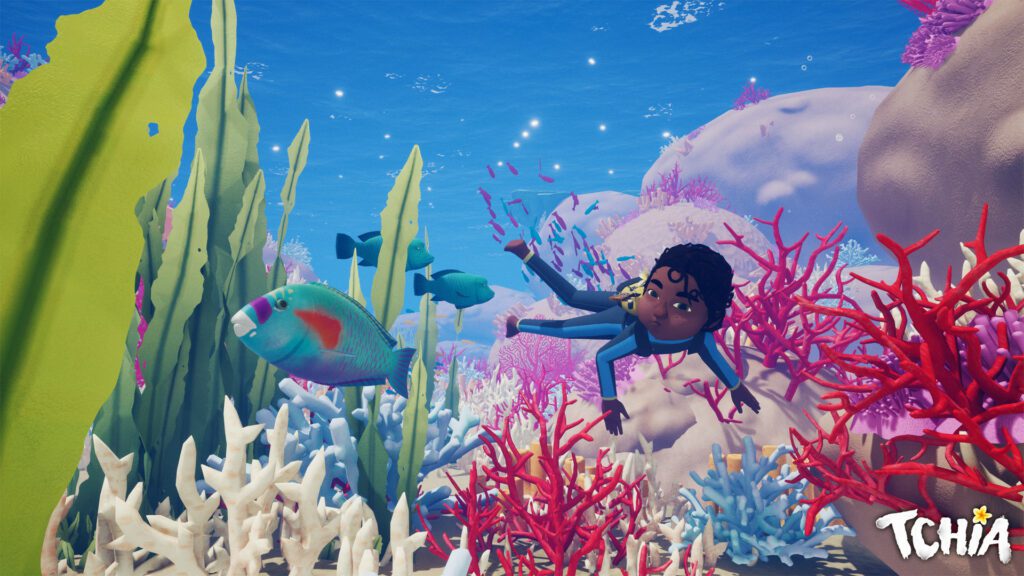 A mission
Tchia's father is kidnapped by the Maano and she vows to rescue him. But to complete her mission, she must first learn how to harness the island's powers. By jumping into the souls of animals and objects, Tchia can look at the world from new perspectives and overcome obstacles. In the process, she discovers her own abilities and strengths.
Meet the characters
On her journey, Tchia meets different characters including friends, allies and enemies. Each of them has its own story and contributes to the development of Tchia. The relationships between the characters matter and it is important to nurture and strengthen them.
As Tchia travels the islands to find her father, she also learns about the rich culture and traditions of New Caledonia. The islands are one of breathtaking beauty and diversity, from the emerald green forests to the crystal clear waters. The music and art of the islanders play an important role in the world of Tchia, giving it a unique atmosphere.
enjoy the world
Amidst all the action and adventure, it's important that Tchia also takes time to relax and enjoy the beauty of her world. With the fully playable ukulele, she can sit back and sing a few songs while watching the sun go down.
A tribute to New Caledonia
The story of Tchia is about courage, friendship, discovery and growth. It's a story inspired by the love for life and culture of New Caledonia and pays homage to the development team's homeland. As a player, you have the opportunity to explore this world and embark on an adventure that will both challenge and delight you.
Discover the world of Tchia
The world of Tchia is an open sandbox that you can fully explore. The islands are full of life and color and you will discover many places and characters on your journey. The setting is inspired by the real islands of New Caledonia, known for their beauty and rich culture. You will experience many elements of this culture on your journey and learn how to navigate this world.
Overcome obstacles and solve puzzles
On your journey you will encounter many obstacles and puzzles that you must solve in order to advance. Some puzzles will require your stealth mode skills, while others will test your climbing or jumping skills. But don't worry, Tchia has many skills that will help you to complete these challenges. You can jump into almost any animal and almost any object and move through the world in a way that suits you best.
Take control
One of the most exciting features of Tchia is the Soul Leap mechanic. This allows you to take over and take control of almost every animal and object on the islands. You can fly through the world as a parrot or swim as a fish. But not only animals are affected. You can also jump into lanterns or coconuts to make clever combinations in battles or puzzles. The Soul Leap mechanic offers endless possibilities to explore and enjoy the world of Tchia.
A variety of transformation options
A special ability of Tchia is her power of transformation. Tchia can transform into animals and objects in her immediate environment. The number of things Tchia can transform into is almost infinite and has been implemented with great care. Each animal feels different in terms of locomotion and has a kind of unique "ability". For example, you can quickly jump from rock to rock as a stone or shoot enemies with your droppings as a seagull. The variety and fluidity of movement, experimentation and exploration make the game a real pleasure.
exploration and navigation
Tchia doesn't have a map in the traditional sense, but a digital version of a paper map that's still a bit crumpled from being in a backpack. As Tchia, you must find landmarks to fully understand your location. Take your time to look around and discover the world of Tchia. Quests and pinned points are also marked on a compass that you can place on the screen, making navigation a lot easier if you don't like getting lost.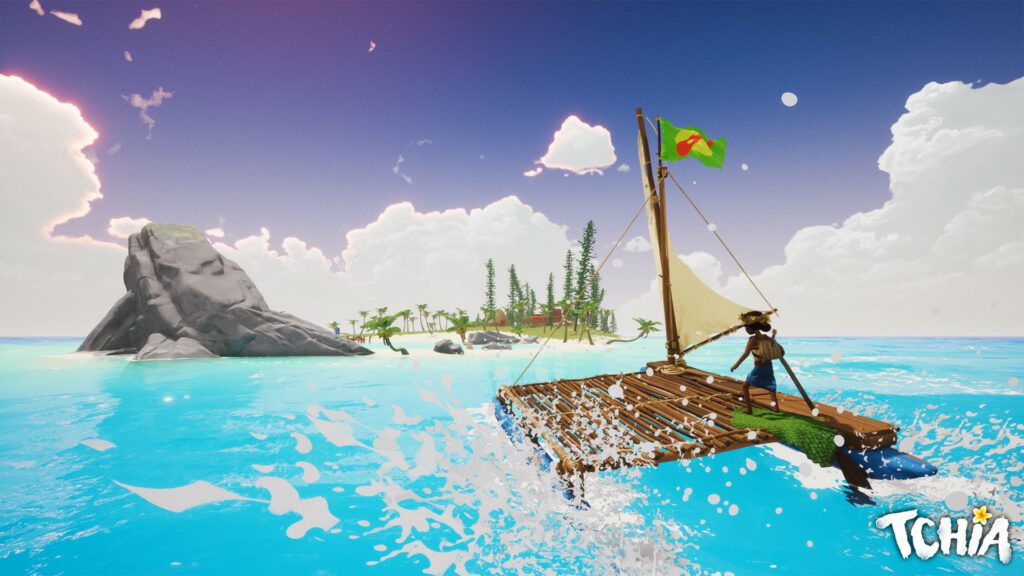 Minigames and collaboration
On your travels you will come across various mini-games that will test your skills. These range from carving sculptures to racing sailboats in narrow passages. But music also plays an important role in Tchia. The characters often gather around a campfire to sing and play instruments in English, French, and native Kanak languages. Tchia's ukulele is connected to the controller for full use in the rhythm mini-games. These aren't played for points, instead allowing the player to engage with those moments in a way that feels less competitive and more collaborative.
Humorous storytelling
With a premise like Tchia's, where you can transform into pretty much anything, humor is an important part of the game. Tchia deftly pokes fun at herself and video games in general, without ever descending into genuine self-mockery. The moment Tchia has to pull a ticket and fill out forms to see the world leader as if she were at the admissions office is just one of the many humorous moments in the game. This kind of humor and lightness is an important contrast to the dark story of the evil ruler who eats children and brings a pleasant change of pace to the game.
music and relaxation
Besides all the adventure and action, Tchia also offers many relaxing moments. You can always pull out your ukulele and enjoy a jam session with other characters. The music in Tchia is inspired by the music of New Caledonia and is sure to put you in a positive mood.
Tchia and New Caledonia
The fantastic world of Tchia is inspired by the islands of New Caledonia. The main character Tchia, a young woman, embarks on a journey of discovery and growth in this beautiful world. The game offers a unique opportunity to experience the rich culture and traditions of New Caledonia and confront an ominous menace looming over the islands.
The landscapes of New Caledonia
The world of Tchia is full of breathtaking landscapes that reflect the islands of New Caledonia. The pristine beaches, green hills and clear waters are all elements of the real archipelago, which is considered one of the most beautiful travel destinations in the world. As a player, you will be able to explore this beautiful world and discover numerous locations inspired by the culture and heritage of New Caledonia on your journey.
Culture and tradition
One of the most intriguing aspects of the world of Tchia is how it has managed to bring the rich culture and traditions of the islands into the game. You will notice various things on your journey that indicate the unique culture of New Caledonia. For example, in the world of Tchia, there is a special island called "Loyalty Island" that is directly inspired by the Loyalty archipelago. This island is famous for its traditional canoes, used by the indigenous people for fishing and as a means of transport.
New Caledonia and the Music
The music in Tchia is also inspired by the culture of New Caledonia. Tchia is a talented ukulele player and her music plays an important role in the game. The in-game music is a combination of traditional New Caledonian music and modern influences, creating a unique and immersive atmosphere.
Tchia's ukulele
Tchia's ukulele is not just a simple musical instrument, but also has special gameplay properties. Using unlockable Soul Melodies, Tchia can transform the world around her and unlock new items to aid her in exploration and combat. The ukulele is fully playable and invites you to musical experiments and your own creations.
soul tunes
The Soul Melodies that can be unlocked throughout the game are unique and each one has a different effect on the game world. Some make plants grow, others make birds appear, and still others affect the weather. The ukulele thus becomes an important tool that supports Tchia on her journey through the fascinating game world.
The instrument in the fight against Maano
But the ukulele cannot only be used to influence the world around you. She is also an important element in the fight against the Maano, the evil stuff creatures that threaten Tchia's home island. With her slingshot and the soul melodies of the ukulele, Tchia can defend herself against the Maano and free her father from the clutches of the tyrannical ruler.
Overall, Tchia's ukulele is a significant element in the world of the game. Not only does it give you the ability to change the environment, but it can also be used in combat and puzzle-solving. Incidentally, you can also just play music with the ukulele and live out your creativity.
Tchia's skills
Soul Leap Abilities Tchia can gain control of objects and animals through her Soul Leap abilities, aiding her in exploration and combat. She can fly to the highest mountain peaks as a bird, swim through the azure seas as a dolphin, and burn flammable minions as Meavora's lantern. The environment becomes the most important tool in the game.
Other tools
In addition to this useful ability, Tchia also has more mundane tools. This includes her trusty slingshot, which she can use in battle, a useful camera and a free-to-play ukulele. By playing soul melodies, she can summon animals, change the weather, and more.
Picturesque archipelago and magical mysteries
Gamers also have work to do beyond battling the evil ruler. The scenic archipelago and depths of the sea are beautiful to behold, and teeming with items to find, collect, and trade in for stylish (and sometimes hilarious) cosmetic customizations for Tchia and her boat. Those who venture deeper into the caves of the islands will also discover magical secrets that can prove extremely useful.
Tchia and the sea
The sea plays an important role in Tchia. After all, it is an island world surrounded by azure waters. Players will have numerous opportunities to explore the sea. You can swim as Tchia yourself or ride around on her boat. In doing so, they can not only enjoy the beautiful surroundings, but also discover many secrets.
sea ​​animals
You can also gain control of various sea creatures with Tchia's Soul Leap ability. As a dolphin they can glide through the water and go on dives, as a crab they can move on land and explore hidden places. There are also many underwater caves to explore, filled with treasure and puzzles.
dangers in the sea
But the sea not only holds treasures and secrets, but also dangers. Players must be wary of the Maano, who may lurk and attack in the water. But with Tchia's Soul Leap ability and her slingshot, they can fight back and protect themselves from the enemies.
Tchia thus offers a comprehensive sea experience that invites you to explore and discover. Whether on the boat, while swimming or with the various sea creatures - the sea is a central part of the game world and offers many exciting adventures.
How the slingshot works
The Tchia slingshot has a simple structure but is very effective. With a rubber band attached to a Y-shaped branch, Tchia can pick up pebbles, coconuts and other objects and throw them at target. The accuracy and range of the slingshot depends on Tchia's skill and the strength of the rubber band.
possible uses in the game world
Tchia's slingshot is not only a useful tool in fighting the Maano and other enemies, but also in overcoming obstacles and solving puzzles. For example, Tchia can shoot coconuts from palm trees to use as projectiles against enemies. Or she can use it to operate objects such as switches and buttons to open doors and open up new areas of the game world.
improvements and adjustments
As you progress through the game, you can improve and customize Tchia's slingshot. For example, there are stronger rubber bands that increase the casting weight and the range. Or you can equip the slingshot with various attachments to fire more accurate shots or throw multiple items at once. You can also customize the look of the slingshot by decorating it with different colors and patterns.
Graphic
Tchia features colourful, vibrant graphics inspired by the environment and culture of New Caledonia. The game world is designed in great detail and offers a variety of characters and animals. The surrounding area is rich in vegetation and landscapes to explore.
sounds and music
Tchia features a unique soundtrack inspired by the culture and customs of New Caledonia. The music was composed by New Caledonian musician and composer Amélie Sikiaridis and spans a variety of styles including traditional music and modern sounds. The music and sounds in Tchia help create an immersive and atmospheric game world.
Vote
The characters in Tchia are voiced by New Caledonian voice actors to reflect the culture and language of the islands. This helps create an authentic and unique experience.
The combat system
Tchia's combat system is rather simple compared to other open-world games. It's not introduced until two-thirds of the way through the game, and revolves mostly around jumping onto flammable objects with your soul and throwing them at enemies to set them on fire. Although it's quite easy at the beginning, it can quickly become chaotic as you try to find the closest combustible object to hurl at the enemy.
The AI ​​opponents
One problem with the combat system, however, is the opponents' AI. There are several instances where enemies get stuck in game and stop attacking. This reduces the challenge and fun of combat. The combat system also lacks variety and depth, so it can quickly become monotonous.
Tchia, Awaceb's latest action-adventure, is a game with many qualities, but the combat system is not one of them. Maybe that's because the game's emphasis is on exploration, but despite that, we can't shake the feeling that Awaceb could be a lot better when it comes to combat.
Right at the beginning of the game you get to know Tchia's main weapon, her slingshot, which is completely useless in battle since the only way to defeat the enemies in Tchia is to set them on fire. The slingshot is only used in some minigames and to shoot bananas and coconuts, which feels like a wasted opportunity.
The fights in Tchia can be quite confusing at first because the enemies are unlike anything you've seen before and you need to use an unusual strategy to defeat them. So if you're having trouble with Tchia's combat system, here are some tips.
How to fight the enemies in Tchia
There are only two types of enemies in Tchia: Soldiers who can move and Guardians who are stationary. Since the game is very poor in explaining how to fight the enemies, a few tips are crucial to successfully defeating every enemy you encounter.
The soldiers
When you encounter soldiers you should never stand still because they will try to shoot you with the cloth and if your stamina is low they will lock you in one of their storage cages. If they manage to capture you, simply use your mental power to transform into any nearby item. This way you can easily break out of prison. The guards will shoot you with explosive magic, but if you keep moving you will be fine.
Move in battle
Keep your inventory stocked with explosives and fire items.
If you decide to clear an enemy camp, you should always stock up on explosives and fire items, which you can find in every camp and settlement. You can carry up to six items in your backpack. Once you've eliminated all enemies in an area, you should find the items in that area and fill up your inventory before moving on.
light objects
Since all of Tchia's enemies are made of cloth, the only way to defeat them is to set them on fire. You can do this by finding items like lanterns or burning wood and throwing them at the enemy. Tchia can't throw an item very far just by equipping it and throwing it. To throw something much farther, you simply need to transform into the item or Soul Leap with an equipped item. With this little trick you can hit enemies that are far from you and prevent them from arresting you.
The Guardians
The Wardens act as watchtowers only found in larger camps. They are extremely dangerous because they fire explosive missiles at you and if you are not careful you will be caught in no time. Guardians, on the other hand, have one major disadvantage: they can only see ahead. As such, the easiest way to get rid of them is to sneak up on them and set them on fire. When clearing large camps, always destroy the guardians first and then deal with the rest of the enemies.
Summary
Tchia is a unique adventure that sets itself apart from other open world games with its transformation mechanics and humorous storytelling. The variety of transformation possibilities and the fluidity of the movements make the game a pleasure. Navigation can be a bit challenging, but the digital paper map and compass help with orientation. The mini-games and music add even more fun and collaboration to the game. So if you are looking for a new adventure that will surprise and entertain you, then you should definitely try Tchia.
Tchia is available on PlayStation 4, PlayStation 5 and PC (via the Epic Games Store). More information is available on the official website of Awaceb
Other articles about role-playing games on games and poetry:
Elex 1 - The ultimate action role-playing game full of magic and technology! - Experience the invincible force!
Gothic 1 - Prisoner in the Valley of Mines - The very first Gothic adventure
Gothic 2 – Battle for Khorinis: Unleash your Dark Power!
Gothic 2 – The Night of the Raven – Dark heritage awakens: experience the power of darkness
Gothic 3 - Experience epic adventures in the world of Myrtana
Gothic 3 - Götterdämmerung: Fight the darkness with epic challenges!
Risen 1 - Experience an epic adventure journey
Risen 2: Dark Waters - Unleash the power of the seas in this epic pirate adventure!
Risen 3 - Titan Lords - Unleash your true potential against the Titan Lords
Horizon Zero Dawn - Machine Hunt
Shellshock - Nam '67 - Experience the shocking realism of the Vietnam War
Runaway - A Road Adventure: The unforgettable point and click adventure! – Experience 100% excitement!
Runaway 2 - The Dream of the Turtle - Holiday with obstacles