In the distant Bento Space Lighthouse, every day is the same. That changes when a mysterious radio message arrives. Avoid the past, embrace forgetting and make the perfect Italian coffee. Still There is a psychological adventure game about grief, with technical puzzles, a little crazy and with black humor. How far is far enough?
Still There
The tasks of the lighthouse weather include general maintenance, eliminating any malfunctions, periodic radio transmissions and collecting data from space. This also includes radio and navigation aids for nearby spaceships and experimental drug studies.
It requires good manual dexterity to use tools and equipment, a willingness to live in isolation for long periods of time and the ability to work under stress, and a certain amount of patience to cope with the ship's advanced AI. Candidates without children and spouses are preferred for the job.
The protagonist who accepted this job offer is Karl, who has been working on the space station since then.
So that he doesn't get lonely, he has Gorky, a somewhat annoying on-board computer, with a smiley face. He's kind of annoying, especially at the beginning. Instead of supporting him, he keeps a meticulous record of when Karl is late for work and makes unwanted comments that Karl doesn't get his money for sitting around.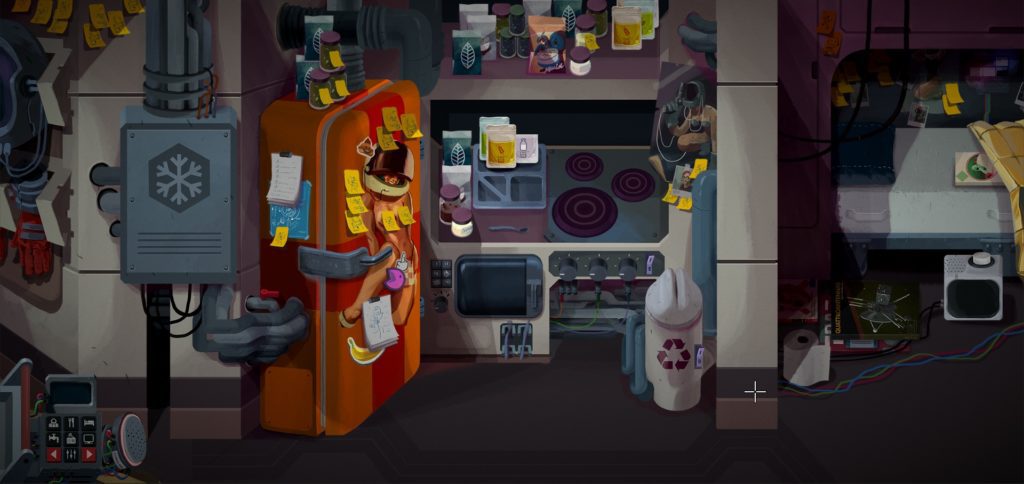 The work that Karl has to do in the station is a tough puzzle. For example, he has to find out whether the oxygen treatment is working properly. Every day, there are catography tasks waiting for Karl. There is a Gorky and some instructions to help you assemble one or the other thing. Logical thinking is required here. Gorky is only there to help you with the puzzles. He won't give you the solution. The puzzles have a lot to do with switches.
The daily challenges are going to the toilet, cooking food, feeding the iguana and treating the water. Conversations and sequences fill a whole part of the adventure. In a dream, Karl meets his family and his tragic story is told. This makes it easier to understand his decision to go into space.
A woman's voice can be heard from the radio system. Your ship is unable to maneuver and you are trying to save the crew.
The game environment is very detailed. For Switch players, flipping the switches in the puzzles is easier.
Summary
Still There has a very good story. The puzzles are real head nuts and the daily tasks have a "work character". The story is very exciting and the story is conveyed very humanly. Death, loneliness and loss are issues that the game refers to. Gorky is an entertaining bonus on top of that. I highly recommend the game Still There from Iceberg Interactive.
Here it goes to Still There by Iceberg Interactive on Fanatical