The game inspired statue throwing Runaway - A Road Adventure by Pendulo Studios.
Statue throwing
What? Is the basement closed?
That makes me very annoyed!
The angle will be right
So I throw the statue in with the catapult!
With a lot of rum and noise
Did she make a crater in the basement!
Now there is a hole in the floor to the cellar,
I'm coming in! I already said it!
The circumstances of the statue throwing
In Runaway, Brian meets the beautiful Gina. With her, a lot of difficulties break into his life. This includes a gang of mafiosi who hunt both. Gina and Brian do research that takes them to the desert.
Douglasville
There is a ghost town there, but it is not entirely uninhabited. In the game Runaway - A Road Adventure, Brian ends up in the city of Douglasville. Here Sushi, Rutger and Saturn live together.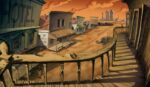 The bank vault in the basement
He has to puzzle his way through the city in order to progress. Somehow he has to get into the basement of the old, destroyed bank. The only opportunity that arises is in the workshop of Saturn, an artist. There's a statue that Brian hurls across town with a homemade catapult. She breaks a hole in the floor of the old bank, in which there is a safe. Inside is a map that he needs. His goal is to find an ancient Hopi village.
More Poems on Games and Poetry: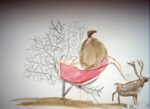 Statues not only appear in Runaway, but also all around Assassin's Creed themed statues at PC Games