Pendula Swing is a game that has its peculiarities. I found it at the Gamescom 2018. The point and click adventure combines the time of "The Great Gatsby" in the 1920s with fantasy elements. The Developer is the Valiant Game Studio.
The Protagonist
Brialynne Donu Tenúm is the protagonist of this game. She is a dwarf who loves peacefully on her island. Her wife is deceased and her only company is the cat and a few chickens. One day a thief steals her precious ax and flees to the next town. Brialynne follows him to Duberdon. The city is seething, like in a volcano, which is about to erupt. People, elves and dwarfs live in the city. However, goblin and orcs have started to settle there as well, and racism is spreading there.
Bureaucracy and technical progress
In this time, cars are a huge achievement and the bureaucracy dominates everyday life. Again and again, your explorations in the game are interrupted by smaller occurrences. For each episode of the game, you can schedule about 1 hour of playtime.
The Graphic
Graphically, Pendula Swing is very own. The game perspective is isometric and the characters are oversized in some places. The graphics take a bit of getting used to, especially the representation of the figures, with their proportions.
Music
The game scores big with a great music of the 20s. Jazz sounds bring fun swing music into play. It provides a surprisingly good mood, but it must be done without background noise, such as rippling the water. A speech does not exist in this sense. The dialogues must be read from the screen.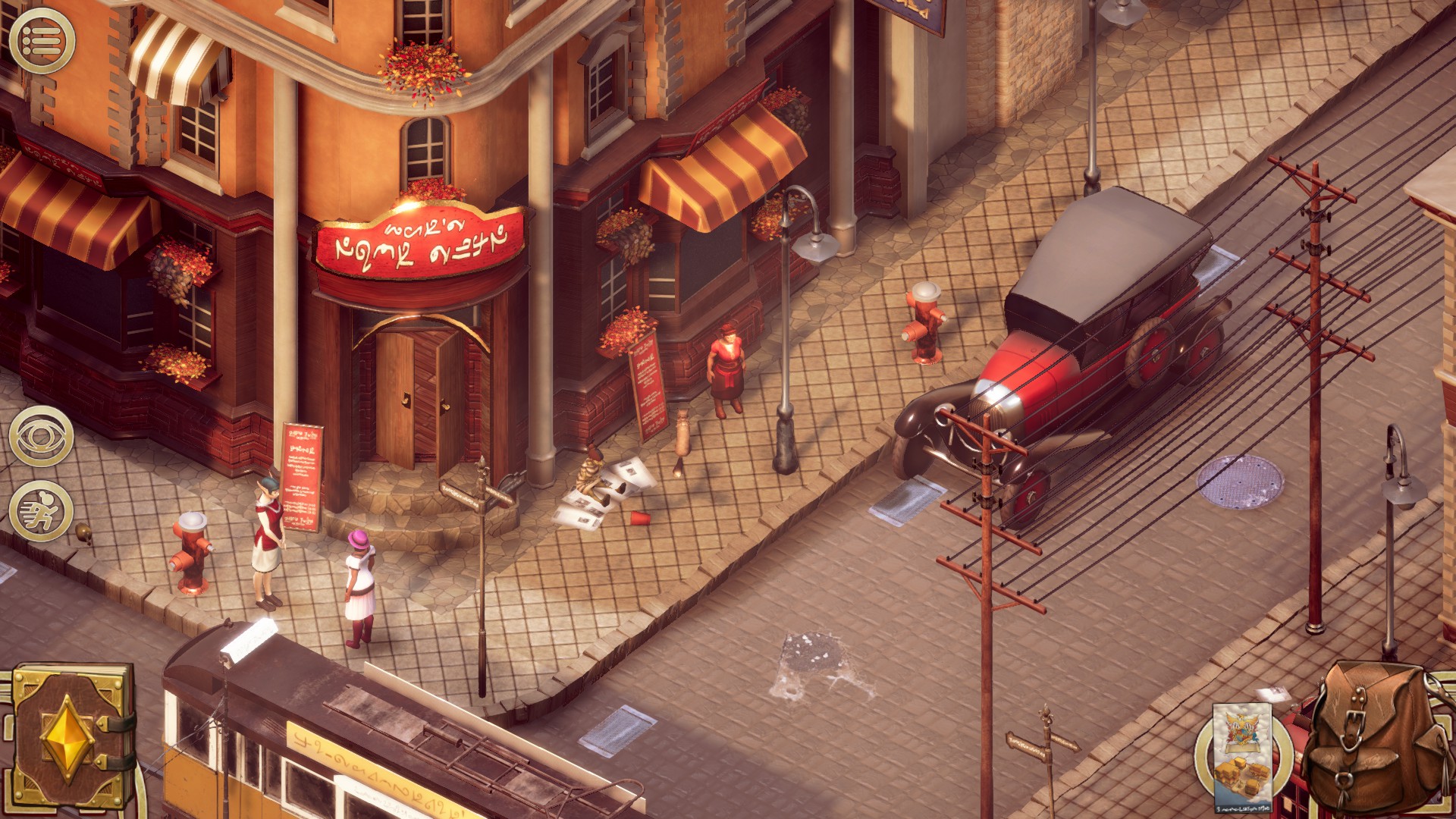 The Quests
The individual tasks are recorded in the quest log. Furthermore, there is a notebook, in which more records can be found. The notebook also records the conversations between the protagonists and Pendulas characters and can be read. The size of the game area is clear and not too big.
The Control
The control is done with the mouse. Double click to move the protagonist and single clicks to collect and use items. Even conversations can be started with a single click. In some dialogs, you have several options available to you, but they can also be mutually exclusive.
Conclusion
At first glance, the game is innovative and entertaining. The combination of the 1920s and fantasy is a great idea. The heroes fit very well into the world and the technical innovations make the whole quite interesting. The isometric view is superb and who can make friends with the graphics of the characters will have a lot of fun with this game. What makes the fun even a little bit cloudy, is the lack of speech and reading pleasure of the game. In the current version a few bugs have to be fixed, but the approach is very promising.
Originally posted 2018-09-03 12:12:00.