iNFLiCTED by Altergaze Games, is an afterlife adventure with a unique indie virtual reality game. The tale of a lost soul trying to change his fate while the ancient demons lurk in the mists of Limbo.
On exploration
Explore the eerie but intriguing realm of Limbo and meet those hidden here. iNFLiCTED is a fantasy adventure VR game set in the realm of purgatory. The whole world looks like a never-ending graveyard that stretches as far as the eyes can see. There's a whole enchanted world to explore, with ancient creatures guarding secrets older than time itself.
The Lost Soul
You play the role of a lost soul trying to change your destiny. What you don't realize is that with every moment you struggle with the natural order of things, you get lost in the struggles and lose yourself deeper and deeper in limbo. But you are not alone. From the moment you wake up, helping you is another lost soul whose identity is only revealed later. She helps you escape, cross the forest of death and you make your way to Miller's house. There are many more characters and you can challenge death itself.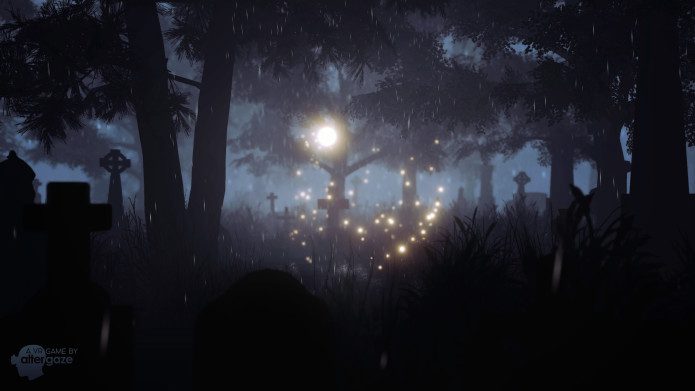 Dante's Inferno and iNFLiCTED
It's an original story, like nothing you do before, with beautiful environments and mesmerizing dynamically animated elements - loosely inspired by Dante's Inferno, Greek Mythology, Supernatural, Limbo and Journey.
Gameplay and mechanics
The game also works on smartphone VR. The entire game was developed specifically for VR - this is not a game you could play with a mouse that is simply ported to VR. However, VR Ready devices are expensive and the game aims to be accessible to all. Therefore, Altergaze develops the game for smartphones without the need for a controller. The in-game footage was captured on the iPhone 6s and Samsung S7.
Changed game mechanics in iNFLiCTED
The game mechanics change with each level. You start off with an arcade-like space invaders where you collect souls, followed by a side-scrolling inspired boss fight. You then switch to an exploration map in first-person perspective, avoiding obstacles. Each level is slightly different while still utilizing the same core concept: collect yellow, avoid red, and use power-ups for attack and defense.
grouping
If you are supposed to group the levels into categories, there are 5 types of game mechanics:
Arcade-like missions where you have to look around and control your soul

The open world exploration where you turn left and right

Fast pre-defined race stages where you must rely on memory and reflexes to avoid obstacles

Time based puzzle type solving missions where you have to match specific combinations

Side scrolling levels where a character follows your soul and you have to convince them to do "something".
Off we go to Article about Altergaze Studios
Here it goes to Altergaze Studios website