Prepare to enter a world of magic, adventure and mysterious dangers. In Hogwarts Legacy, you can experience a whole new side of Hogwarts and create your own student adventure in the wizarding world of Harry Potter. Explore the open game world, defeat powerful enemies in challenging battles and immerse yourself in the fascinating world of Hogwarts.
Table of Contents
Finally the time has come
After so many years of waiting, development studio Avalanche Software finally managed to create a game worthy of the magic of Harry Potter world. In this third-person action-adventure RPG, you are transported to Hogwarts as a fifth-year witch or wizard to explore the school of witchcraft and wizardry and take part in battles against evil creatures.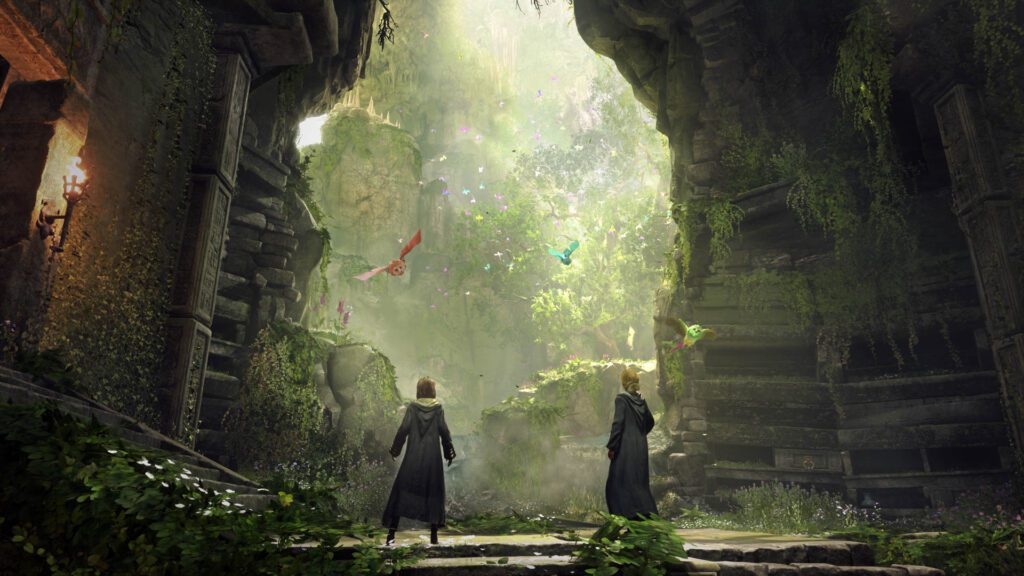 An open world full of magic
One of the things that makes Hogwarts Legacy special is the open world map. You can explore Hogwarts and its surroundings and encounter countless adventures along the way. There are so many things to do that you will never get bored. You can improve your skills, fight against other magicians, uncover secrets and much more.
Amazing magic fights
Another highlight of Hogwarts Legacy are the magic fights. They're so well done that you feel like you're actually fighting other wizards. You can learn and combine different spells to defeat your enemies. It's impressive how realistic the fights are.
Characters you will never forget
The characters in Hogwarts Legacy are just as charming and memorable as they are in the Harry Potter books. You make friends and nurture enmities as you go on your adventures. Each character has their own personality and story for you to discover.
Countless distractions
There are so many things to do in Hogwarts Legacy that you can spend dozens of hours distracting yourself. You can play Quidditch, go on treasure hunts, collect herbs and much more. There's always something to do, whether you're in the mood for action or relaxation.
Not perfect, but great nonetheless
Of course, Hogwarts Legacy isn't perfect. The technical implementation could be better and there is a limited variety of enemies. But still, these small problems cannot spoil the magic of this wonderful world. Hogwarts Legacy is a triumphant visit to the wizarding world that finally makes our dreams come true.
Awesome character editor and powerful skills
One of the best features of Hogwarts Legacy is the fantastic character editor that allows you to create your ideal witch or wizard. You have numerous options to customize your appearance and skills. Once you've created your character, you quickly discover that you have some powerful magical abilities that allow you to do cool things. Although these skills aren't really explained, they make for an exciting and unique gaming experience.
An entertaining story with memorable characters
The storyline of Hogwarts Legacy isn't perfect, but the game is still entertaining and offers many adventures and fights. You get caught up in a conflict between the wizarding world and an evil goblin and you must try to save the world. As you experience this story, you'll meet an amazing cast of characters who are both memorable and likable.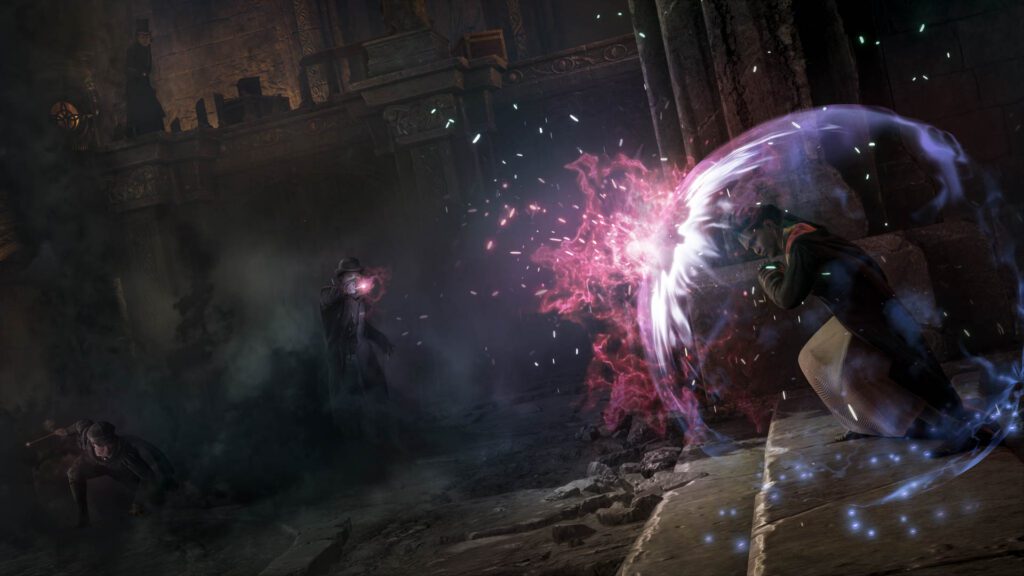 A few weaknesses but still a great game
Of course, Hogwarts Legacy also has a few weaknesses. Sometimes it can be a little confusing when 100-year-old figures explain important information from paintings to you. But overall the game is great and offers a unique experience in the magical world of Harry Potter.
your classmates
In Hogwarts Legacy, you spend most of your time with your classmates, who accompany you on quests and help you hone your skills as a magic user. Most of them are memorable and likeable, like Sebastian the conceited Slytherin or Natsai the clever Gryffindor. Through their relationship quests, you can improve your social relationships and make your stay at Hogwarts even more enjoyable.
Magical friendships and indispensable characters
Regardless of ethical concerns surrounding the transgender debate, Hogwarts Legacy offers a unique experience in the magical world of Harry Potter. You will unexpectedly make friends with your professors and befriend other characters on campus. Each of these characters feels like an indispensable part of the school, offering you a chance to spend time with your loved ones and lose yourself in the Hogwarts fantasy.
Explore a brilliant wizarding world in Hogwarts Legacy
The stone-paved halls and secret passages of Hogwarts, the Forbidden Forest, and dark caves lit only by the glow of your Lumos spell are just a few of the places you'll visit. The developers of Avalanche have captured the look and feel of the wizarding world so brilliantly that no matter what trivial task they have thrown you into, you will simply feel blown away.
performance issues and bugs
However, immersion in the wizarding world can occasionally be interrupted by Legacy's poor performance. The game suffers from issues such as framerate inconsistencies, strange lighting issues, and aggressive pop-in when fast-moving around the map on the PlayStation 5. There are even brief loading screens at every door in Hogwarts, which is a bit disappointing given that the PS5 actually promises there will be no more loading screens.
errors in the game
Aside from the performance issues, Legacy is also a pretty buggy adventure in general. It may happen that you fall through the map or a figure or object in the area gets stuck. Sometimes the person you're talking to just walks away while you're still in the conversation. These errors are annoying, but they don't occur often enough to break the game.
The combat system
Hogwarts Legacy's combat system is one of the highlights of the game. It's challenging and fun as it's not just about hurling spells at your opponents, but also about chaining skills and dodging attacks. The ability to parry perfectly brings additional satisfaction if you manage it. Tactics must be changed regularly to break through opponents' color-coded shields.
Lack of variety
However, the game lacks variety in terms of enemies as you quickly see the same opponents as dark wizards, spiders and goblins. While there are some more unusual enemy types like giant frogs and zombies, they rarely appear in the main dungeons. Instead, you often have to fight spiders, which becomes boring after a while.
A challenge for your magic skills
Challenging battles await you in Hogwarts Legacy, where you can only have a limited number of spells equipped at a time. The clunky process of switching between spells will be challenging and will take some practice. But don't worry, with over 30 hours of gameplay, you'll have plenty of time to perfect your magic skills and prepare for the challenges. Master your magic tricks and defeat your opponents in Hogwarts Legacy!
side quests
Aside from the main storyline, the game offers tons of side quests and activities that you can spend hours doing. Whether you're creating your very own personal space in the Room of Requirement, catching and caring for fantastical animals, practicing gardening or potion-making, or shopping in Hogsmeade, the possibilities are endless.
An infinite number of side quests
The 100+ side quests provide a welcome change from the looming goblin menace of the main story. While some distractions are just simple errands that require you to collect or kill something, many side quests offer the chance to help one of the awesome characters or just get up to some mischief. Even if you are sent on a pointless task, there are many reasons to slow down and immerse yourself in the world.
rewards for your efforts
The game rewards you appropriately for your efforts, whether it's gear to boost your stats, cosmetic items to boost your bragging rights, or new spells. Collecting spells goes a long way towards opening up the map and giving you a better bag of tricks in battle.
Blatant oversight: No Quidditch
While the game offers tons of ways to waste your time, it's a glaring omission that Quidditch isn't included in the game. The absence of the iconic sport on broomsticks seems like an attempt to cover up the absence of an important aspect of Harry Potter's time at Hogwarts.
Combat Mechanics: Awesome, Challenging and Totally Addictive
The combat system in Hogwarts Legacy is fantastic, challenging and absolutely addicting. It takes more than just shooting orbs of light from a wand to succeed. You have to be creative by combining the spells together to create spectacular effects. You also have to be careful to dodge and counter enemy attacks. The abilities that you can unlock in the talent tree make the fights even more fun by improving your spells and adding additional effects to them.
Side Quests: A wealth of possibilities
There are over 100 side quests for you to complete in Hogwarts Legacy. Not all of them are equally entertaining, but many of them offer tons of fun and allow you to spend more time in the world of Hogwarts. By completing side quests, you can unlock new spells, gear, and cosmetic items.
Equipment and Loot: A real pleasure to collect
The gear and loot you can collect in Hogwarts Legacy is a real collector's delight. You can upgrade and modify your equipment to get minor improvements. There are also many cosmetic items that you can use to spice up your character. The best part is that you can override the appearance of any item you've collected, allowing you to create your own unique style.
Inventory: A painful limitation
Unfortunately, the inventory in Hogwarts Legacy has limited space, resulting in you constantly having to juggle your items. This can be especially frustrating if you're a collector and want to collect all the treasures. You must decide which items you want to give up to make room for new ones.
Memorable new characters
One of the things that excites the most is the memorable new characters that Legacy is introducing. You will meet many students, teachers and other personalities, each with their own story, personality and motivation. It's great to see how these characters develop throughout the game and how your relationship with them changes over time.
Challenging and nuanced combat
Of course, it's not just about interacting with characters - it's also about combat. They are challenging and nuanced. The battles require much more than the simple waving of a wand. You must hone your skills, master your spell combos, and use tactics to defeat your enemies. Best of all, you'll constantly learn new skills and spells that will help you defeat your enemies in ever more creative ways.
A beautifully executed Hogwarts student fantasy
Hogwarts Legacy also captures the wonderful fantasy of being a student at Hogwarts. You can take lessons, care for magical creatures, make friends and even design your own house in the Room of Requirement. There are so many ways to immerse yourself in the world of Hogwarts. The game offers tremendous freedom to choose what you want to do next.
Technical issues, lackluster main story, and poor enemy selection
Hogwarts Legacy not perfect. There are some technical issues, like occasional stutters or long loading times, which can affect gameplay. Also, the main storyline is a bit lackluster and the opponent selection could be better. There is limited variety in the enemies you fight.
The graphic
The graphics of Hogwarts Legacy are undoubtedly impressive and manage to bring the wizarding world of Harry Potter to life. From the majestic spiers of Hogwarts to the wondrous landscapes that surround the castle, every location in the game is filled with detail and attention to detail.
Detailed character models
The character models are particularly impressive. Each character you meet has a unique look and personality. From the lovable house elves to the creepy goblins that lurk in the depths of Gringotts Bank, all creatures in the game are beautifully designed.
living environment
The surroundings of Hogwarts Legacy are also remarkably lively. The schoolyards are filled with students rushing between classes, while the various locations in the game are inhabited by a variety of magical creatures. It's easy to get lost in this world and imagine that you are actually a part of this magical society.
Technical problems
Unfortunately, there are also some technical issues in the game. Occasionally the game crashes or there are some graphical glitches. This can be frustrating, but it is important to note that Hogwarts Legacy is a very large game and these issues may take some time to resolve.
Ambient sound and sound effects
The soundscape of the game is excellent. The ambient sounds are detailed and blend seamlessly into the game world. You hear the leaves rustling in the wind, the rushing of the river and the crackling of the fire. The sound effects are also well implemented. The various spells sound realistic and make the experience even more authentic.
Music
The music in Hogwarts Legacy is also very successful. The pieces fit perfectly with the game world and support the respective mood. At some moments the music is very calm and melancholic while at other moments it is dramatic and epic. The orchestration is terrific and the music remains pleasant to listen to even after many hours of playing.
The gameplay
Hogwarts Legacy's gameplay is unique and offers a lot of fun and variety. The game is an RPG where you take on the role of a student at Hogwarts and move around the wizarding world.
The different spells and their use
The various spells in Hogwarts Legacy are really impressive. They range from simple curses like Lumos, which helps light up dark rooms, to powerful offensive spells like Stun. Most spells must be cast manually, meaning you have to draw or speak them to trigger them.
The use of magic
The spells are used in different situations. For example, in battle you must use different attacks and defenses to defeat your opponents. You can also use different magic spells to solve puzzles and find hidden areas.
The world and exploration
The world of Hogwarts Legacy is stunningly designed. It's packed with detail and offers a variety of environments to explore. You can wander the corridors of Hogwarts, enter the Forbidden Forest, or take to the skies and fly on a broomstick. There are many secrets to discover and various side quests to complete.
The fights
Combat in Hogwarts Legacy is challenging and exciting. You have to use different strategies to defeat your opponents. There is a wide variety of enemies, each with different abilities and attacks. You must think fast and act fast to survive in battle.
The character development
One of the best features of Hogwarts Legacy is the character development. You start out as an inexperienced student who still has a lot to learn. As the game progresses, you'll get stronger and learn new spells. You can also upgrade your skills and find new gear and items to help you in battle.
Summary
Hogwarts Legacy is a great Harry Potter RPG that will give you hours of fun. The open world, the many side quests and the possibility to spend your time in Hogwarts are really impressive and offer a great way to explore the world of Harry Potter. The characters, the fights and the story are also very well done. Of course, there are technical issues, a lackluster main storyline, and poor enemy selection, but these shortcomings are more than compensated for by the game's strengths. If you are a Harry Potter fan and have always dreamed of being a student at Hogwarts, then Hogwarts Legacy is definitely a game you should try.
Here you come to Website about Hogwarts Legacy
More role-playing games on Games und Lyrik:
Gothic - Prisoner in the Valley of Mines - The first ever gothic adventure
Gothic 2 – Battle for Khorinis – Unleash your dark power
Gothic 2 – The Night of the Raven – Dark heritage awakens: experience the power of darkness
Gothic 3 - Experience epic adventures in the world of Myrtana
Gothic 3 - Götterdämmerung - Fight the darkness with epic challenges