F1 22 is the newest era in the world of Formula 1. Some of the biggest changes the sport has seen in the past four decades are shaking not only the status quo but the backbones of drivers as teams battle to become the to get a handle on the technical pitfalls of this year's new cars.
Table of Contents
The new racer in F1 22
Codemasters has followed suit with F1 22, not incorporating this season's phenomenon of porpoising into its handling model, just tinkering enough with its reliably robust year-rounder to feel sufficiently refreshed in some areas, even if that overall package should be fairly familiar to fans who have been around for a long time.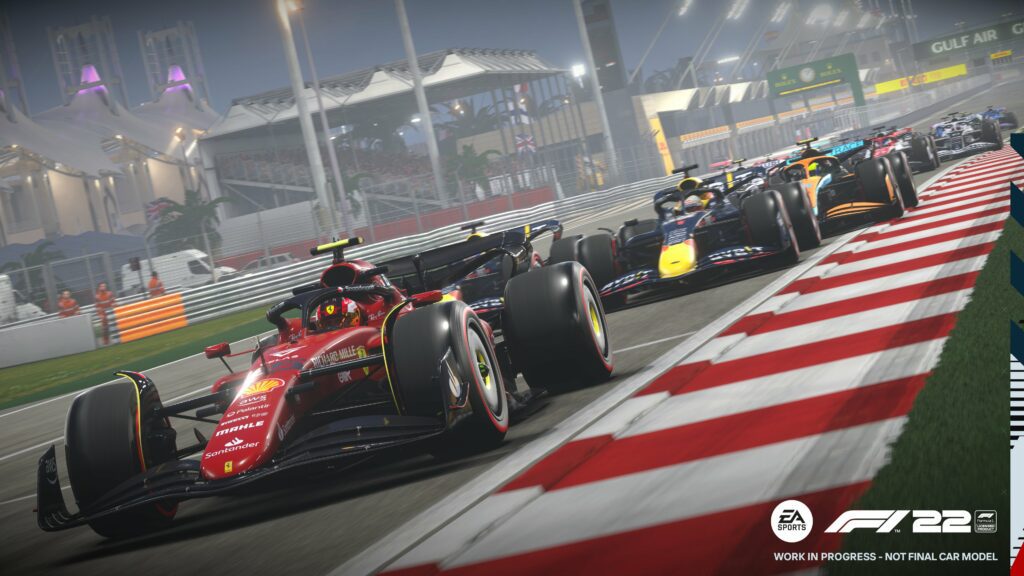 The latest cars
Rest assured that F1 22 has more to offer than just the latest cars and the new Miami circuit. Visually, the game is treading water this year, but small touches like the new post-race clips featuring the battle-hardened cars and updated camera angles of the old podium celebrations rejuvenate a bit the parts of the Codemasters F1 series that have been stagnant for many years. The new voice of the race engineer and the ability to swap out commentator David Croft for Alex Jacques also help set F1 22 apart from previous F1 games, which have felt increasingly recycled in this area.
A new adaptive AI mode
A new adaptive AI mode joins the already extensive list of driver aids and accessibility options and appears to be keeping the pack within striking distance of less experienced racers. That should make for more exciting races, regardless of skill. You can duel with the adaptive AI. You can't quite tell the difference between the two tiers of AI available, but it seems like it keeps him going without completely overpowering the AI.
VR racing games
Of course, bigger points, like the welcome inclusion of the F1 sprint racing format and polished VR support for PC players, are harder to overlook. It's unlikely that veterans of other existing VR racing games will be as excited as they were a few years ago, but the news value of the official F1 series is very high. With its devotion to recreating the details of real-life action, from the paddock to the circuit, the F1 Series has been a wonderfully immersive recreation of the world's premier motor sport for some time. Experiencing through a VR lens is twice as good. But not every new feature of F1 22 deserves a place on the podium.
The focus of F1 22
F1 22 puts the emphasis on this new mode by presenting you with the default settings of F1 Life right from the first launch. The good thing is that you can completely ignore him afterward, and that doesn't detract from the typically solid racing experience. At its best, F1 Life acts like a hook to justify a steady stream of rewards for your playtime, only often those rewards are just pieces of furniture and floor tiles. At its worst, it's a mechanism designed to swipe some spare change out of the pockets of people who are willing to shell out a few dollars for a cosmetic trinket. Other players can visit your room. It's probably a sad sign of the times that F1 22 features an extensive set of designer carpets, lounges and lamps, while previous F1 games have featured iconic cars from the sport's history. This is intended to give a taste of the lucrative off-track luxury that F1 Superstars enjoy in real life.
Collectible Supercars
The addition of collectible supercars comes a little closer to the extravagant toys real-life F1 drivers can afford, and there's at least a gameplay component associated with that. Inspired by the Pirelli Hot Laps program that runs at real Grands Prix, where F1 drivers are tasked with chasing expensive exotics around the track with various VIPs on board, F1 features 22 high-end Ferrari supercars , AMG, Aston Martin and McLaren to drive both 'hot laps' and a selection of bespoke challenges.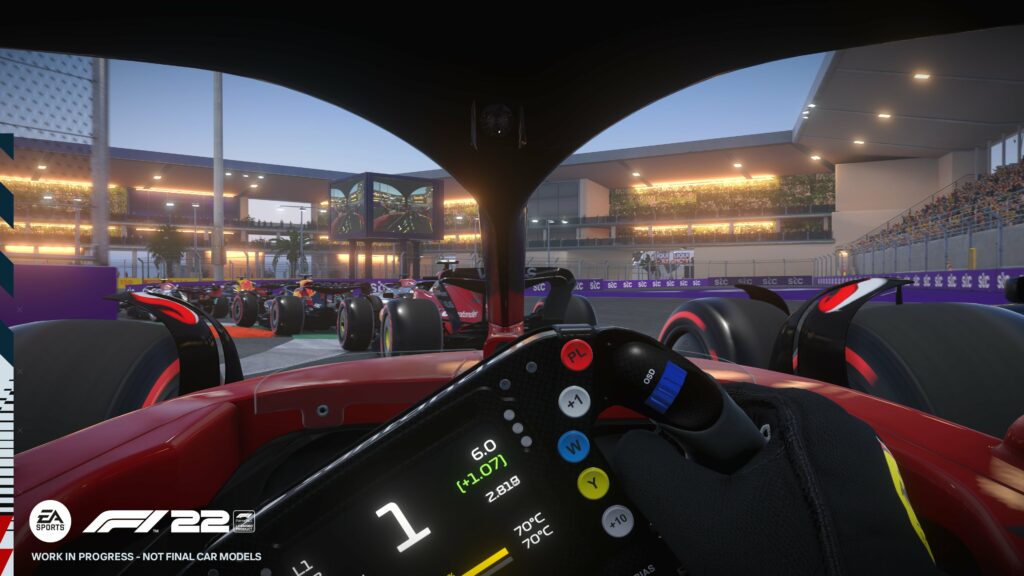 An interesting novelty
They are an interesting novelty that differs from everything that has existed in previous F1 games, but in practice they become a bit monotonous and one decides to skip them. The supercars themselves are comparatively squishy when compared to the purpose-built open-wheelers that represent the pinnacle of current F1 engineering, but they convey a sufficient sense of speed, grip and weight when compared to their contemporaries in compared to other racing games. However, the drifting is surprisingly unspectacular and seems strangely sterile due to the lack of smoke.
Rims Real Big and Real Big Pockets
The real stars of F1 22 are, of course, the new F1 cars, which look sleeker than they have in many years, albeit with some interesting driving quirks that will require some tweaking in F1 2021. With their larger wheels and tires and added bulk, the 1 F2022 cars are the heaviest ever. They're also lower and stiffer, with less downforce on the top and a new focus on ground effect aerodynamics, which sucks the cars into the tarmac the faster they go.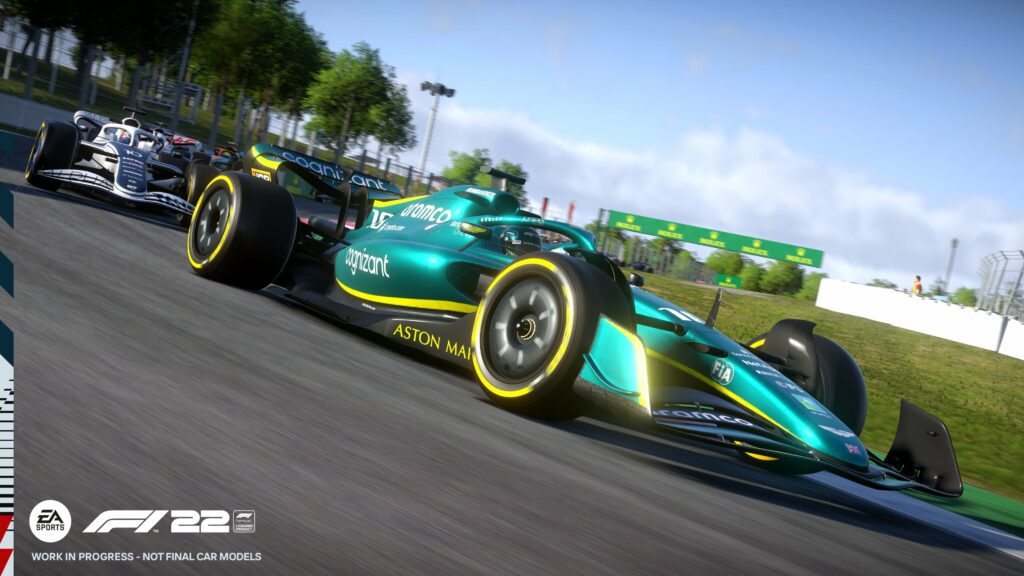 Less Agility
In F1 22 this has meant that the cars have lost a bit of their agility and feel particularly stiff when driving over curbs and bumps. Exiting corners requires you to be even more sensitive to the throttle than in previous years, although they also seem a little more prone to understeer at times. The result is a handling that is better than the old cars from F1 2021 and previous editions, but one that believably matches the familiar characteristics of the new cars. It's just different, and the nuances of the new cars are an interesting challenge to master.
Noticeable changes
However, while some noticeable handling changes have been made, the real heart of F1 22, the excellent My Team mode first introduced in F1 2020, remains largely unchanged. Drive through the GPs, do R&D, juggle the finances. If you've played F1 2020 or F1 2021 you'll know what to expect. However, there are a few nice changes, such as the new ability to start My Team's first year as a richly supported company with already improved facilities. Formula 1 has always been one of the few racing series that makes the fight for the top spots exciting, but the opportunity to be able to immediately compete with the top teams is for players who have already repeatedly their F1 teams from diminutive to Megastars have led makes a lot of sense. It's also nice that the sponsor stickers don't disappear from your car, even though you've already signed existing partners. While this is only a small improvement, it was always annoying when you had to manually reattach them mid-season, even after you renewed their contracts.
Summary
With its typically deep and rich career mode and its usual class-leading range of assist and difficulty options, F1 22 remains the best-equipped and most accessible reproduction of a single modern motorsport on the market - and the long-awaited improvements to some of the most reused elements are, too did not go unnoticed. However, it's not quite as bold as F1 2021, and the shoe- and furniture-focused F1 Life mode really isn't a substitute for last year's lack of ambitious story mode. F1 22 maintains the streak as the best-featured and most accessible mainstream motorsport sim out there, but the flashy new F1 Life mode feels largely pointless.
Continue to Website about F1 22
Other Articles on Games and Poetry: