First impressions from the Games Convention 2018. This year I visited the Games Convention for the first time. On 21.08/XNUMX I represented myself as an accredited press visitor. Armed with a hall plan, I ventured onto the exhibition grounds.
Gamescom 2018 - A first impression
In the morning I took the train out to the Cologne / Deuss exhibition center. The number of visitors there is limited on the first day, as accredited press and exhibitors watch Gamescom. At the entrance, the security staff pitched tents and carried out bag checks. I equipped myself with food and drink in the morning. If you get off by train at the exhibition center, you can reach it at the south entrance. There, visitors receive their "ribbon" for accreditation. You need the tape with the film when you enter the press area or the business area.
There were first controls there. Even before you get your wristband, you will see people standing with a sign looking for early access. Why? I'll report that in a moment. The control only allows visitors with ID. When awarding the band, it is mandatory to present your identity card. There you will get a book in which all exhibitors and halls are listed.
From there it goes to the press center north. Finding there is not easy and I got lost several times that day, so I refrained from going there again. On the first day it is worthwhile to look at the entertainment area and play a few things. The lines of people are not that big and the waiting times are relatively short. That's why I got an overview and then got stuck in Hall 10, the Indi-Area. Since I haven't had any appointments with major developers, this is a very good first point of contact.
Because my blog has not been around for very long and I am still small and alone as a blogger, I will z. B. not loaded by developers like EA. I get a hearing from the small developers, can present myself with my blog and get positive feedback when I want to write about them. Here is the appeal: "Small meets small" is applicable. When little bloggers and little developers support each other, both benefit. This is particularly true when e.g. B. Developers need advertising to find a publisher.
Here is a meeting point for both sides. Developers come up and show off their games and I find new innovative games and developers to write about. There are enough small gimmicks and press materials for the articles. The most unusual thing I got was a pair of socks.
On the first day I only managed hall 10. I decided to go to hall 4 for the second day. Indian developers can also be found in Hall 4, but they are sorted by country. The same applies here: small innovative developers present their games, which is a lot of fun. Since the regular visitors are admitted on the second day, I fled towards the business area at that time. The rush there is not that big. Hall 4 belongs to this area. Norwegian, Polish and Spanish developers are gathered there. It's interesting what can be found. I spent most of the second day in this hall. Part of the hall was Cyberpunkt 2077. However, the developer was completely booked with their appointments. Nevertheless, the hall offered many small, entertaining games.
The advantage of these first two days was that there was the opportunity to try out and play a lot. I came into contact with a VR for the first time and I am thrilled. I tested three games with VR, including "Moss" in the entertainment area, a lovely designed, wonderful game that is played via Okulus.
For health reasons, I did not attend the third planned day. It's a shame, because I would even have had an interview appointment. All in all, the experience was very enriching and I was able to talk to developers a lot. The main language is English. You won't get very far with German at Gamescom. The developers are mostly English-speaking.
I have made some rules for Gamescom:
1. I only go there as an accredited press representative: The masses on public days are unbearable.
2. I will look for a pension as soon as the Gamescom date is fixed.
Always bring enough food and drink with you and make sure to take regular breaks. 3. I clearly took too few and too short breaks.
4. Write to the developer quickly and your texts in good time. Don't give yourself too much time. Not even with the small developers and publishers.
5. Take enough business cards with you. You don't need to take less than 100 cards with you. 200 are better. You distribute them en masse and get masses of business cards, which is very good for establishing contact with the gaming industry.
6. Lighten your backpack as much as you can and when you find the press center, take the contents away regularly.
If you want to gain a foothold in the gaming industry in any way, you have to make an appearance at Gamescom. Two days are enough and these two days bring you a lot. It is also worthwhile for your business if you drive there for 6-10 hours. Plan at least four days: 1 day outward journey, 2 days work, 1 day return journey. I will definitely come back there.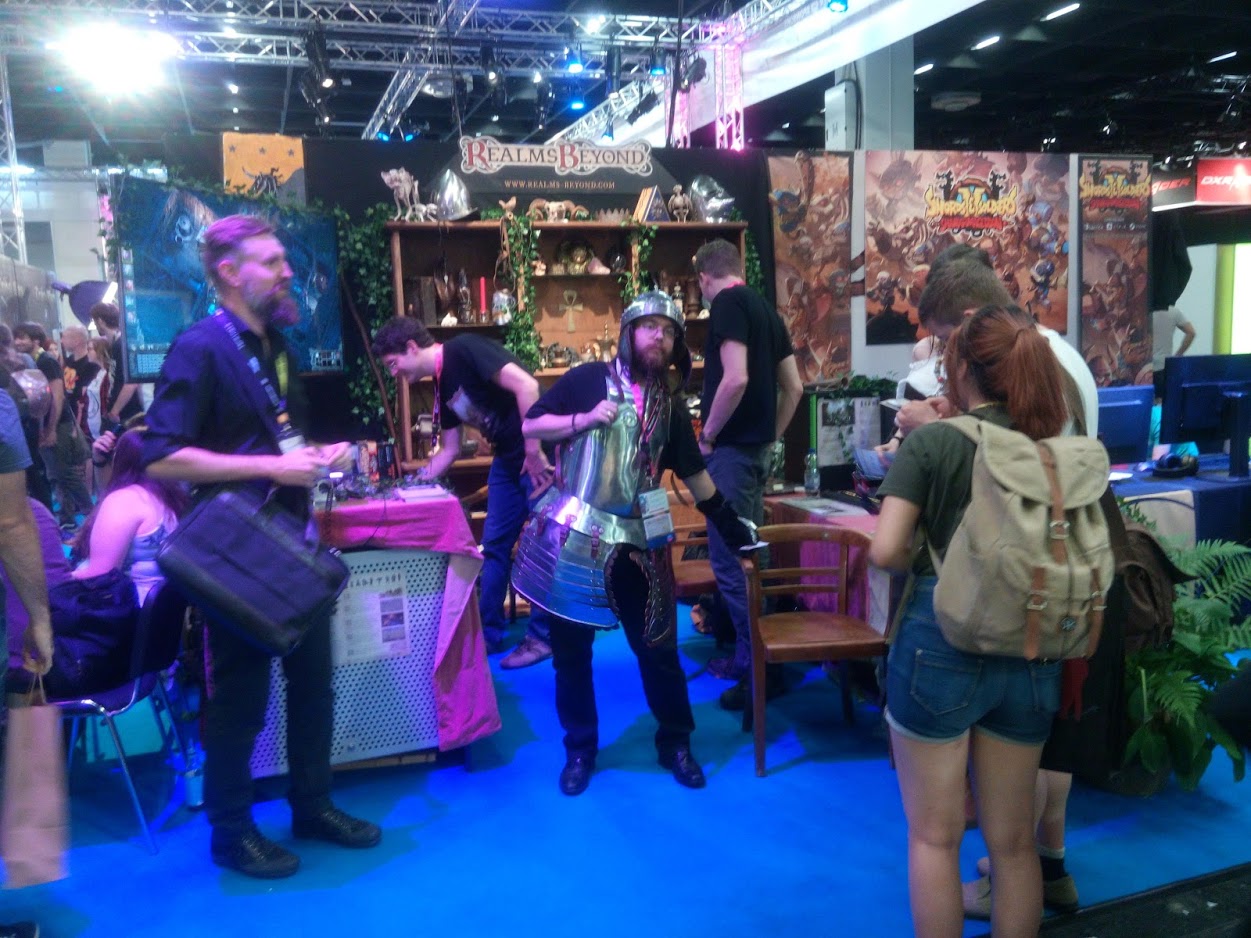 The concept of cooperative games
What is also very important among Indian developers is the concept of cooperative games. There were several games to be seen at Gamescom 2018 that are all about working together, discussing things and solving problems. "Deru", for example, is based on the agreement between the players, because two color circles can only break through the lines of the other color so that the other player can reach his stated goal. The objective is the classic "fit-in-the-mold principle". What sounds simple can be quite complicated when there are a number of black and white lines running through the screen and the triangles in black and white have to go to their counterparts at the other end of the screen.
The "VR Giants" are also based on a similar principle. One player takes over the VR as a giant, while the other controls a dwarf with the classic joypad. The Goliath in this game has to help the little character to achieve his goal.
Carly and the Reaperman is similarly laid out, but graphically not quite as pixelated. Here, too, a player is armed with the VR and controls the Reaperman. The other player uses the joypad to control Carly. Initially quite simple, later levels shine with time pressure, so that the agreements have to be coordinated more. Alternatively, Carly can target Klötze so that a speechless coordination can take place between the two. Graphically, the game is very nicely designed and needs some space to play.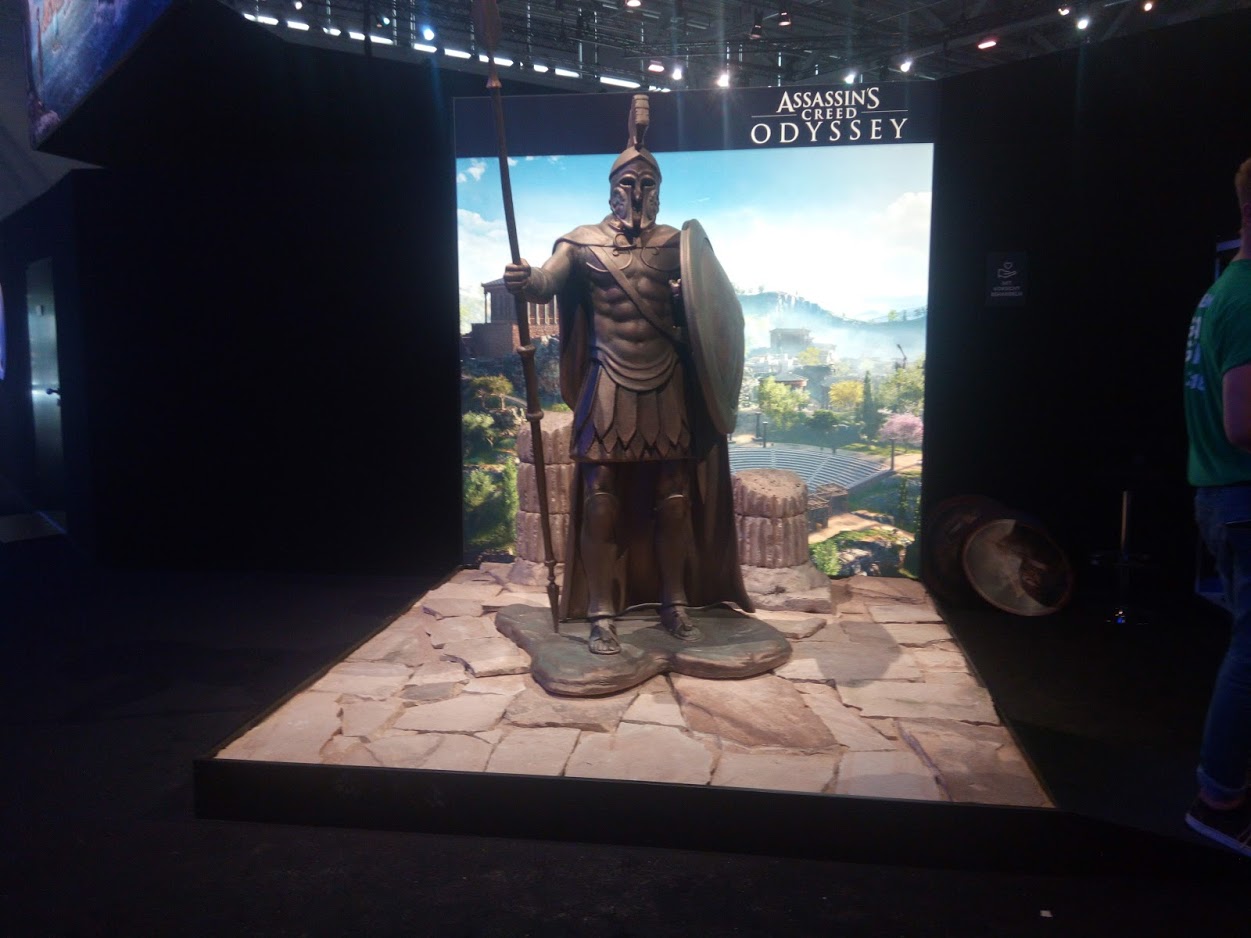 The country subdivision
The Indian developers are divided into countries within the individual Gamescom halls. Each country has a certain place with its developers, so that developers from Poland are together or developers from e.g. B. Spain. Usually there are small overviews with which you can get an overview of the games. The individual developers often have little gimmicks, such as badges.
Summary
To experience Gamescom for the first time was very exciting. Anyone who is accredited in the press area and wants to move there should definitely invest the first day in the entertainment area. The other two days make the most sense in the business area. That's only the case if you hold out every three days. Already two days can be enough if you want to talk to and exchange ideas with many developers. I will try to go back next year and make more contacts for Games & Lyrik. Even the small developers are looking for contacts and publishers to support them and are happy about everyone who is interested in their games. As a private visitor, I would definitely not visit Gamescom. The crowd in the press area is still within controlled limits.