Darksiders 2 represents the latest offering from developer Vigil Games, a direct sequel to the 2010 original. Similar to its predecessor, Darksiders II offers solid action, albeit embedded in a slightly flawed experience. The game features adventure and puzzle elements from The Legend of Zelda, action from God of War, platforming from Prince of Persia, and the audio of a hellfire version of Lord of the Rings.
Different elements in Darksiders 2
In the end, while Darksiders II offers action-adventure fans a lengthy and enjoyable experience to bite into, it never comes close to reaching the heights of the various franchises it draws so freely from. Darksiders II fleshes out the story of the Four Horsemen of the Apocalypse presented in the first title. The game themed this time War's brother Death at the top. Believing War was wrongly convicted of destroying humanity, Death attempts to revive humanity to clear his brother's name. The narration is entertaining, if not overly dramatic.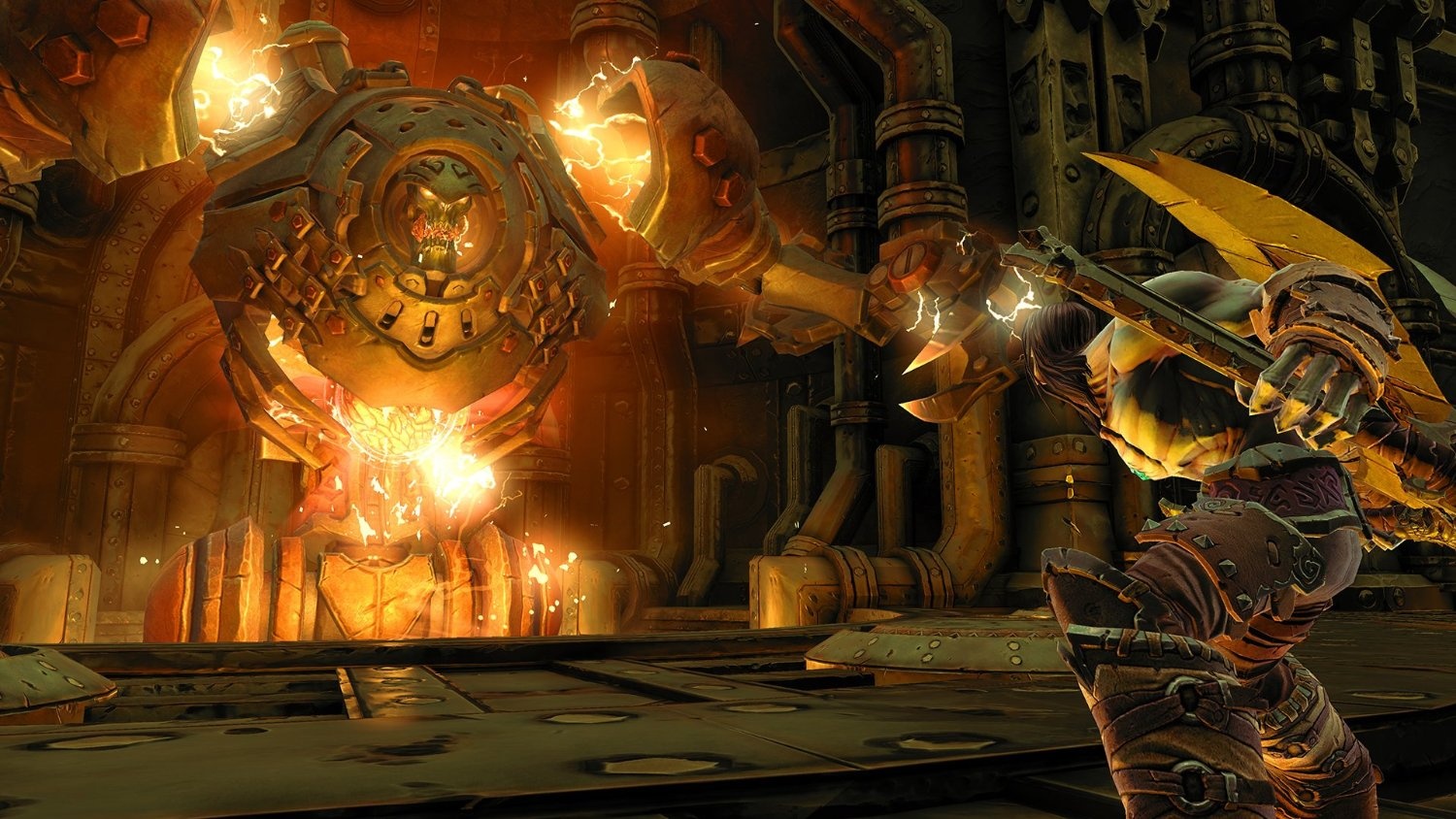 collecting frenzy
Given that the end result of any plot advancement is inevitably Death having to collect three of something and beat up some skeletons, it just feels a bit silly to have the characters talk about the old ways and the judgment of souls. However, if you can't shake a healthy dose of ridiculousness, the made-up reasons for Death's various escapades through heaven, hell, and everywhere in between provide an amusing backdrop to his quest.
The weapons
Most of the adventure is more standard action fare. Death wields both a fast primary weapon and a slow but powerful secondary weapon, and you chain the moves together to weave your way through the various enemies. There are also a few special abilities you get along the way, like the ability to summon demon lords to do your bidding or split your soul in two to solve dungeon puzzles. The action segments are entertaining enough. As such, it's difficult to make cutting open undead villains uncomfortable.
strategy arm
Still, it's disappointing that most enemies require next to no strategy to overcome. When you come across an enemy that requires optimal strategy, the joy of killing them is truly satisfying. But these occurrences are rare. Most of the time, the answer is to simply wait for the enemy to move, dodge, and then attack. It's still fun, because dodging and attacking are fun things in an action game, but it gets irritatingly repetitive after several hours of the same old song and dance.
The size
One of Darksiders II's touted points is that it's much larger than its predecessor - with a map more than twice the size and a campaign roughly three times longer than the original adventure. Unfortunately, bigger is definitely not better in this case. The freedom that Darksiders II offers is impressive. You can travel through vast areas at your leisure, slaughtering enemies and searching for treasure and loot to your heart's content. But the bloated environments are just too sparse and often without anything interesting to do or see. With so little done to vary gameplay, the pace is sluggish and the length of the adventure feels more like a chore than a bonus.
Repetition
The main problem is that most of the adventure is repetitive. While it's entirely possible to reuse game mechanics throughout a campaign and still feel fresh, Darksiders II fails to achieve that. You'll find that you can climb ledges and pegs, detonate bombs, and roll balls the exact same way over and over, inducing a nagging sense of deja vu. Unfortunately, these mechanics are not used in a diverse and clever way.
The boss fights
On the plus side, Darksiders II features some really epic boss fights to vary the replay, ones that will test your skills and are really exciting to overcome. You will fight against all kinds of epic demons. These include those that can regenerate, those that are around 100 times your size, and those that are just plain brutal in their attack patterns. The bosses are one of the highlights of the experience, offering a glimpse into what Darksiders II could have been if the entire quest had been as varied and balanced as these memorable battles.
fetch quests
If you don't like fetch quests, this game isn't for you. The entire game is a fetch quest. All you do is run from area to area and get three of these, then three of these, then two of these, then three more of these with fights in between. When it comes to these quests, Darksiders II pushes the envelope. You end up getting so much and for so long that most of the game ends up feeling pretty pointless.
focusing
In truth, the game would have benefited from being a bit smaller and a lot more focused. In this way, the original game beats its sequel, as a more linear adventure that keeps the action flowing suits this franchise's intense playstyle. After all, there's a limit to how long you can run through similar environments and solve similar puzzles to quench your blood thirst and smash things with cool weapons.
design and voice guidance
One of the strongest elements of the game is the art design and voice guidance. It's amazing that you can grow so fond of a main character who literally never shows any emotion as she wears a skull mask throughout the adventure. Death's great vocal work doesn't hurt either. Listening to him snarl at the Makers or deliver lines like "There's no room for a horse here" or "You'll find something for a change" is pleasant. Even though he's pretty much impossible to relate to since he's the embodiment of death, his design and presentation still do a great job of making him someone you'll want to accompany to the end of their journey.
environments
While too many of the environments in Darksiders II are chillingly similar, some of them are well thought out and epic to look at, as are many of the characters and enemies found within. Unfortunately, the graphics are not quite up to par with the current hardware generation. Some of the textures are so pixelated they look like they belong on a Wii, like the oft-used skull and crossbones pattern, which is shockingly flat and therefore utterly unconvincing. It's a shame as the mediocre graphics undermine the game's inspired art design. The animations are also pretty choppy as the game suffers from fairly common framerate issues. Onscreen happens seldom enough to justify those MMO-like graphics. It looks good enough not to distract from the adventure normally, but compared to similar games like God of War 3, Darksiders II's graphics are sub-par.
Disorders
A frustrating downside to Darksiders II is the sheer volume of random glitches you encounter along the way. These include those that cannot be explained and appear and disappear seemingly for no reason. It's not uncommon to see death hovering over the ground or in the air, as is pressing B to execute an action command, only for nothing to happen until a few key presses later. Other random glitches I've encountered are an inability to discard boots, an allied AI just standing in the corner staring at the wall, a primary quest icon leading you in the wrong direction and then switching positions, when you check the map in the menu. Music and sound effects are missing until the game is reset. These are just a few. Most of these disturbances only last for a short time and then disappear, never to reappear. Others, like a targeting system that rarely seems to aim at the nearest enemy or a camera that often points in an awkward direction, are fairly persistent. Unfortunately, if you're hoping to see death's journey through, they're things you just have to learn to deal with.
An experience
The funny thing is that despite its long list of flaws and bugs, Darksiders II still offers an enjoyable experience. Despite its lack of variety, the combat is still satisfying, especially when you come up against a behemoth of boss. And even though there isn't enough to do inside you, running around in such huge environments is still incredible. Certain abilities that stack up along the way, like the death grip or summon ability, are terribly fun and make for some really cool dungeon moments, like running over a wall and death gripping at the last moment to reach the other side . It's also worth noting that the game picks up significant momentum towards the end, finally finding its pace for the final few dungeons. The puzzles become more creative, the enemies and environments more varied. It's just a shame it takes about 30 hours to get to this point.
RPG elements
Perhaps the best part of the adventure that all action RPG games could learn from is the implementation of RPG elements like gear and customization. Weapons found in the field can be equipped instantly or sent to your inventory with a single button press. In addition, each piece of gear's stats are displayed as you approach it, and how it increases or decreases your own stats when you equip it. This makes quick decision-making a breeze and greatly increases the joy of finding the best armor to equip Death with. Any weapon or armor you equip also changes Death's appearance, which is a cool touch for making character customization more personal. The concept of cursed artillery that you can "feed" with other items is also a great way to make the weak loot you encounter seem less than a waste. The way gear is handled in Darksiders 2 is a true revolution in RPG gameplay and one of the most solid parts of the experience.
The fast travel system
Tapping the left stick for Death's Bird, Dust to show you the general direction you should be going, and the ingrained Fast Travel system that lets you return to specific areas instantly and on the fly are also great innovations for the genre. It's a real shame that the game's impressive contributions are so severely undermined by its sheer volume of bugs and glitches.
Summary
Despite its problems, Darksiders II encourages gaming simply because it's a fun game. The RPG elements and on point action all make for a solid gameplay, glitches and all. It's a shame that so many glaring issues keep such an ambitious endeavor from the size that its developers were clearly aiming for. If you love action-adventure games, it's definitely worth checking out. But don't expect it to live up to the masterpieces it inevitably evokes.
Deathinitive Edition
Three years after its initial release, developer Vigil's dark, massive Zelda-esque game is back on Xbox One and PlayStation 2 with Darksiders 4: Deathinitive Edition. packs a wealth of DLC and improves the whole package while running at 1080p, making it the best version of the game. However, it is not necessarily worth revisiting for those who have already completed the journey of death.
Gameplay and mechanics
Darksiders 2's approach to gameplay and mechanics is holding up well for the most part. Combat is still very much inspired by God of War's light, heavy, and air attacks, and it feels nice and responsive to smash your way through crowds of creatures. The inclusion of all DLC is a nice bonus, even if it's mostly just a handful of new weapons and armor to add to your pile of hundreds that you'll collect throughout the loot-heavy adventure.
The world and your horse
Traversing the colorful world on horseback and taking on dozens of quests from a variety of fantasy tropes creates an effective, if not entirely inspired, flow that makes the adventure feel like a single-player MMORPG. While the visual improvements don't change the fact that the story isn't the best and relies a bit too heavily on the dread of Death and his brethren, the varied environments make exploration an enjoyable experience, especially if you're in a crowd fantastic dungeons.
Dungeons
Dungeons unfold in interesting and satisfying ways. The dungeons are clearly inspired by The Legend of Zelda, but they unfold in interesting and satisfying ways. They solve intelligent puzzles that require you to pay attention to your surroundings. To explore you need to find the keys, acquire a new weapon or tool that will reward you with a great sense of progress. You then use this to ultimately kill a boss. The Deathinitive Edition is aimed more at people who missed the game in 2012.
Summary
Verdict Darksiders 2: Deathinitive Edition brings the diverse world of the original, interesting dungeons, and a great loot system to PlayStation 4 and Xbox One. Sure, the story is boring and there aren't many original ideas, but the vastness of the adventure should please anyone who missed it the first time.