Cobra Command is side scrolling shooter for the NES. This is about helicopters. This game tries to be somewhat realistic. It was actually a port of the arcade game
Your opponents in Cobra Command
You have to destroy tanks, gunboats and other helicopters. Your goal is to win a war and save hostages. It's a typical shooter, but it's a bit different from the arcade version. The arcade version had forced left-to-right camera movement. In the NES implementation, you can control where you want to go. The main goal of the game is to rescue the hostages and take over enemy depots in each level.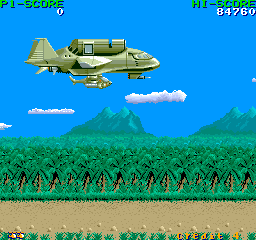 On the way against the enemy
Of course, you'll have to deal with a large number of enemies along the way. Cobra Command offers you a lot of them. This is by far one of the hardest NES shooters out there, but it's not an unfair challenge. The game requires patience and nimble fingers. You can take a few hits before your chopper explodes.
Into the underground
This game isn't just about surface warfare. You can travel to underground bases and catacombs controlled by the enemies. It's about all directions. This increases the fun factor enormously, because it is not a straight-forward side scroller. The game gets really interactive, to the point where you actually feel like you're on a mission.
Graphics and controls
Visually, the game is actually stunning. Even in all its 8-bit glory, it really stands out from the other sidescrollers out there. Another thing that makes this game so good is its seemingly perfect controls. No joke. Maneuvering around from the helicopter feels completely natural.
Summary
All in all, this underrated game deserves a lot more attention than it has received so far. So if you're looking for a side scroller that's a bit different from the rest, Cobra Command is for retro and shooter fans.