Straight from the small screen to your home, GameTek's version of Classic Concentration. The game begins with a pianist performing the show's theme acrobatically on an 8-bit grand piano, followed by the character selection screen. Both players choose an avatar to represent them, and the game begins! If only one person is playing, the computer acts as your opponent.
Memory and Puzzle in Classic Concentration
The game is a mix of memory challenge and rebus puzzle solving. A Rebus puzzle consists of pictures and letters combined together to form words or phrases. The puzzles in this game are rudimentary but clever in their presentation. In each round you clear the numbered game board by selecting two tiles at a time. The goal is to match two of the same words revealed by the tile. There are "wild cards" that automatically give you a win for each word you uncover on his turn. When two tiles match, a scoreboard appears with the item's name, followed by an opportunity to guess the answer to the riddle.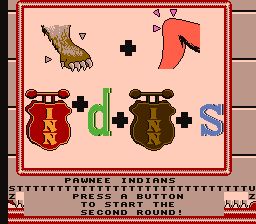 Awkward input
Entering the answer can be awkward due to the slow cursor and on-screen keyboard, but overall the game controls are very intuitive. The music maintains a quirky theme throughout the game with just the right amount of game show vibe to keep it entertaining, even if it rarely changes. The pace of the game is slow at times, but it's easy to play and can be fun with the right opponent.
The graphic
The graphics are reasonably good. The contestants look a bit blocky, but both the game tiles and the puzzle images look good. The puzzle images are well defined to the point where the player can easily solve a puzzle as more of the game board is revealed. The game environment is a decent representation of the real game show set. The music is good initially, especially the amazing piano performance on the title screen, but it's very repetitive and doesn't change much as the game progresses.
Summary
Classic Concentration is a great change of pace and perfect for memory games with a friend, but it has a few flaws that make for a slightly uneven gameplay experience. This could be a good game, but it's a little awkward to use since it's an NES game. Classic Concentration successfully captures the spirit of the game show and provides hours of gameplay and puzzle fun.