As an adventure, Ceville offers some surprises. He is the ruler of the fairy tale kingdom of Faryanis and is disempowered. His former advisor, Basilius, seizes power. Ceville ends up in dungeon without further ado. Your goal: help Ceville regain the throne with the Point & Click Adventure. Cynical comments and a sarcastic-nasty manner catapult the nasty ruler right into the heart of the player. There are also plenty of allusions to fairy tales and fantasy adventures.
He is supported by the young Lilli, who is courteous and polite to her people and the total opposite of Ceville. Films and games are pulled through the cocoa in the adventure. Social and political issues are used to make fun of. But that's exactly what brings out the likeable side of the game.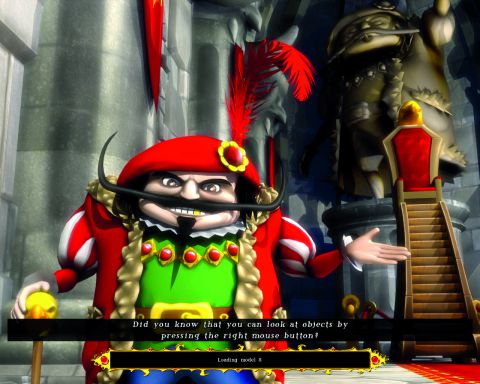 Ceville and Lilly solve puzzles together so that the ruler can get back on his throne in the end. For some puzzles there is even time pressure. If you didn't make it in time, you can start the whole puzzle again. After each failed attempt, the time window for the puzzle is extended by a few seconds. The puzzle design is excellent. The combination puzzles are understandable with logic and only need a little thought. The inventory is clearly structured and there are also tips on how to solve them. This makes the game suitable not only for professionals, but also for adventure beginners.
The game Ceville consists of five sections that can be played through in approx. 15-20 games. There are a lot of bizarre figures built in, which are even borrowed from some classic games. The game also scores with some ceded side stories.
Summary
Ceville is a festival for adventure fans and for fans of swiping games. The graphics are a bit old-fashioned, but the game is definitely worth it for fans of the genre. There is always something in the game for fans of fairy tales. The reviewers not too difficult and the Realmforge Studios have brought an outstanding game onto the gaming market here, where all you can say is: Must be played.