Castlequest - hop around, collect colorful keys and move huge blocks to find your way through a castle.
The monsters
You will get the opportunity to kill creatures in this game, but for the most part these monsters will finish you off. It's one of those games where you keep dying through no fault of your own.
An old school game
Right off the bat the game feels a bit like the old-school Atari games, and normally that wouldn't be a bad thing when you're talking about 80's games. Unfortunately, there are a whole lot of things that are just plain wrong about this game. The game does a good job of directly telling you what to do in the first 5 seconds of the game. You'll come across a locked door and there's a key just above you. Grab the key, open the door.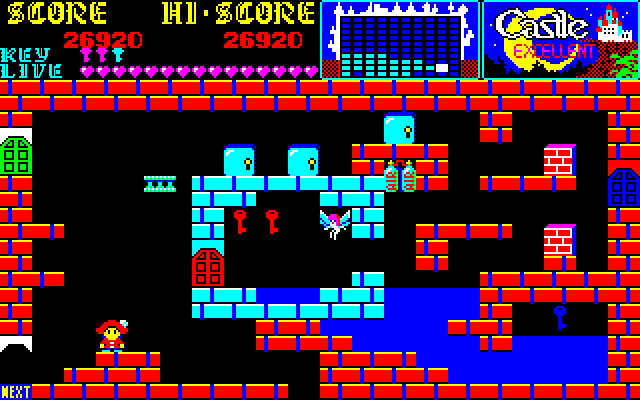 Classic jigsaw puzzles
Sometimes you get about six different colored doors on one screen and you have to search for the right key for the right door. Most of the time it's difficult to get to the buttons, but it's not just about jumping from platform to platform. You have to place blocks at certain points to give yourself extra height or just trigger different mechanisms. These are classic puzzle ideas.
Monster
But then you also have the monsters to deal with, and while you can attack them, it's not your best option. Your weapons must be perfectly matched to your slow-moving avatar to kill them. Luckily you get fifty lives to survive the game.
screen change
Castlequest switches back and forth between different screens a lot. There are moments when you end up having to use a brick or barrel to get a spot on one of the levels, but then it gets stuck in that position. The only way to get the item back is to go back to a previous screen and then go back to the original screen and reset the layout. This is constant throughout the game. Even worse, every time you move from one area to the next, the game resets the music. And the music is horrible chip tunes music with beeps.
The keys
Basically you have to try to collect everything on each screen as fast as possible because you need every key you see. And you're not fast when collecting. Your character moves in slow motion. On the other hand, the monsters move 3x faster than you.
The control
Controls were an important issue in this game. It's stiff and unresponsive as you move through the levels.
Summary
The game presents a challenge and some of the puzzles are really irritating. Still, the frustration grows. The game offers a profound puzzle system, but every gamer should stay away from this game.