Card Hunter is an online trading card game that blends card play, deck building, tactical combat, and classic fantasy roleplaying in a way you've never seen before.
The cards in Card Hunter
Grab your cards, miniatures, dice, and snacks, then engage in combat on a grid-based battlefield. Prepare yourself for a turn-based strategy where you have to play your cards right to defeat your enemies and be rewarded with experience and loot. Don't want to face the monsters alone? Adventure with a friend or two and share Cardhuntria's dangers and rewards.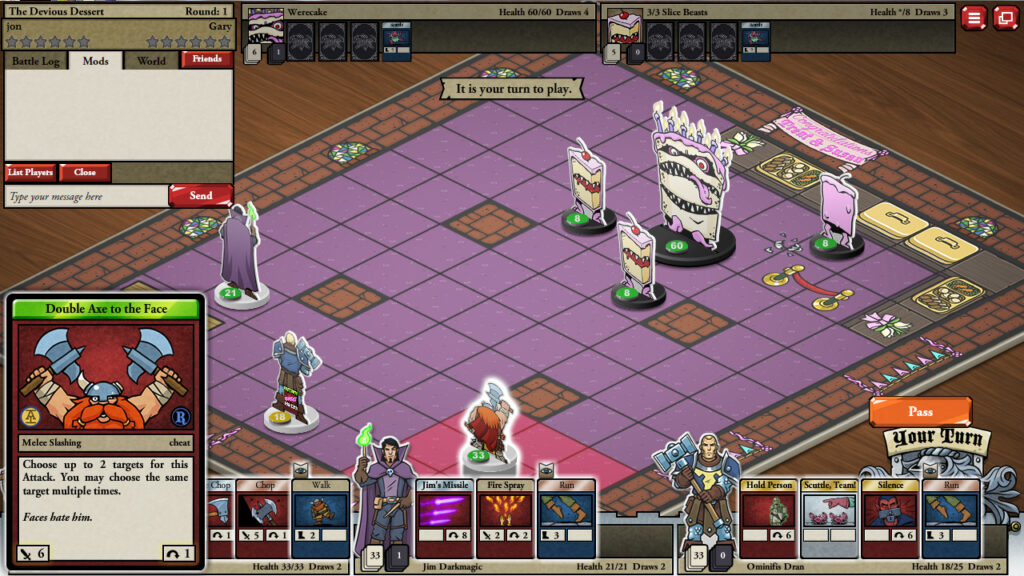 The multiplayer mode
Card Hunter features multiplayer and co-op modes. The game offers an extensive single player mode. Card Hunter is themed on the pen-and-paper role-playing game of the 1980s. Different dungeon masters "guide" your adventures, and they're very nerdy stereotypes. There are the bumbling enthusiasts and the snooty, ponytailed elite. You let characters cut out of cardboard fight. This gives the game life and character.
A card-based board game
The presentation is a board game, but the mechanics are card-based. Your deck is built by equipping your party with armor and weapons, each of which means new ability cards. There is no direct damage or defense. Quests, on the other hand, are turn-based combat with a slight puzzle focus. Most enemies or map layouts have some sort of gimmick that prevents you from simply overrunning them with attacks.
Strategy
There's a lot going on, but Card Hunter manages to stay highly strategic even when there are thousands of potential deck possibilities. I've even seen people complain about having to "grind" early dungeons that close for 24 hours after a successful run. Play tactically and deliberately and no grinding is required. Refuse to do this and you will repeat yourself endlessly.
Browser Basics
Its browser-based origins are all too obvious even when running as a standalone client. The game offers no zoom, no rotation, hardly any scaling to high resolutions and almost no keyboard controls. The expansion is Expedition To the Sky Citadel. She gives the game a sci-fi setting with a lovingly satirical tone inspired by space zombies and zany AIs from System Shock 2.
Winking nostalgia
In general, it's a pleasant atmosphere of tongue-in-cheek nostalgia, all backed up by a clever, fiendish, turn-based combat system. The puzzle aspect of the game is intensified as almost every enemy requires specific strategies to defeat them. There are also some things like the ability to sell unused items that are locked unless you've completed a series of early core game quests. Without a fair amount of Card Hunter experience, you're likely to struggle.
Summary
Card Hunter sits in an uncomfortable middle ground between traditional and free to play. Card Hunter feels that with a few technical tweaks and business model refinement, it can be a long-time favorite. It's definitely worth a look for board game fans.