In Bio Miracle Bokutte Upa you take on the role of a little prince whose only weapon is his baby rattle. The baby prince can shake his rattle at enemies, causing them to instantly puff up and start floating away. Konami released the game in 1988. It was never released in North America. However, it appeared on the Wii Virtual Console.
A prince and his opponents
The little prince can then either hop on top of these inflated enemies and bounce them up until they explode, or bump them with his body to blast them as a projectile at other enemies. It's this simple yet wildly playable control scheme that makes the game so entertaining.
The graphic
The in-game graphics are extremely solid for an 8-bit title. Konami has always had a knack for visually pushing the NES or Famicom system, and this game is no exception. In Bio Miracle Bokutte Upa you find yourself in a child's dream world. From candy-strewn areas littered with lollipops and ice cream treats, to the inside of a real computer, complete with silicon chips and resistors, you'll find it all here.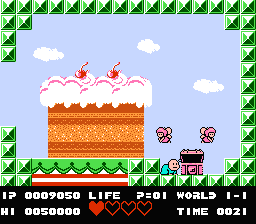 The sound
In addition to the fancy graphics, catchy melodies complement the game perfectly. Each tune has a very upbeat tempo and a circus-like musical style that fits perfectly with the crazy backdrops the game throws at you.
Conclusion on Bio Miracle Bokutte Upa
Bio Miracle Bokutte Upa is a colorful and unique platforming experience from the 8-bit era. The game comes with great graphics and matching sound. For Jump & Run fans there is definitely a game recommendation for the game.
Click here for the NES games
You can get more information from TVTropes