Baseball is an NES game that was released in 1985. It made sense for Nintendo at the time to release a popular sports game to attract skeptics to their new console.
Baseball gameplay
The gameplay itself only focuses on pitching and batting, fielding is automatic. Assuming the CPU does its job and positions a fielder to catch the ball, control passes back to you to choose which of the bases to throw to. Luckily, pitching is a more complicated affair, you can perform the usual fastballs and curveballs using different combinations on the D-Pad. Hitting works well too, of course it's a timing game.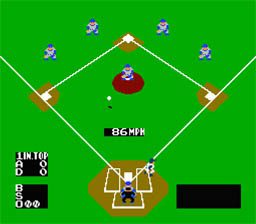 the teams
There are no difficulty options for the CPU. Only six teams, all unlicensed and generic. There are no real differences in their performance. You also don't get post-game stats to analyze how your game went.
Conclusion on baseball
In summary, playing Nintendo's baseball isn't much fun these days. Every player is the same, so any idea of ​​strategy is thrown out the window. You can't engage the field and the gameplay moves at a very slow pace. The graphics and music are dated in a way that hinders the fun of the game. This game might be something for the nostalgic, but still not recommended. Here it says: hands off.
Appearance history
The game was released on December 7, 1983, shortly after the July 15 release for the Famicom in Japan. In 1984 it was ported to the VS. System. With improved graphics and language, it became a hit in Japan and North America in 1985. In 1986 it came to Europe.
Continue to Overview of the NES games
Click here for the Wiki article about baseball