Bad News Baseball is a traditional baseball game for the NES.
Bad news baseball
The traditional aspects of a baseball game can definitely be found in this game. You control a team of league players from different cities in the United States. Each player has their own season stats, individual skills and a weird look.
Gameplay
Some unrealistic aspects of baseball can also be found in the game. Defense is emphasized and defensive is bad in the game. Strategic elements often play a role.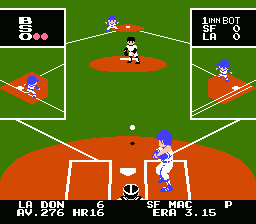 Graphic
Despite the cute graphics, the baseball game is not intended for kids. For that, it's a very good multiplayer baseball game. If you're looking for a quick and easy baseball game, you've come to the right place. There are a few simple melodies that sound as you progress through the game. But that's not why the music is outstanding.
Summary
If you're looking for a fun baseball game and you're not a downright baseball fanatic, this is the perfect game for you. While it has some gameplay flaws and is a bit older, it's still fun.