The Telltale Games took on the Back to the Future series in five episodes. The action takes place six months after the third Back to the Future film. DocBrown disappears on one of his trips. At the beginning of the game, Doc Brown's belongings are auctioned off.
The representations are detailed and show that they are aimed at fans of the films. The time machine shows up in front of Marty, with clues that the doc is having problems. Marty travels to 1931 with the De-Lorean. Poor Doc will soon have to shake hands with the Grim Reaper and Marty's job is to save him.
The cutscenes work out very well. There is also a nice film music and the appropriate dialogues. The graphics are comic. The sound is very nice, but without the original voices.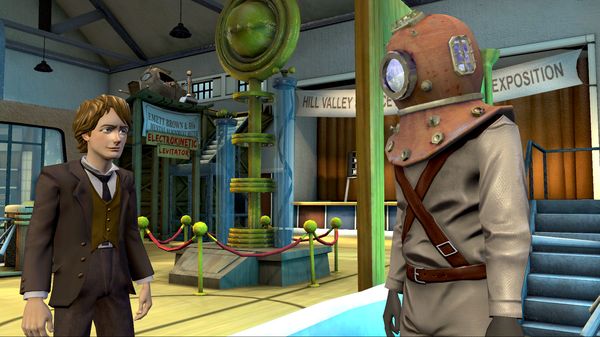 In return, the puzzles are not very demanding. Unfortunately, the controls and camera work leave something to be desired. Keyboard and mouse are used for controlling.
You can expect two to three hours for an episode.
You can expect two to three hours for an episode.
Summary
The Telltale Games have come up with a fun game starring Doc Brown and Marty McFly. While it has a few weaknesses, it is definitely suitable for fans of the series. An interesting retelling of the story that you know from the films.