Aritana and the Harpy's Feather is from Duaik Games. Aritana sets out to rescue his chief. It's an action game. The game is a 2D side scroller. Graphically, it scores with a comic look. Its visual design is a 90's platformer. The game appears in high-resolution graphics. The gameplay is traditional. It uses a number of unique mechanics. The developers use a smart and interesting control scheme.
The story of Aritana and the Harpy's Feather
In the forest lives a tribe of brave warriors. Tabata the skinling is very ill. Raoni is the medicine man of the tribe. He takes care of him. A powerful spirit took over Tabata's body. Only an ancient ritual can sever that connection. Unfortunately, the most important ingredient is missing: the feather of a harpy named Uiruuetê. Aritana embarks on the perilous journey. With its help, the exorcism can be performed. However, the spring is on the highest mountain. For this, Aritana crosses the land of the cannibals: the Mapinguari. The story sounds grim. Nevertheless, the game takes place in a colorful landscape. The graphics are cartoonish.


Action and Attacks in Aritana and the Harpy's Feather
It's an exciting action platformer. Here you don't just jump on the heads of the opponents. You attack them via a downward jump. To do this, use the right stick on the joypad. But it's not like a traditional platformer. Switching between attacks and jumping feels unwieldy. Nevertheless it works fine. The controls are unique. Aritana is a nice platformer that offers a nice sense of constant movement.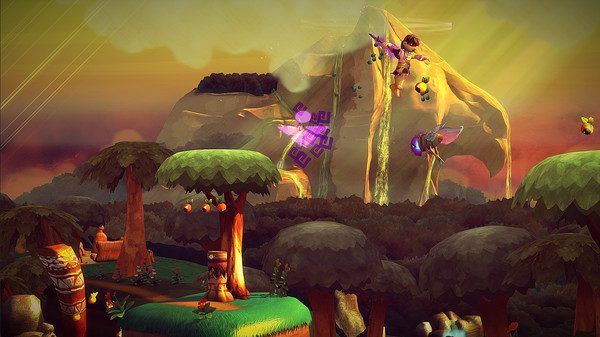 The control
The joypad control is best suited for Aritana. But unfortunately the controls seem cumbersome. The mechanics feel complex. This leads to a series of bewildering deaths. You're trying to do manageable jumps in the wrong posture. Mechanically you use speed, bounce, attacks and special abilities.
Summary
There's nothing bad about Aritana and the Harpy Feather. However, it's not outstanding either. The content is relatively short. The boss fights are repetitive. Despite the potential, the developer did not successfully reconcile the control scheme with the level design or the physics of the game. Everything works in the most basic sense. But that doesn't mean it's a lot of fun to play. The game still has its moments. It offers a nostalgically appealing aesthetic. There are many positive aspects. But there are also a lot of bad design choices. So it's not really a recommendable experience. Fans of 90's platformers will get more out of the game. But even the most nostalgic gamer will be disappointed by the awkward controls and movements.
There is a review article on here Duaik Games and the developer's games
Click here to go to Developer Dualik Games
You can find the game at Indiegala: