Living fortresses threaten the intergalactic governments! Defeat space danger as Hal Bailman and destroy evil!

Air Fortress
The inhabitants of the planet Farmel developed a new travel technology for a lightship that traveled longer distances than ever before. They were sent to the space exploration fleet to explore the Yabbert galaxy. In the mission there are 8 large fortresses. The fortresses, living beings, search for defenseless civilizations to conquer and feed on. The fortresses are on their way to Farmel, where the intergalactic governments are building and sending out a defensive army. The mighty fortresses are said to defeat a single warrior named Hal Bailman.
Gameplay
Air Fortress is a simple space shooter jump'n'run game. You explore cavernous fortresses. Before you can enter the fortress, dock at an airlock. Hal Bailman, the protagonist, looks like a toddler sitting on a lightship. You start with three lightships or life. Each of the eight Air Fortress consists of two parts. You start at the air base, where you collect energy and crash rays. The more you have, the better you will get through in later levels. Once you have defeated your opponents, you will be taken to the Air Fortress. Each level has the goal of destroying the air reactor's central reactor. Flying consumes energy that decreases. You manage your resources in the game. Air Fortress ends when you destroy the third lightship or Hal runs out of energy. On the way you will find power-ups to support the campaign. The right item can wipe out all attackers at the same time. Hal becomes indestructible for a short time due to the barrier item.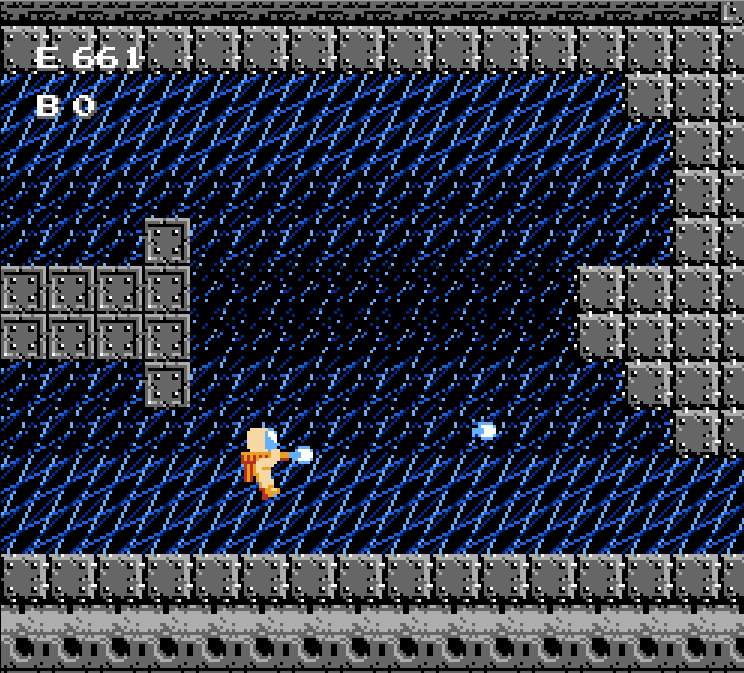 Timely escape
Plan your escape route on time.
Hal has to leave the fortress before it explodes.
If he survives, he will come to the nearest fortress.
The password system allows you to re-enter certain levels.
Conclusion
Air Fortress is exciting and challenging. Opponents challenge you and power-ups & co support you. The graphics are fine for the NES. The game gives you the right challenges and it's great fun. Graphically positive is the design of the various fortresses.
Publication History
Air Fortress (エアーフォートレス Eā Fōtoresu) is one of the hardest games for the NES. The game was released in 1987 for the Famicom in Japan and 1989 for the NES in North America. The game came in only a limited amount of up to 358 copies in the US. It was a test run before the actual release. A PAL release took place exclusively in Australia in 1989.